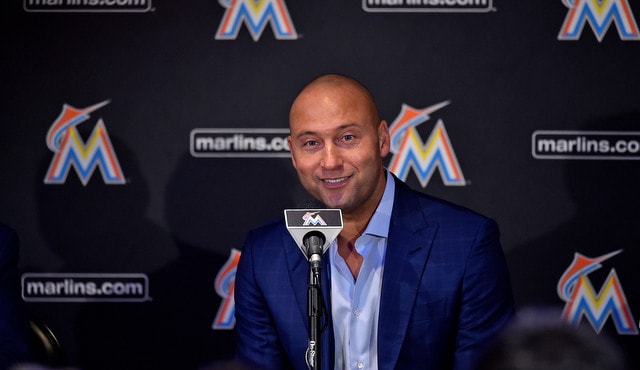 The Yankees and Tigers were rained out today, and there's a pretty good chance they'll get rained out tomorrow too. The weather forecast in Detroit doesn't look good at all. Here, to help you pass the time during this sudden Yankees baseball-less day, are some links and notes to check out.
Jeter skipping Yankees-Marlins series
The rebuilding Miami Marlins will be in the Bronx this week to play a quick two-game series Monday and Tuesday, but minority owner Derek Jeter will not make the trip, according to Joe Frisaro. Jeter told Frisaro he's not making the trip because going to Yankee Stadium will be awkward. From Frisaro:
"I'm not going. I just want to let everybody know, I'm not going to New York. I went to the Spring Training game when we played New York. But it would be an awkward situation for me to actually go to Yankee Stadium. I'm just being honest with you guys. That's why I'm not going. I knew it was going to be a story, one way or the other. So, I might as well get out in front of it and say, I'm not going. So, I will not be there."
The Yankees will make a two-game trip to Miami later this season, and I imagine Jeter will be in the house for that. I wonder how long it'll be until it's not awkward for Jeter to come back to Yankee Stadium? Never is a long time. I'm sure it'll happen at some point. Plenty of others have gone on to other teams and returned for Old Timers' Day, for example. (Not as an owner though.) Jeter knows the Yankees enhance his personal #brand. I doubt he'll cut ties completely.
A-Rod talked to Dodgers in 2007
Earlier this week Alex Rodriguez made some headlines when, on an ESPN broadcast, he said he wishes he would've signed with the Mets back during the 2000-01 offseason rather than the Rangers. Jon Heyman has a follow up column with a few fun notes. Two stand out in particular:
Brian Cashman and Scott Boras were discussing an eight-year extension worth $235M before A-Rod opted out in 2007. That would've added five new years on top of his existing contract.
After exercising the opt-out, Boras and the Dodgers were discussing a potential $320M contract over an unknown number of years.
After A-Rod opted out in 2007, it was widely reported Cashman wanted the Yankees to walk away, but ownership stepped in and re-signed him to his then record ten-year, $270M deal. That Dodgers deal would've been a total disaster given what he know now. A-Rod's hip broke down and they don't have a DH spot. Assuming that $320M deal covered ten years, Rodriguez would've become the first $30M a year player in history, beating Clayton Kershaw by seven years.
Yankees again ranked as most valuable MLB franchise
Once again, the Yankees are the most valuable franchise in baseball according to Forbes. Forbes has compiling franchise valuations for 21 years now and the Yankees have been atop the list every year. The Yankees are valued at $4 billion, up from $3.7 billion last year. Their revenue is estimated at $619M, but their operating income is a mere $14M. Here are the most valuable franchises:
1. Yankees: $4 billion
2. Dodgers: $3 billion
3. Cubs: $2.9 billion
4. Giants: $2.85 billion
5. Red Sox: $2.8 billion
…
29. Marlins: $1 billion
30. Rays: $900M
The gap between No. 1 and No. 2 is the same as the gap between No. 2 and No. 7. The Yankees are truly in a world of their own among the 30 MLB franchises.
As noted in the Forbes piece, the Yankees generate roughly 20% more revenue than any other team thanks to the YES Network, the still new ballpark, and other side ventures like Legends Hospitality. The average MLB franchise is worth $1.645 billion these days, which is ridiculous. The Marlins sold for $1.2 billion last year. Imagine what a mid-range franchise could go for on the open market.