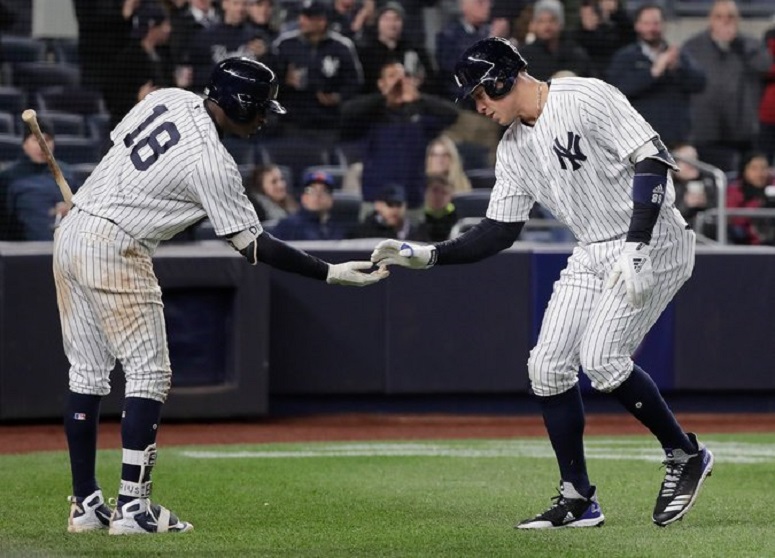 Survive and advance
Coming off a pathetic loss to the tanking Marlins, the Yankees badly needed a win in Thursday's series opener. Although it was far from a memorable and glorious game — one that was highlighted by sloppy defense — the Yankees held on for the 4-3 victory.
On a strict pitch count in his first start since coming off the DL, CC Sabathia played the familiar role of Stopper Ace as he gave up no earned runs (two unearned) on four hits in 4 1/3 innings. Since 2017, he now has a 1.88 ERA in 13 regular-season starts following a Yankee loss, and the team has won 11 of those 13 games (and he is 9-0 as a pitcher).
David Robertson lived up to his Houdini nickname when he loaded the bases with no outs in the eighth inning. No problem for the pitching magician! He struck out the next batter, Kevin Pillar, the 10th guy he'd faced with the bases loaded and no outs in his career. Those 10 plate appearances have resulted in eight strikeouts, one hit and one sac fly.
Overall, Robertson has struck out 43 percent of batters he's faced with the bases loaded in his career (compared to 32 percent in all other situations). Since his debut in 2008, he owns the highest bases-loaded strikeout rate among the 160-plus pitchers that have faced at least 65 guys in that span.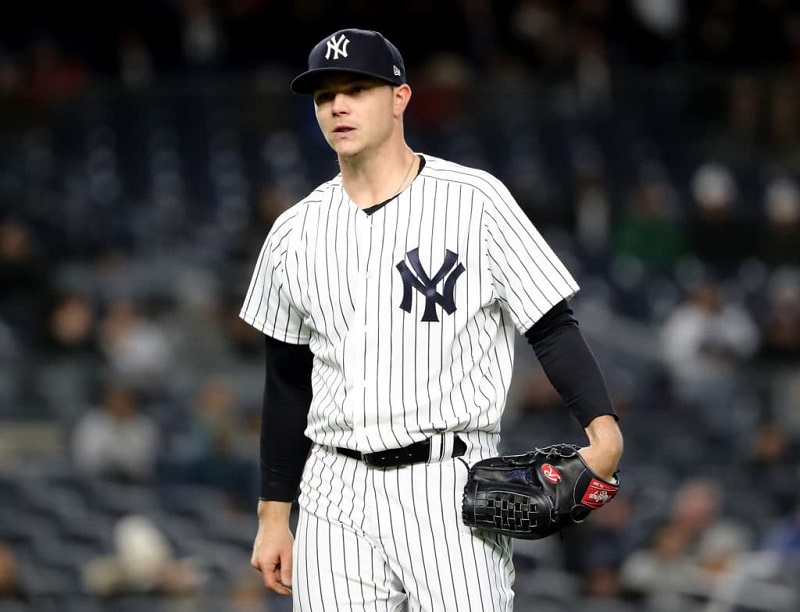 Gray'd Out
Another game, another dip into the pool of mediocrity. The Yankees followed up their win on Thursday with a frustrating loss on Friday. Back to .500 again for the New York Jekyll-and-Hydes. They coughed up a couple early two-run leads thanks to another shoddy starting pitching performance, and then saw the bullpen throw more gasoline onto the fire as the Blue Jays pulled away for the 8-5 victory.
Sonny Gray's struggles continued with another dreadful outing. He was pulled in the fourth inning after giving up five runs, and showed a complete lack of command with two wild pitches and four walks. He's pitched more than four innings in only one of his four starts this season, and as of Saturday morning, he was the only American League pitcher with three starts of four innings pitched or fewer.
There are a ton of ways to slice-and-dice the data and show how terrible Gray has been in his last two starts (last week at Boston: 3 innings, 6 runs, 2 walks, 3 wild pitches). Here's a couple to chew on:
The only other guy in franchise history to pitch back-to-back starts with at least five earned runs allowed and multiple wild pitches was A.J. Burnett in 2011.
Gray is the first Yankee (since at least 1908) with consecutive outings of fewer than four innings and at least two wild pitches thrown.
And our Obscure Yankeemetric of the Series: Gray is the only pitcher in major-league history with back-to-back starts allowing at least five earned runs and throwing two wild pitches while getting no more than 10 outs in each game.
Another alarming stat from his outing was his zero strikeouts and just two swings-and-misses among his 73 pitches. Gray had at least one strikeout in each of his 112 starts with the A's; he now has two zero-strikeout games in 15 starts with the Yankees. The two swinging strikes are his fewest in any game in his career where he's thrown at least 20 pitches.
One of his biggest issues was falling behind in the count, as he threw first-pitch strikes to just 6-of-19 batters (31.6 percent), the worst first-pitch strike rate in any game of his career. The Blue Jays swung at only one pitch in an 0-0 count, as most of Gray's offerings were off the plate: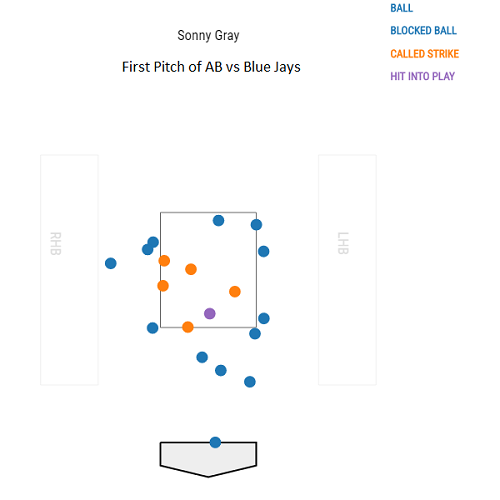 How important was getting ahead to Gray? He faced 19 batters in the game:

9 of the 13 batters that started 1-0 reach base – via five hits and four walks – while he retired the other six batters that started 0-1 (or put the first pitch in play).
Overall this season, it's been the same story, especially when compared to league averages:
2018 Opponent OPS

| | Gray | MLB Avg |
| --- | --- | --- |
| After 0-1 | .467 | .599 |
| After 1-0 | 1.174 | .822 |
One inning is enough
Sometimes, you can predict baseball. The Yankees continued their seesaw battle with .500, moving one game above the break-even mark (10-9) after their 9-1 win on Saturday.
The game was a nail-biter through the first five frames before the Yankees exploded for seven runs in the sixth inning. It was their highest-scoring inning since putting up a seven-spot against the Rockies on June 14, 2016. Here's your Believe-It-Or-Not Yankeemetric: Since that date, every other team in baseball had at least one inning with seven-or-more runs scored.
Aaron Judge put the Yankees on the board early with a two-run blast in the third inning. He crushed a 3-0 inside fastball from Marcus Stroman and sent it 443 feet into the second deck in left field — his first career homer on a 3-0 pitch. Over the last three seasons (since 2016), the only other Yankee to homer on a 3-0 pitch was Starlin Castro.
Jordan Montgomery was tough-as-nails in holding the league's second-highest scoring offense to just one run in six innings. He pitched out of multiple jams, giving up one hit and walking one in eight plate appearances with runners in scoring position. This type of gutty performance has become the norm for Montgomery.
Since his debut last season, Monty has allowed an on-base percentage of .248 with runners in scoring position, the fourth-best mark among pitchers that have faced at least 100 batters.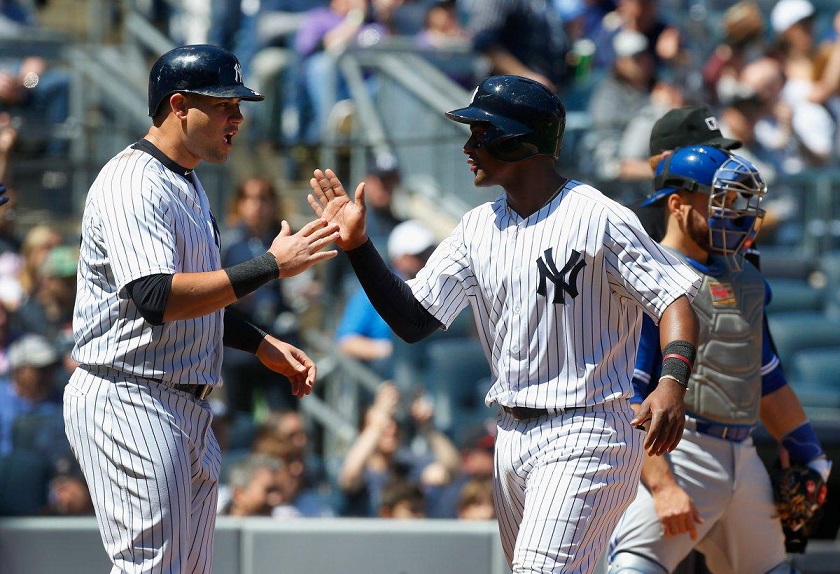 Merry Gleyber-mas!
The Yankees finally broke through in their frustrating battle with mediocrity, beating the Blue Jays in the series finale to move more than one game above .500 (11-9) for the first time since April 4. Somehow, the Yankees have won two in a row, three of four and six of their last nine games. That sounds good!
The pre-game buzz was focused on the much-anticipated unveiling of uber-prospect Gleyber Torres, who was immediately inserted in the starting lineup on Sunday following his promotion Saturday night. When he stepped on the field, the 21-year-old became the youngest Yankee position player since Derek Jeter in 1995 to make his major-league debut in a game before July 1. And since 1950, the only other Yankee non-pitchers as young as Torres to make their MLB debut as a starter in a game this early into the season (20th team game) are Andy Carey (1952) and Mickey Mantle (1951).
While Torres had a quiet day at the plate (0-for-4, strikeout), it's worth remembering the debut of another hyped Yankee position player prospect who was called up before the height of the summer: The Captain was 0-for-5 with a strikeout in his first big-league game on May 29, 1995.
The Yankees ultimately were carried by a couple other Baby Bombers on Sunday afternoon, as Miguel Andujar continued his torrid hitting (4-for-4, 2 doubles, RBI) and Luis Severino twirled another gem (7 innings, 3 hits, 1 run, 6 strikeouts).
Andujar's monster day gets the coveted bullet-point summary treatment:
First, our #FunFact of the series: He is the youngest Yankee with a four-hit game — including two extra-base hits — at Yankee Stadium since Mickey Mantle against the Red Sox in 1954.
He also extended his extra-base hit streak to six games, joining Alex Rodriguez (2006, 2007) and Wade Boggs (1997) as the only Yankee third baseman to pull off that feat in the last 25 years.
Andujar now has 12 career extra-base hits, and is the first Yankee since Joe DiMaggio in 1936 to reach that total within his first 18 career games.
Severino's ace status was cemented with last year's breakout performance, so this stat should come as no surprise: Sunday was Sevy's 19th regular-season start since 2017 giving up zero or one run, the most among all pitchers over the last two seasons, ahead of Max Scherzer (18) and Chris Sale (18). It was also his third outing this season with no more than one run allowed and three or fewer hits allowed. Here's the list of Yankee pitchers in the Live Ball Era (since 1920) to make three starts like that within the team's first 20 games: Severino, David Cone (1999), Jimmy Key (1993).