A rare stress-free win, that was. And it wasn't stress free for the first five and a half innings anyway. I'll still take it. The Yankees roughed up the Blue Jays on Saturday afternoon and picked up a 9-1 win. Once again, the Yankees are a game over .500 at 10-9.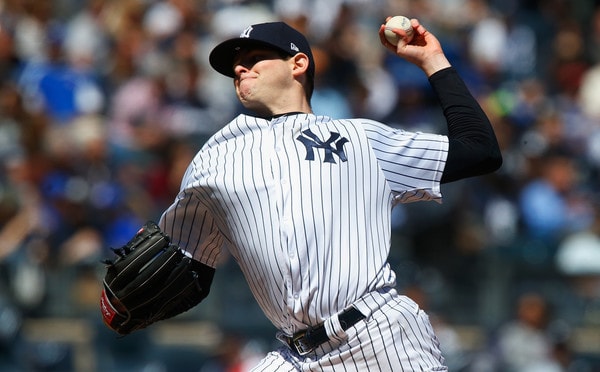 Montgomery Battles
Finally, a strong start by someone other than Luis Severino. Jordan Montgomery had to wiggle out of a few jams Saturday afternoon, but, at the end of the day, one run in six innings is one run in six innings. I'll take it every day of the week. His final line: 6 IP, 4 H, 1 R, 1 ER, 3 BB, 5 K on 91 pitches. I thought maybe Aaron Boone would send Montgomery out to start the seventh, but there was no reason to push it after the big offensive sixth inning.
After back-to-back 1-2-3 innings to begin the game, Montgomery put the leadoff man on base in the third, fourth, and fifth innings. An infield single and two walks loaded the bases in the third, then Montgomery rebounded to strike out Teoscar Hernandez and pop up Yangervis Solarte. A leadoff single in the fourth was followed by a strikeout and two pop-ups. A walk and two singles started the fifth — the second single drove in a run — but Montgomery was able to escape without further damage. He bent a lot. Didn't break though.
Seventeen batters put the ball in play against Montgomery on Saturday and only six hit the ball out of the infield. His average exit velocity allowed was a CC Sabathia-esque 83.7 mph. This was the 19th game of the season for the Yankees and only the seventh time the starter completed six full innings. Severino's done it twice, Masahiro Tanaka's done it twice, Sonny Gray's done it once, and now Montgomery has done it twice. Well done, Jordan.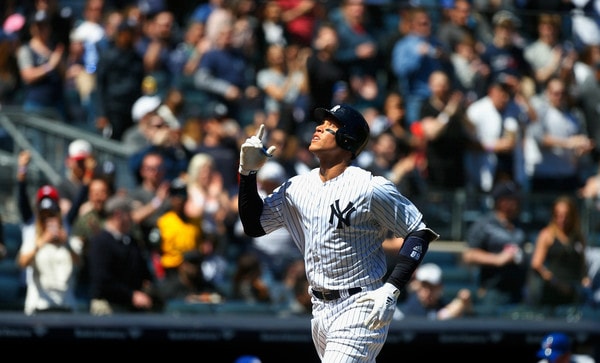 Seven in the Sixth
The Yankees grabbed an early 2-0 lead on Aaron Judge's sixth homer of the season. Marcus Stroman fell behind in the count 3-0, grooved a get-me-over fastball, and Judge turned it loose. Line drive down the left field line and into the second deck. What a rocket. It was Judge's fourth career homer against Stroman, his most against any pitcher. Props to Brett Gardner for turning an 0-2 count into a walk as the previous batter.
For a while there it seemed the Yankees would have to nurse that 2-1 lead the rest of the game — a dicey proposition, to be sure — but thankfully they broke things open with a seven-run sixth inning. Everyone contributed to the rally (except Neil Walker). A lot happened that inning, so let's annotate the play-by-play: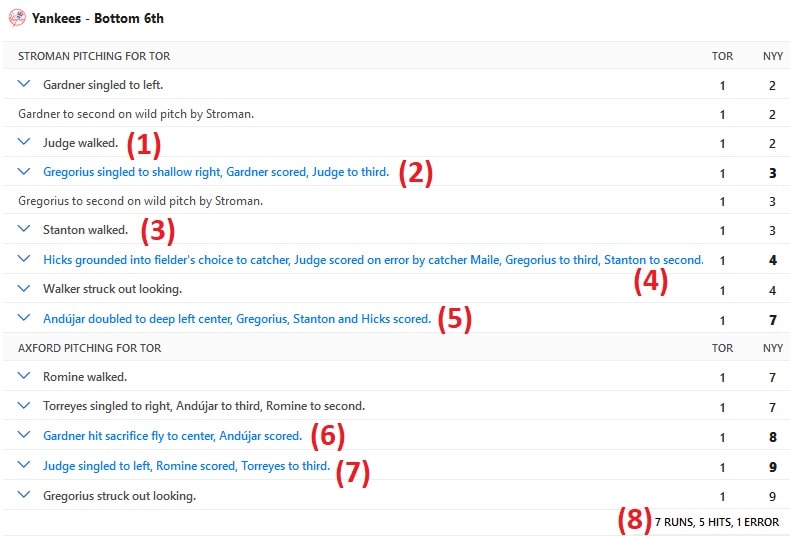 (1) Stroman wanted no part of Judge that at-bat. Gardner poked a leadoff single the other way and took second on a first pitch wild pitch, and as soon as first base was open, Stroman and catcher Luke Maile collectively decided to unintentionally intentionally walk Judge. There's not a doubt in my mind he had the 3-0 green light again, but ball four was not particularly close to the zone. Back-to-back baserunners to start the inning, and away they went.
(2) Didi Gregorius really seems more disciplined at the plate this year. It's early, I know. But he's not chasing pitches we've seen him chase in previous years. I really hope it lasts. In that sixth inning Didi took some borderline pitches to work the count full, then he yanked a cement mixer slider into right field to score Gardner. That was the kind of at-bat we rarely saw out of Gregorius from 2015-17. I don't mean to knock him. He's just never been a very disciplined hitter. Who knows if this'll last. Right now though, it's so awesome. Didi looks so good at the plate.
(3) Yet another wild pitch opened first base and yet again Stroman and Maile pitched around the hulking power hitter. As much as Giancarlo Stanton has struggled so far this year, Stroman gave him nothing that at-bat. They tried to get him to chase out of the zone and it didn't happen. As with Judge, I'm sure Stanton had the 3-0 green light, but the pitch was so far out of the zone that Giancarlo didn't have to think twice about taking it. The Yankees had a run in and now the bases were loaded with no outs. I was surprised Stroman remained in the game beyond this point.
(4) Doesn't it seem like these huge innings always include at least one defensive gaffe? In this case, Aaron Hicks hit a weak tapper back to Stroman, who shuffled the ball to Maile at the plate for the force out. Except Maile did not catch the ball. It clanked in and out of his glove and everyone was safe. Blue Jays manager John Gibbons came out to half-heartedly argue Judge slid into Maile's foot, but home plate ump Will Little was having none of it.
(5) Mini Miggy! This Andujar kid can stay. Hicks' tapper gave the Yankees a 4-1 lead. Miguel Andujar officially broke the game open with a booming bases-clearing double over Hernandez's head in left field. Stroman got ahead in the count 1-2, Andujar fouled off a good slider, spit on another breaking ball out of the zone, then hammered a slider that caught a little too much of the plate. To the very necessary video:
There's a little of that Alfonso Soriano buggy whip in Andujar's swing, eh? The bases-clearing double was Andujar's eighth extra-base hit in the last five games. He's the first Yankee with an extra-base hit in five straight games since Judge (eight games) and Greg Bird (seven games) had simultaneously streaks last September. Andujar is hitting .255/.280/.532 (115 wRC+) with a 14.0% strikeout rate through 50 plate appearances. Getting that OBP up is the next goal. Right now though, that slugging percentage/strikeout rate combo is
Italian chef kissing fingers emoji
.
(6) Shout out to Hernandez for cutting in front of Kevin Pillar on Gardner's sac fly. Pillar caught the ball, but because Hernandez ran in front of him, he had to hesitate for a moment before throwing home. The throw was good and Andujar slid in just ahead of the tag. Who knows what would've happened without the Hernandez miscue (fallacy of the predetermined outcome, blah blah blah), but it helped Andujar beat the throw and score New York's eighth run.
(7) Judge's run-scoring single capped off the big inning. It was a jam shot ground ball single through the left side that left his bat at 102.4 mph. A jam shot at 102.4 mph? Look at this: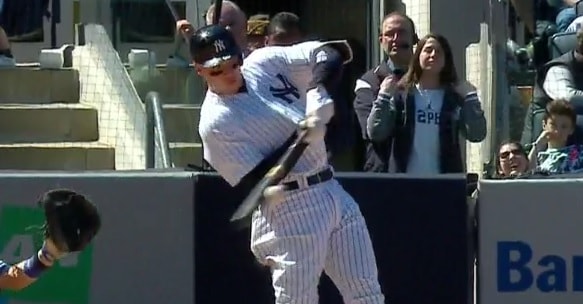 How do you pull your hands in like that and still pull a ball 102.4 mph? That is not normal. Nothing about Judge is normal, and I mean that in the nicest way possible. He is the best kind of baseball freak. What a fun way to cap a big inning.
(8) The seven-run inning was the biggest inning for the Yankees since June 14th, 2016, in Colorado, if you can believe that. They scored seven runs in the eighth inning of that game. Ike Davis had a single. True story. This was the Yankees' biggest inning at Yankee Stadium since scoring nine runs in the seventh inning against the Red Sox on August 4th, 2015. Also, the Blue Jays had not allowed more than six runs in any game this season prior to Saturday. Then they allowed seven in one inning. Baseball.
Leftovers
Props to Chasen Shreve and the just called up Jonathan Holder for not making things interesting after the big sixth inning. Shreve struck out two in a perfect inning and Holder struck out two in two perfect innings. Nine up, nine down to close things out. Nicely done. Dellin Betances did warm up before the Yankees broke it open, otherwise all the key relievers got the afternoon off.
Nine runs and seven walks for the Yankees. Every starter reached base at least once, and both Judge (homer, single, walk) and Gregorius (two singles, walk) reached three times each. Andujar had two hits and Austin Romine had two walks. Stanton went 0-for-4 with a walk and two strikeouts and was booed with the Yankees up eight runs. How silly.
Box Score, WPA Graph & Standings
Check out ESPN for the box score, MLB.com for the video highlights, and ESPN for the updated standings. Don't miss our Bullpen Workload page either. Here's the win probability graph:

Source: FanGraphs
Up Next
This four-game series comes to end Sunday afternoon. That's another 1pm ET start. I do love me some weekend afternoon baseball. Luis Severino and former Yankee Jaime Garcia are the scheduled starting pitchers. The Yankees will look to win their first series of more than two games this season.