Today, for the first time this season, the Yankees' bullpen did not allow a run. And that's only because the home opener was snowed out. The home opener has been rescheduled for tomorrow, assuming the weather cooperates. Whenever the Yankees play next, they'll look to get the first scoreless game from their bullpen in 2018.
Here are the combined bullpen numbers through four games: 13.1 IP, 12 H, 11 R, 11 ER, 5 BB, 18 K, 4 HR. Yikes. Only three relievers in the eight-man bullpen have yet to be charged with a run: Chad Green (still awesome), Jonathan Holder (allowed an inherited runner to score), and Chasen Shreve (hasn't pitched yet). David Robertson has already allowed as many runs this year (four in two innings) as he did with the Yankees after the trade last year (four in 35 innings). Not great.
The Yankees are built to win games like the two they lost. Tie game in the late innings like Saturday? The bullpen holds it down until someone on offense smacks a dinger. Three-run lead with three innings to go like Sunday? It's supposed to be in the bag. Alas, things don't always go according to plan, and the bullpen has been scored upon in all four games thus far. A few thoughts about this.
1. Dude, it's four games. Obligatory small sample size reminder. Extremely small sample size, at that. Regardless of your opinion of the Josh Donaldson intentional walk, at some point we have to acknowledge Justin Smoak had a monster at-bat against Robertson. Nine pitches, fouled away a bunch of great curveballs. It really was a great at-bat. Sometimes you just get beat. I didn't like the intentional walk, but credit Smoak for that battle.
Anyway, as long as everyone is healthy, I feel pretty confident the key late inning relievers — specifically Green, Robertson, and Tommy Kahnle — will be excellent. Green's been great so far as it is. Also, getting Adam Warren back from his ankle bruise will help as well. Bullpens have bad series. It happens. When it happens in the first series of the regular season, it feels more meaningful even though it's really not. The talent is still there.
"It's gonna be a strength, I am confident in that," said Aaron Boone following Sunday's game. "Everything is a little bit magnified, obviously, in the early days, good and bad. I'm really comfortable over time that those guys will continue to do their thing and it will continue to not just be a strength, but I think an overwhelming strength for this club."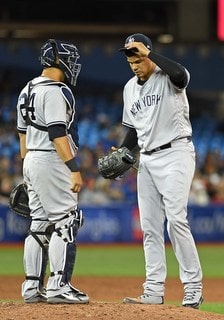 2. Boone has to be more judicious with Betances. I expect Green, Robertson, Kahnle, Warren, and Aroldis Chapman to be fine going forward. Dellin Betances is a different animal, for better or worse. He's given up two home runs in two appearances — his second homer came in his 56th appearance last year — which is unusual and annoying. Then again, every pitcher seems more homer prone these days. It's happening to everyone.
Betances has only walked one of the 13 batters he's faced so far (and he was squeezed a bit), which is encouraging after last year, but it's 13 batters. The larger point here is that while having confidence in your players is a good thing, Dellin is at the point where he has to earn back trust, and Boone has to be more selective with him. Eighth inning with a five-run lead on Opening Day? Perfect. Pushing him for a second inning in the late innings of a tie game Saturday? Eh.
I'm a Betances believer. I think he'll have a typical Dellin season, which means gobs of strikeouts and not much in the way of hard contact. Boone obviously expects Betances to dominate as well. Until he shows he can consistently though, Boone has to pick his spots with him. Use him for an inning at a time and in lower leverage spots. Dellin was a multi-inning monster from 2014-16. Those multi-inning days are pretty much over.
3. Eight relievers is one too many. Still not a fan of the eight-man bullpen. I get it, I totally do. Teams don't want to overwork anyone early in the season and they're terrified of running out of arms. And yet, four games into the season Shreve has yet to pitch, Warren has faced three batters, and Holder has faced two batters. It's not like the starters have pitched super deep into games either. CC Sabathia went five innings and Sonny Gray went four.
The presence of the eighth reliever creates some sense of obligation to actually use him from time to time. The Yankees hadn't played since Monday when Holder was brought into Saturday's game, and I think that factored into the decision to use him. He needed work! Want to improve the bullpen? Get rid of the weakest link. If things go haywire and a fresh arm or two is needed the next day, you call them up. Eighth relievers, man. Teams want them but they're never really all that useful.
4. If the Yankees have to make changes, they will. It's still way too early to freak out about the bullpen. Can we at least give them a homestand first? Please? If the sample grows and the struggles continue, and the Yankees have to adjust their bullpen personnel, they will. They did last year. Maybe that means call-ups, maybe it means trades. If the current group doesn't do the job the Yankees will make changes.
The bullpen at the end of the season very rarely looks like the Opening Day bullpen. Injuries and poor performance inevitably lead to roster changes throughout the season and nowhere on the roster is that more applicable than in the bullpen. Relievers are inherently volatile. If changes are necessary, changes will be made. Right now, it's way too early to say changes are necessary. Bullpens have bad series now and then, even great ones. The Yankees' vaunted bullpen just had a bad series, and right now, it's too early to say it's anything more than that.