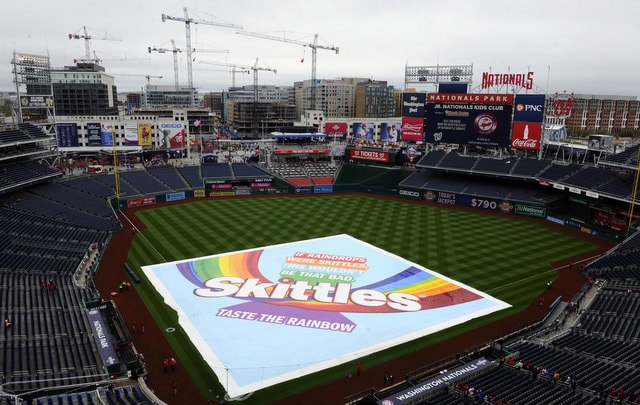 For the first time this season, the Yankees are heading over to the land of no DH. Tonight they start a quick two-game series in Washington and hey, this might be a World Series preview. The Yankees and Nationals are both very good, and if they qualify for the postseason, anything can happen. Let's not get ahead of ourselves though. There's a lot of season remaining.
Both the Yankees and Nationals come into this series playing very well. The Yankees are 19-3 in their last 22 games whereas the Nationals are 13-2 in their last 15 games. They just swept four games from the first place Diamondbacks in Arizona. Of course, the Yankees have played the majority of those last 22 games against very good teams, so they're up for the challenge. Here are the starting lineups:
New York Yankees
1. CF Aaron Hicks
2. RF Aaron Judge
3. LF Giancarlo Stanton
4. C Gary Sanchez
5. SS Didi Gregorius
6. 1B Tyler Austin
7. 3B Miguel Andujar
8. RHP Masahiro Tanaka
9. 2B Gleyber Torres
Washington Nationals
1. SS Trea Turner
2. RF Bryce Harper
3. 3B Anthony Rendon
4. LF Matt Adams
5. 2B Howie Kendrick
6. 1B Mark Reynolds
7. CF Andrew Stevenson
8. C Pedro Severino
9. LHP Gio Gonzalez
Aaron Boone's a "hit the pitcher eighth" guy, eh? Well, anyway, the weather forecast in Washington is a problem. There are on and off thunderstorms in the forecast pretty much all night, so we could be in for a delay(s) at some point. Sure hope not. Tonight's game is scheduled to begin at 7:05pm ET and you can watch on YES. Enjoy the game.
Roster Move: Welcome back, Red Thunder. Clint Frazier has been called up and David Hale has been designated for assignment, the Yankees announced. They now have a seven-man bullpen and four-man bench. Well, five-man bench this series, because of whole no DH thing.