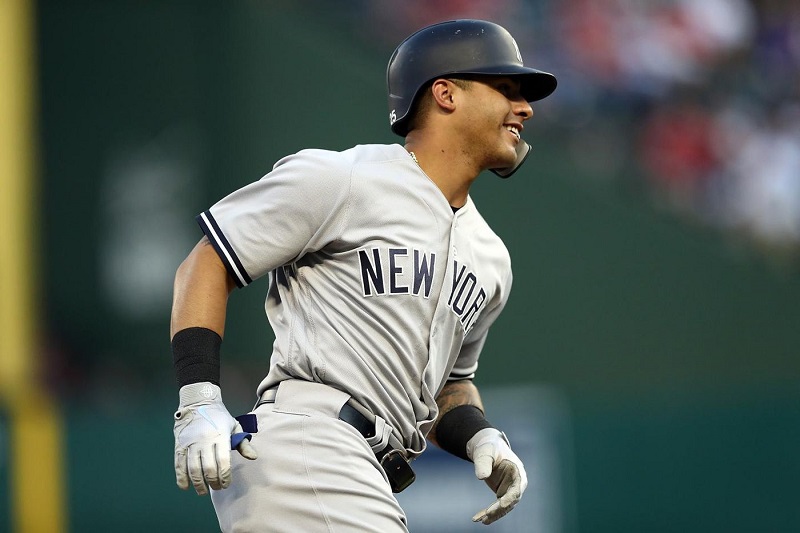 It's impossible to know when or how the Gleyber Torres era will end, but it certainly has started with a bang. Torres has already hit nine home runs and the Yankees have been on a tear since they promoted the 21 year old middle infielder. For all its typical uncertainty, the future looks as bright as could be for Torres and that's what the focus should be on. Instead, some are looking backwards for what Torres could be…or what they want him to be.
The headline of a New York Post article–by Kevin Kernan–declared "The Yankees have found the real Derek Jeter heir." I think the breeze from my elongated sigh is still flapping the curtains in my living room as I write and you read this. This is exactly the kind of thing that media should not be saying about a player, no matter how talented or productive he is.
Derek Jeter had one of the most successful careers of recent memory. Personally, he was a Hall of Fame player; collectively, he won five championships. Either one of those things would be hard to beat before considering how generally beloved he was by the city and fans of New York. Hoisting that comparison to a guy whose first month in the Majors isn't yet over is beyond unfair.
Torres and Jeter share two things, generally: a middle infield position and a matching throw/bat side. That's all there needs to be. In style of play, in mannerisms, in dealings with the public and the media, Gleyber Torres does not need to be Derek Jeter. He needs to be Gleyber Torres.
This trend goes back decades with the Yankees. Bobby Murcer was supposed to be the next Mickey Mantle. Joba Chamberlain was the 'heir apparent' to Mariano Rivera. And now Torres is the new Jeter. This practice by Yankee fans and/or media is self-defeating at best. If the comparison in one's mind is to one of the greats in the history of the game, how could anything less meet expectations? Looking backwards makes sense in a vacuum–we need to compare what we are seeing to what we have seen for it to make sense–but we have plenty of context here in the real world. Focusing solely on recreating the past leads us down a disappointing and damaging road.
Major League Baseball at large is guilty of this, too. Whether it's in the way fans and media talk about the sport or how the institution talks about itself. It may not manifest itself in player comparisons, but it does in constant nostalgia and a harmful take on self-reflection.
Maybe I'll be this way when I'm older, but it seems that we're always told the past of baseball is better than its present. With almost any sport, this isn't true. Contemporary athletes are bigger, faster, stronger, and likely more prepared than all their predecessors. That is a good thing! Is this to say that those guys from the 'golden age'–whenever that is–were scrubs? Hell no! They were great! But the players today are, too. In fact, we're in an era with the potential best player ever–Mike Trout–and the potential best pitcher ever–Clayton Kershaw. Why is this not celebrated?
This extends to the way the game is played and how we talk about it. Everyone is acting like players hitting lots of homers and pitchers getting lots of strikeouts are problems. Those are literally the two best things a hitter and pitcher can do. Part of me does get that a lack of 'action' is unappealing and the juiced up ball is definitely partially responsible for the homers. But I like watching homers. I like watching strikeouts. Is the game suddenly going to improve and draw more fans because guys are…grounding out to second and short more often? Or hitting flyouts instead of homers? Besides, teams have figured out that power pitching and power hitting are the ways to win. Are the Warriors and Rockets going to stop launching threes because some oldheads don't like the three point line? No and they shouldn't want to and fans shouldn't want them to. Why baseball fans and media and executives are always so eager to change the way the game is in the current moment is beyond me. Self-reflection is good for sports and the fans thereof, but the way baseball chooses to do it draws negative attention to itself–the one thing it doesn't want.
This is all to say that we need to stop looking to the past when it comes to the game and, more importantly perhaps, our large adult sons in pinstripes. Gleyber Torres doesn't need to be Derek Jeter. Neither does Aaron Judge, nor Gary Sanchez, nor Didi Gregorius, nor any future Yankee need to be any past Yankee. They need only be themselves and carry with them their immense skills that got them to where they are.