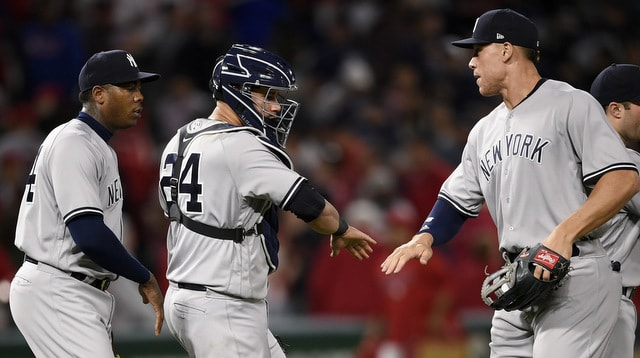 Sixteen games into the new season, the Yankees were playing thoroughly mediocre baseball, and their 8-8 record and +3 run differential reflected that. They had scored the fourth most runs in baseball at the time, so that was cool. They'd also allowed the seventh most runs, which was a big problem. Both the pitching and defense had gone bad.
Since then the Yankees have gone 10-2 and outscored their opponents 74-31, and they look very much like the team everyone expected them to be this season. The Yankees lead baseball in basically every meaningful offensive category and they're second in many others. They rank first in runs (164), homers (41), wRC+ (115), so on and so forth.
The offense has really kicked it into high gear the last two weeks, but the single biggest reason the Yankees have gone on this recent 10-2 hot streak is the run prevention. It was a real problem earlier in the season. Now the Yankees are doing a much better job keeping runs off the board. Look at this: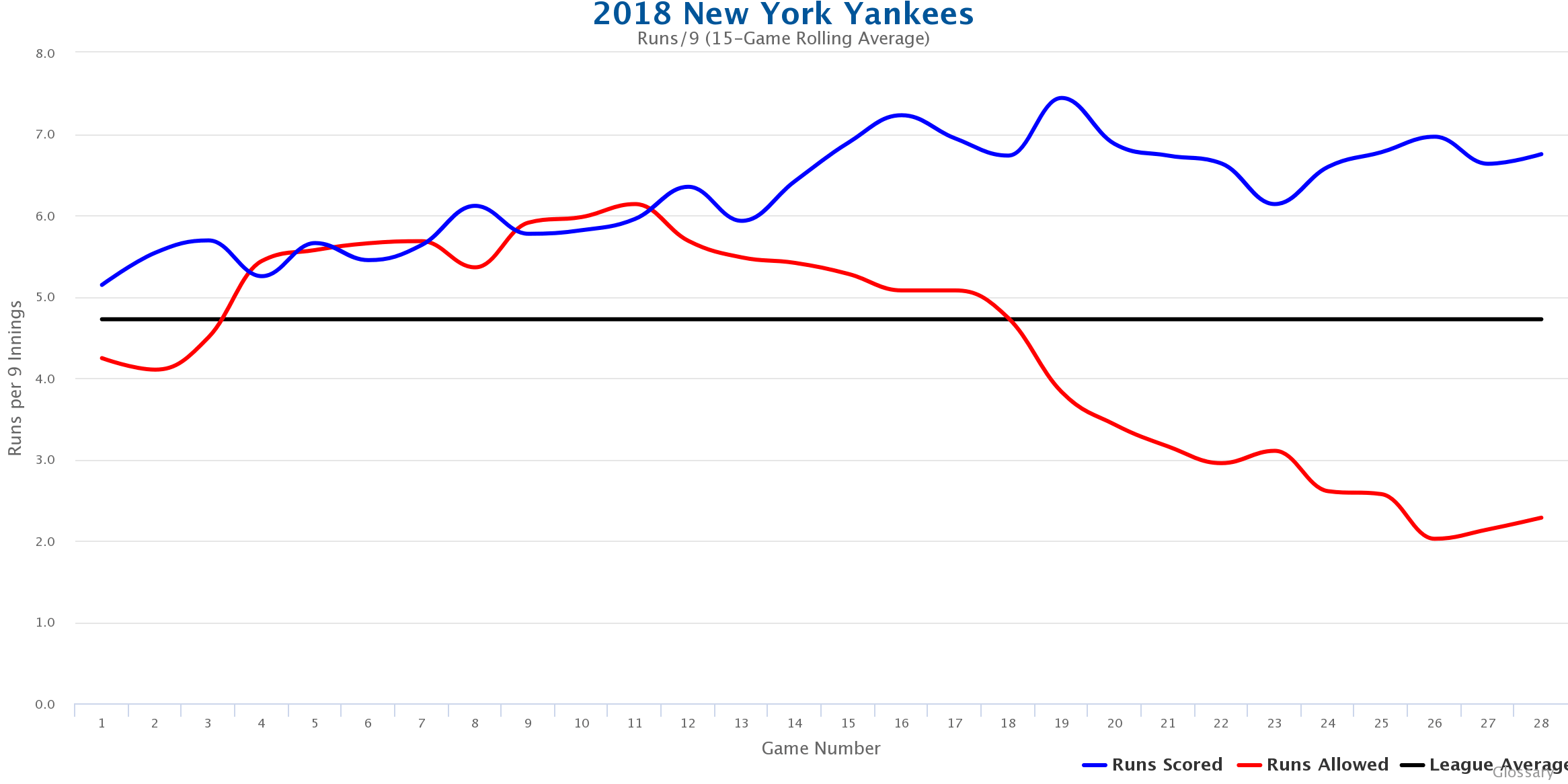 A positive trend, that is. The Yankees have held their opponent to one run five times in the last ten games, and three or fewer runs nine times in the last ten games. Not once in those ten games did they allow more than four runs. At one point earlier this year the Yankees allowed 41 runs in a five-game span. They've allowed 41 runs in the 14 games since.
"Obviously the offense is a big story for us, but we're not doing this without the starting pitching we've been getting," said Aaron Boone to Erik Boland over the weekend. "They've for the most part been consistent and then turning it over to our bullpen, which is starting to find a good groove."
Pitching and defense are the two components of run prevention and the Yankees have been greatly improved at both. I highlighted the run prevention issues a little more than two weeks ago, when the Yankees were 7-7 and mostly spinning their wheels. Here are the numbers then and now, with the team's MLB ranks in parenthesis:
| | After 14 Games | After 28 Games |
| --- | --- | --- |
| Starters | 4.83 ERA (22nd) |  3.77 (10th) |
| Relievers | 4.71 ERA (25th) |  3.40 (9th) |
| Defensive Efficiency | 0.684 (29th) | 0.716 (7th) |
Yup. We're still in small sample size territory, and there are better ways to evaluate pitching than ERA, but the bottom line is the Yankees are allowing fewer runs. The rotation has been very good lately — even Sonny Gray turned in a quality outing last night — and the bullpen settled in a few weeks ago, even with Tommy Kahnle and Adam Warren hurt.
To me, the improved defense is the most noteworthy development here. The Yankees do still lead MLB in errors, which is annoying, but they haven't been happening as frequently lately. They committed 17 errors in the first 16 games and have committed only seven in 12 games since, with four of the seven coming in one game. That's … better? It is better. Still bad! But better.
I count three reasons for the defensive improvement. One, Aaron Hicks is back. He missed two weeks with an intercostal injury and getting him back in center field has improved the outfield defense overall. Two, Gleyber Torres has joined the Yankees. He's already flashed some serious leather. How long has it been since the Yankees had a full-time second baseman who could do this?
Probably not since Robbie Cano. Gleyber, if nothing else, has been a defensive upgrade at second. And three, Giancarlo Stanton looks way more comfortable in left field. It was always silly to say he couldn't handle left after watching him play like five minutes out there in Spring Training. He's a good athlete and a good right fielder, and now that he has more experience in left, he's handling it well. I'm not surprised. Hicks, Torres, and Stanton have all helped defensively.
You're never really as good as you look at your best and never really as bad as you look at your worst. The Yankees couldn't keep runs off the board earlier in the season and now they've turned into a run prevention dynamo. The real 2018 Yankees are somewhere in the middle. The Yankees did allow the fourth fewest runs in baseball last season with largely the same cast of characters. In terms of keeping runs off the board, the real 2018 Yankees are probably closer to the team we've seen these last two weeks than the team we saw at the start of the season.