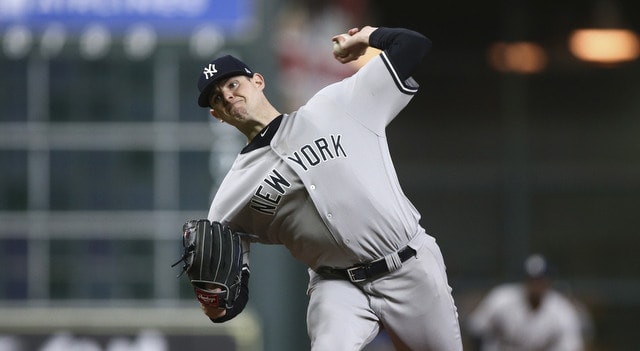 Last night's stellar win over the Astros came at a price. Jordan Montgomery had to leave the game after a seven-pitch 1-2-3 first inning with what the Yankees are calling elbow tightness. He's returning to New York today for tests. Yuck. Losing a starter is never good, especially a young starter like Montgomery. Let's break down this rather unfortunate development.
1. For what it's worth, both Montgomery and Aaron Boone downplayed the injury following the game. "Maybe I'll just miss a start. You never know. But I would be surprised if it was something real bad … It's not like I'm hurting that bad," said Montgomery to Bryan Hoch and Erik Boland. He added he first felt the tightness two days ago. Okay, so what happens now? Well, Montgomery is going to travel back to New York and squeeze into an MRI tube. The Yankees tend to announce these things fairly quickly, so I imagine we'll hear some sort of update later today. Hopefully it's inflammation or something like that. If it's something more serious, Montgomery will go for a second opinion. They always do. With elbows, it's hard not to think worst case scenario (Tommy John surgery), and there's nothing you can do other than hope for the best. The Yankees usually don't keep secrets with their MLB players. Once Montgomery gets back to New York and is examined, we should know what's up.
2. I am forever a "play it safe" guy, especially with young pitchers, so I say stick Montgomery on the disabled list even if the MRI brings back good news today. It's a 10-day DL now. The ten days fly by. Even if it's a minor injury, just put him on the disabled list, knock out whatever it is, and don't play shorthanded. No matter what the MRI shows I expect the Yankees to be cautious and put Montgomery on the disabled list later today. They'd need to come up with a spot starter for Sunday, but, after that, they'll need their fifth starter only once over the following 15 days. They could give Montgomery a nice long rest, let him make a rehab start, and not play shorthanded. Why wouldn't you do that? I hope the MRI brings good news. If it does, I'd still like to see Montgomery take a quick 10-day DL stint just to make sure he's a-okay rather than rush him back to start this weekend or whatever. There's no reason to push him in early May. Missing a few games now is better than missing a lot of games later.
3. Okay, so if the Yankees do put Montgomery on the disabled list, who comes up? There are only two healthy pitchers in the minors and on the 40-man roster: Albert Abreu and Jonathan Loaisiga. Both are Single-A kids and not realistic call-up options. (Abreu made his first start of the season earlier this week after having his appendix removed during Spring Training.) Non-40-man roster options include David Hale (re-signed yesterday), Cody Carroll, and Nestor Cortes. Chance Adams started two days ago and wouldn't be called up today because he's not available to pitch. My guess is it would be Hale. Domingo German is the favorite to move into Montgomery's rotation spot — he earned it with his performance last night and Boone told Hoch that German will "probably" step into the rotation — meaning the Yankees would be short a long reliever. With German not able to pitch deep into games yet and the perpetual concern about short starts, calling up a short reliever like Carroll doesn't seem like a thing that'll happen. Letting Hale sit in the bullpen as the seldom used eighth reliever strikes me as the likely course of action, even just temporarily, until the Yankees get to Monday's off-day. (As for 40-man roster space, I have to think Jacoby Ellsbury is a 60-day DL candidate at this point, so there you go.)
4. German more than held his own last night and as far as I'm concerned, he is far and away the best fill-in starter candidate in the organization right now. Justus Sheffield has been pretty great this year — conveniently enough, he lines up perfectly to take Montgomery's spot — but he's yet to pitch in Triple-A and the Yankees have set development goals that I'm not sure Sheffield has achieved yet. I don't like altering a top prospect's development plan based on a big league roster need. Teams do it, but it's not ideal. In this case, with German available, calling up Sheffield doesn't make sense to me. Adams has not been great in Triple-A this season (5.11 ERA and 4.90 FIP), though he is coming back from elbow surgery, and I wouldn't be surprised at all if the Yankees looked past his small sample size numbers this year and focused on his overall body of work. Adams could be a Montgomery replacement, for sure. I don't think the Yankees would go to Adams if this is a short-term injury. If it's a one or two start deal, it'll probably just be German. Teams tend to take the path of least resistance. If Montgomery is out longer term, then Adams becomes a more realistic option. Hopefully he rattles off a good Triple-A start or three before getting the call.
5. As for external rotation options, free agency doesn't have much to offer. Clay Buchholz was released yesterday after a meh three-game minor league stint (16 IP, 10 H, 2 R, 7 BB, 9 K) with the Royals. Kansas City's pitching staff is pretty thin. If they didn't think Buchholz could help at all, it's hard to see the Yankees grabbing him. Other free agents like R.A. Dickey and Ubaldo Jimenez aren't worth it. They're probably not ready to step into a rotation anyway. Free agency offers no help. The trade market? It's still a little early to swing a meaningful trade at this point of the season. Maybe a smart tanking team decides to get out ahead of the market and trade a veteran now before everyone else hangs the "For Sale" sign. Who could that be? The Rangers with Bartolo Colon? The Reds with Homer Bailey? The Padres with Clayton Richard? Yuck. Yuck yuck yuck. I'd never rule out a small depth pickup. The Yankees have a recent history of going internal to solve their roster needs and I expect them to do the same here, while gearing up for a run at an impact pitcher at the trade deadline. The Montgomery injury won't lead to a rash trade. That's not how the Yankees operate now. German's going to get his chance.