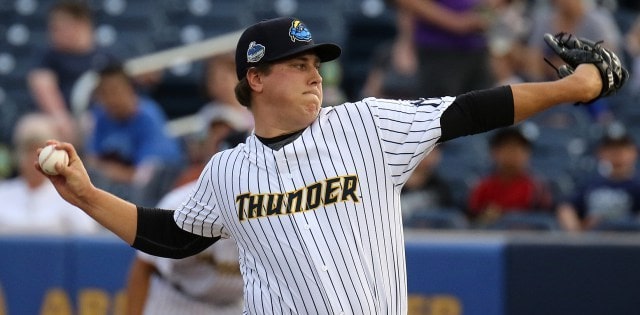 Two years ago, when the Yankees decided to sell at the 2016 trade deadline, they shipped Carlos Beltran to the Rangers for three pitching prospects. The traded didn't really work out for Texas — Beltran hit .280/.325/.451 (103 wRC+) with the Rangers and they were eliminated in the ALDS — and, after the season, Beltran signed with the Astros and was finally able to win his first World Series ring.
For the Yankees, the headliner in the trade was ry Dillon Tate, the fourth overall pick in the 2015 draft. He was having a down year and the Yankees were able to buy low on him. Tate, who just turned 24, has been mostly inconsistent and injured since the trade, and he currently owns a 3.82 ERA (3.39 FIP) in 35.1 innings with Double-A Trenton. His stock has rebounded since the trade, so that's cool.
The other two pitchers the Yankees acquired, right-handers Nick Green and Erik Swanson, were non-top 30 prospects and easily considered throw-ins. Swanson missed time with injuries and Green was struggling to take that next step developmentally while with the Rangers. Long story short, the Yankees traded Beltran for three bounceback candidates. Tate was the headliner, but Swanson and Green were not necessarily nobodies.
This season Swanson and Green appear to be making the jump from interesting sleepers to legitimate prospects. Swanson, 24, owns a 0.44 ERA (1.57 FIP) with 34.9% strikeouts and 8.1% walks in 40.2 innings with Double-A Trenton, and he's currently riding a 23-inning scoreless streak. His 14.1% swing-and-miss rate is ninth highest among the 136 minor leaguers with at least 40 innings pitched.
Swanson looks like a Yankees pitching prospect, eh? He's big and thick (6-foot-3 and 235 lbs.), and he gets lots of swings and misses. The Yankees love their physically huge bat-missers. Here's what Trenton manager Jay Bell told
Randy Miller
about Swanson recently:
He throws hard and he's got good late life on his fastball. It stays up and gets by hitters. I'm not an analytics guy, but that's what they like about him. He's also developing more shape on his curveball. It's getting more consistent. His changeup plays up a little bit. He's been starting to throw that a little more. Sometimes his curveball comes out like a slider, so he doesn't mean to throw four pitches, but he actually does … He's got to the point where he's understanding what makes a pitcher great and what makes a pitcher tougher for a hitter. He's learning the mental stuff in the game, as well. He's a guy that certainly needs to be watched.
Going into last night's start (six shutout innings) the 23-year-old Green had a 2.94 ERA (3.62 FIP) with 23.2% strikeouts and 12.6% walks, and his 62.4% ground ball rate is tenth highest among the 501 minor leaguers with at least 30 innings pitched this year. Only eight pitchers in the minors have a 60% ground ball rate and an 11% swing-and-miss rate, and Green's one of 'em. Baseball America had a little something on him two weeks ago:
He accomplishes this (ground ball rate) with a three-pitch mix that includes a low-90s fastball that, in the words of one evaluator, "moves like a low-90s slider." He couples it with a curveball that spins at more than 3,000 revolutions per minute and a changeup that is his third pitch at this point. He needs to iron out his control (16 walks in 29 innings this season) but he's done enough to raise eyebrows.
The Yankees produced a prospect watch video on Green last season that touted his unique fastball, which somehow cuts and sinks. It's tough to explain, but the Yankees are an analytics heavy organization, and the data shows only a handful of pitchers can do what Green does with his fastball. Swanson's more of a standard fastball/curveball guy. Green is a bowling ball fastball guy.
Over the last few years the Yankees have built a strong farm system by getting lesser know prospects to raise their game. Chad Green turned into a dominant reliever. Dietrich Enns became a trade chip. Cody Carroll looks like a future bullpen piece. Jonathan Loaisiga might be a top 100 prospect. Now Swanson and Green are finding themselves and becoming prospects worth you attention, either because they could be big league options at some point, or trade chips.
Given his age (25 in September) and Double-A success, my guess is the Yankees will look to get Swanson to Triple-A Scranton fairly soon. There's no sense in wasting these bullets in Double-A. This is Green's third straight year in Single-A and I imagine the Yankees will want to see him in Double-A before the end of 2018. Both Swanson and Green were passed over in the Rule 5 Draft last winter and the Yankees will want to see them at the upper levels before 40-man roster decision time comes.
To date, the Yankees have received minimum impact from their 2016 trade deadline deals. Gleyber Torres has been in the big leagues less than a month and there's whatever Clint Frazier did last year. And Adam Warren. That's pretty much it so far. And, truth be told, Swanson and Green may never help the Yankees. Two years ago they were basically throw-ins in the Beltran trade. Non-top 30 prospects worth a shot. Now they're becoming factors, or at least prospects worth keeping an eye on this season.