This one will not go on MLB's pace-of-play highlight reel. But, a win is a win, and the Yankees picked up a 3-1 win over the Angels in the series finale Sunday afternoon. They've won nine of their last ten series. That is pretty, pretty good.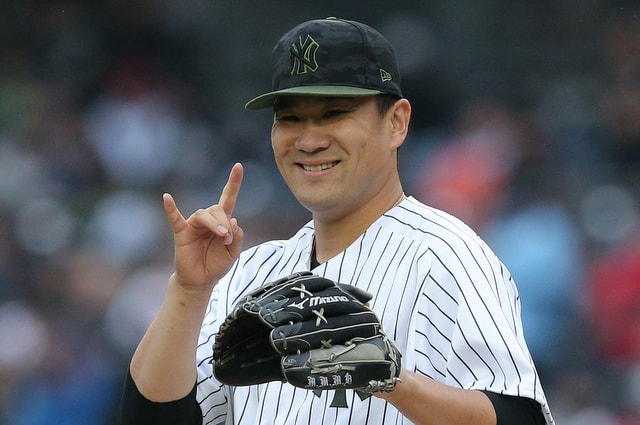 Just Don't Swing
The three-run third inning rally started with the hardest hit ball in MLB so far this season. Aaron Judge opened the inning with a 119.9 mph (!) opposite field single. Hardest hit ball in baseball this season and the hardest hit ball to the opposite field since Statcast became a thing in 2015. Pretty cool.
After the Judge leadoff single, the next five batters pretty much just left the bat on their shoulders. Giancarlo Stanton struck out looking on a borderline — though nasty — 96 mph heater down-and-away. That was the first out of the inning. The next four batters:
Gary Sanchez: Five-pitch walk. He turned it loose 3-0 and yanked it juuust foul down the line.
Didi Gregorius: Four-pitch walk.
Aaron Hicks: Five-pitch walk to force in a run. He took the 1-0 pitch for a called strike.
Greg Bird: Four-pitch hit-by-pitch to force in another run. He fouled away the 2-0 fastball.
Four batters, four baserunners, two runs, 18 pitches, two swings. Garrett Richards had no idea where the ball was going. Several pitches in the dirt — catcher Martin Maldonado was visibly frustrated at all the blocking he had to do that inning — and several pitches far outside the strike zone. The Bird hit-by-pitch came against lefty Jose Alvarez, though here is Richards' pitch locations for that inning: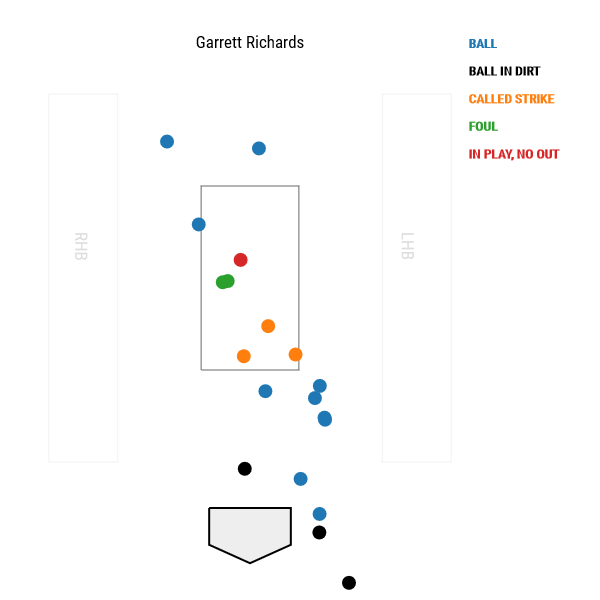 Awful lot of easy takes there. Alvarez didn't do much better against Bird either. Two easy takes for a 2-0 count, the fouled away heater, then a pitch to the shoulder to force in a run. Miguel Andujar did what Miguel Andujar does that point, so he swung at the first pitch, and hit a ground ball back up the middle. Andrelton Simmons scooped it, realized he had no play at the plate, and stepped on second for the out. That brought home the third run of the inning. One hit, one ball out of the infield, three runs.
Six Strong From Tanaka
Very nice bounceback start for Masahiro Tanaka. He was coming off four straight tough outings — he had a 5.91 ERA and a .247/.315/.469 opponent's batting line in four May starts going into Sunday — but was able to give the Yankees six innings of one-run ball. Coincidentally enough, it was his first really good start since the last time he faced the Angels. That game was out in Anaheim.
In his six innings, Tanaka only had one real jam. He allowed a single to Simmons and walked Shohei Ohtani to start the third inning, putting two runners on base immediately after the Yankees scored three runs. Annoying! Tanaka bounced back to strike out Luis Valbuena and coax a 1-6-3 double play from Ian Kinsler to escape that inning. Masahiro really needs to win a Gold Glove one of this years. He fields his position so well.
Tanaka's final line: 6 IP, 3 H, 1 R, 3 BB, 8 K, 1 HR on 104 pitches. Simmons hit the #obligatoryhomer in the sixth. That's a season high pitch count for Tanaka and the most pitches he's thrown in a game since throwing 109 in eight innings against the Rays last August. He struck out 14 that day. I was hoping to maybe see some more fastballs from Tanaka, but nope. Eight sinkers and 25 four-seamers among those 104 pitches, or 31.7%, which is a typical rate. Several fastballs were elevated though: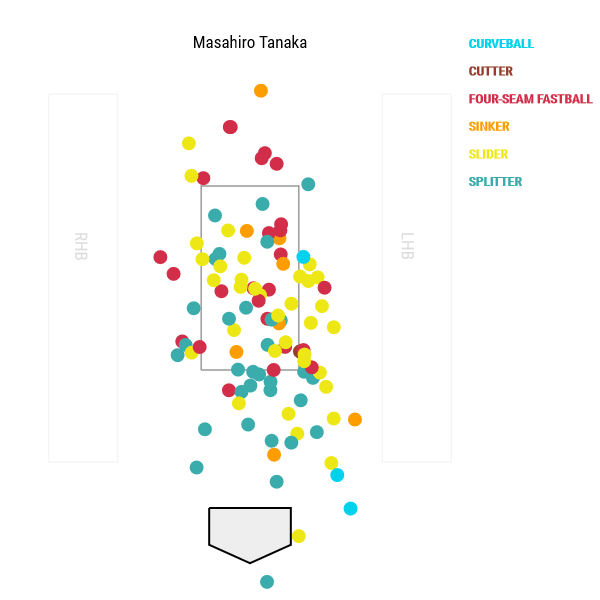 Mike Trout battled Tanaka for nine-pitches in the first inning, and Tanaka eventually got him to swing through a 93.9 mph fastball up in the zone. See? When you throw so many sliders and splitters, you can almost catch hitters by surprise with fastballs. That 93.9 mph heater probably looked like 98.9 mph after all the offspeed stuff. Good outing for Tanaka. The Yankees needed that.
Go To The Bullpen
There has kinda maybe possibly been a change to the bullpen pecking order. With the Yankees up 3-1 going into the seventh, Aaron Boone went to David Robertson against the bottom of the order. D-Rob has been the Eighth Inning Guy™ pretty much all season, but he's struggled lately, so Boone gave him the bottom of the order. I like it. Robertson pitched around a one-out single in the scoreless frame.
Robertson got the seventh and Dellin Betances, who's been quite good lately, handled the eighth. He walked the leadoff man (Zack Cozart), which brought Trout to the plate as the tying run. Groan. Trout hit a fielder's choice to short — the Yankees had no chance at a double play, Trout's way too fast — then, for whatever reason, he didn't steal. I know the Angels were down two, but you can steal on Dellin, and it would've eliminated the double play possibility. Sure enough, Simmons followed with a tailor-made 6-4-3 double play ball. Hooray.
Aroldis Chapman pitched around a leadoff walk in the ninth for his 11th save. As for the Angels, their bullpen shut the Yankees down, or at least they did after Alvarez allowed two inherited runners to score. The Halos' bullpen: 5.2 IP, 2 H, 0 R, 1 BB, 7 K. Gross. Fifteen of the final 17 men the Yankees sent to the plate made outs. Do not like. At least they scored enough runs early in the game.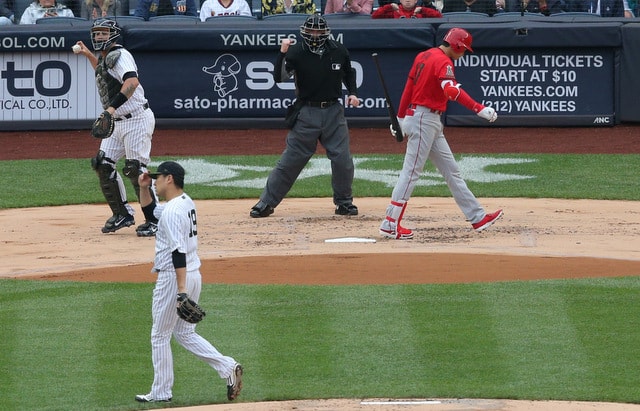 Leftovers
Only five hits for the Yankees, all singles, including three from Brett Gardner. Judge had that 119.9 mph opposite field single and Bird served a single back up the middle for his first hit of the season. Gleyber Torres came in for defense late and squared up a Blake Parker fastball in the eighth, though the wind knocked it down. Looked pretty good off the bat. All afternoon the wind had defenders take weird routes on fly balls and pop-ups.
Fortunately, the Yankees drew six walks and had another batter hit by a pitch, so the five hits were enough to win. Judge walked twice while Sanchez, Gregorius, Hicks, and Andujar walked once each. Stanton went 0-for-4 with four strikeouts — and was booed, so that's still a thing — and Didi went 0-for-3 with a walk and two strikeouts. His slump has reached 4-for-70. Yeesh.
And finally, as poorly as he's performing at the plate, Gregorius has not taken his offensive struggles out to the field. He made a real nice sliding play on a hard-hit grounder to end the game. I really hope Didi starts hitting soon. At least he's still playing good defense.
Box Score, WPA Graph & Standings
ESPN has the box score and updated standings, and MLB has the video highlights. Here is our Bullpen Workload page and here's the win probability graph:

Source: FanGraphs
Up Next
A Memorial Day matinee against the Astros. Domingo German and Justin Verlander are the scheduled starters for Monday afternoon's series opener, which is a 1pm ET start. It's a three-game set against Houston. Hey, the Yankees won the last German vs. Verlander game!