Hoooooly crap. This team, man. This team is a better version of last year's team. Last year the Yankees were lovable underdogs exceeding expectations. This year the Yankees are a lovable juggernaut laying waste to everything in their path. They walked off with a 7-4 win Sunday afternoon for their 15th win in 16 games. The Yankees went 16-2 during an 18 games in 18 days stretch against five teams (Blue Jays, Twins, Angels, Astros, Indians) with a projected combined .551 winning percentage. Goodness.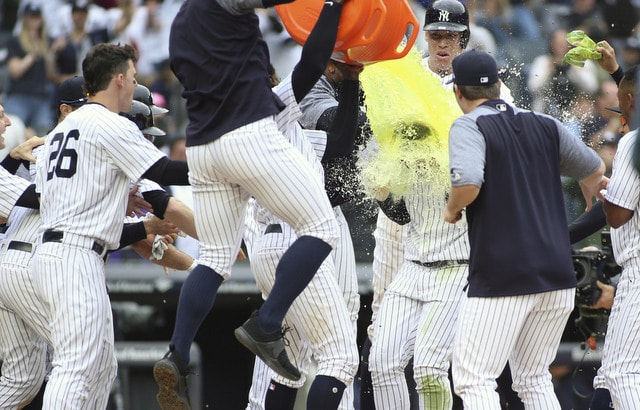 A Child Shall Lead Them
Gotta start in the ninth inning. The Indians took a 4-3 lead into the ninth and closer Cody Allen was already on fumes. He's worked a lot lately and Cleveland needed him to throw 24 pitches to preserve the lead in the eighth. It was clear he was out of gas. Aaron Hicks worked a full count and doubled over center fielder Greg Allen's head to start the inning. Neil Walker jumped on a hanging curveball two pitches later and doubled into the corner to tie the game. Quick back-to-back doubles. Boom boom. Game tied.
Indians manager Terry Francona yanked Allen at this point and went to sinkerballer Dan Otero, pretty much the only guy he could go to with a string of righties coming up. After Miguel Andujar grounded out, Aaron Boone pinch-hit Giancarlo Stanton with the tying run at second and he was predictably walked intentionally. No problem with it. Can't lose a one-run game with a 59-homer guy sitting on the bench, and Tyler Austin is pretty much the only dude in the lineup worth lifting for a pinch-hitter. Giancarlo walked and the Yankees had runners on first and second with one outs.
Three days ago Gleyber Torres played the hero with a game-tying two-run single in the ninth inning against the Astros in Houston. This time he played the hero in a much bigger way. Gleyber fouled away a first pitch sinker — it was a good pitch to hit, he missed that one — took three pitches out of the zone, then fouled away a hittable 3-1 fastball to run the count full. Torres didn't miss the third hittable sinker. The walk-off:
Not a rookie at-bat. I mean, it was an at-bat by the rookie, but it was not a rookie at-bat. That was a veteran at-bat. Torres swung at the pitches he should've swung at and he took the pitches he should've took. Young kids can often get overanxious at the plate in those spots and swing at everything. Gleyber missed a hittable first pitch, settled down, and put together a great at-bat for the win. What a stud. We all knew he was good. I'm not sure anyone expected him to be this good this quickly.
Any Given Domingo
Jordan Montgomery's injury forced the Yankees to use a sixth starter for the first time this season Sunday — the Astros, Cubs, and Rockies are now the only teams yet to use no more than five starters this year — and Domingo German couldn't have done anything more to show the Yankees he deserves the rotation spot long-term. Two walks and nine strikeouts in six no-hit innings. German faced 20 batters and four hit the ball out of the infield.
Alas, pitch count ruled the day, and German was removed after six innings and 84 pitches. He'd been working in long relief and had yet to throw more than 61 pitches in any appearance this season. Would Boone have loved to have been able to send German back out for the seventh? Absolutely. But the kid's health is a priority — German had Tommy John surgery in 2015, remember — and Boone couldn't push him any further. So it goes.
In the six innings he did pitch, German was filthy. His stuff is ridiculous. The ball moves all over the place. Domingo struck out nine and generated 16 swings and misses — only three times this season has a Yankees starter generated more swings and misses (Luis Severino had 17 twice and Masahiro Tanaka had 17 once) — and German really mixed his pitches. Look at this:
Fastball: 25 thrown (three swings and misses)
Curveball: 35 thrown (six swings and misses)
Changeup: 24 thrown (seven swings and misses)
German struck out everyone in Cleveland's lineup at least once except Francisco Lindor and Jose Ramirez — those guys are pretty good, you know — and the average exit velocity on his nine balls in play was 78.6 mph. Strikeouts and weak contact is a wonderful combination. And German did it against a good Indians team too. He's thrown ten scoreless innings since Montgomery's injury. That'll work. Welcome to the rotation, kid.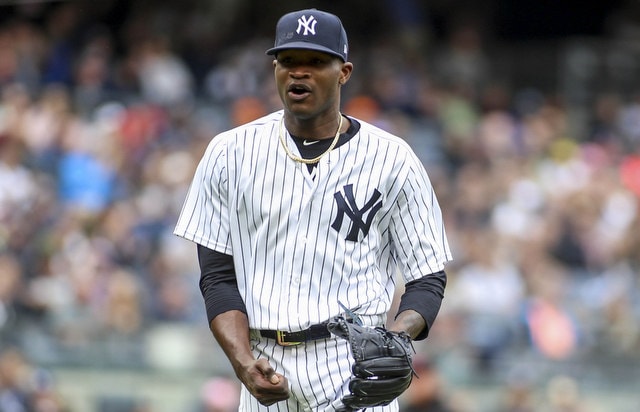 Shut Down By Clevinger
Probably the most impressive part of the Yankees' recent success is all the great pitching they've faced lately. Charlie Morton, Justin Verlander, Dallas Keuchel, Lance McCullers Jr., Trevor Bauer … all really good, and the Yankees won four of those five games. Sunday the Yankees ran into Mike Clevinger, who, going into this game, had a 2.78 ERA (3.54 FIP) in 123 innings since joining the rotation last June. The fun never ends.
Clevinger held the Yankees to one hit — Hicks poked a single up the middle in the fifth — and two walks through seven innings Sunday, and since Francona tends to push his starters harder than most these days, Clevinger went back out for the eighth despite having already thrown 100 pitches. And, for the fourth time in the last four games, Walker started a big rally. The list:
Thursday: Leadoff walk to start three-run ninth inning.
Friday: Leadoff single to start four-run fourth inning.
Saturday: One-out walk to start four-run fifth inning.
On Sunday, it was a leadoff walk in the eighth inning. Austin walked two batters later and eventually Brett Gardner came to the plate with runners on first and second and two outs. Allen was in the game at this point and, as I'm sure you remember, he and Gardner had that epic 12-pitch battle in Game Five of the ALDS last season. This at-bat wasn't quite as dramatic — Gardner saw a mere seven-pitches — but the result was the same. A run-scoring single.
Brett got the Yankees on the board and broke the ice against the bullpen. The Yankees beat Verlander like this the other day. Clevinger is no Verlander, but he shut the Yankees down, and they were able to wait him out before getting to the bullpen. Aaron Judge stroked a two-out, two-strike double to right to score two more runs. Tyler Naquin dove for it, but the ball got under his glove and rolled away far enough for Gardner to score from first. Just like that, the 4-0 deficit became a 4-3 deficit. Gleyber took care the rest.
Bullpen Shenanigans
I guess we have to talk about the bullpen a bit. Following German's six no-hit innings, Dellin Betances entered and went 1-2-3 against the middle of the order in the seventh. With a worn out bullpen — prior to the game Boone admitted there were several guys he didn't want to use Sunday, presumably Chad Green and David Robertson — and the game scoreless, Boone's eighth inning options were:
Betances for a second inning.
Aroldis Chapman in the eighth.
Chasen Shreve or Jonathan Holder.
No manager would go with door No. 2. Shreve got rocked by the Indians two nights ago and Holder, frankly, hasn't been very good this year, so door No. 3 wasn't very exciting. Boone went to Dellin — he hadn't allowed an earned run in any of his previous seven appearances — for a second inning and it didn't work. The Indians started the eighth with three relatively soft singles — two had sub-90 mph exit velocity — the third of which scored a run. Yuck.
At that point Boone yanked Betances and went to Holder, who didn't do much to help his cause to stay on the roster. He allowed a run-scoring double to Lindor and a hard-hit sacrifice fly to Jason Kipnis. Gary Sanchez allowed a passed ball — a terrible passed ball he should've stopped — that allowed a) a run to score, and b) the runner to move up to third, setting up the sacrifice fly. Three of the four runs were charged to Betances, who wasn't exactly hit hard. Poor guy is never going to get his ERA down.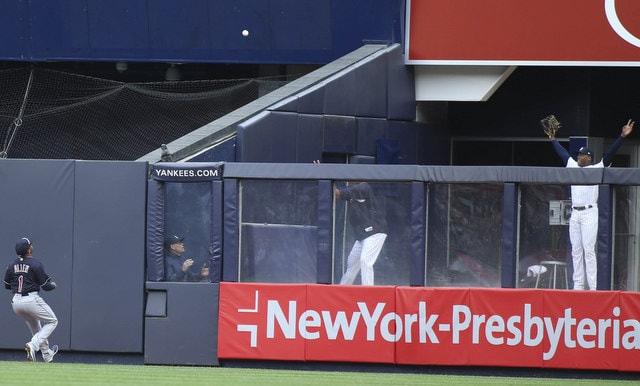 Leftovers
Three more times on base for Walker. He doubled and drew two walks. Walker is 4-for-10 with six walks and one strikeout in his last four games. You could see he was starting to come around back in Anaheim, when Kole Calhoun took the homer away and he had some other good swings. It took a little longer than we all hoped, but Walker starting to look like the player he's been basically his entire career. Better late than never.
Sanchez and Andujar were the only starters who failed to reach base. Two hits for Hicks (single, double) and multiple times on base for Judge (double, walk) and Walker (double, two walks). Gardner (single), Didi Gregorius (walk), Austin (walk), and Torres (walk-off homer!) all reached base. Don't forget about Gleyber's defense either. He made a few more stellar plays at second base. The kid really does it all.
And finally, at 21 years and 144 days, Torres is the youngest Yankee to hit a walk-off home run since at least 1908. Record keeping is spotty prior to that, so he might be the youngest Yankee ever to hit a walk-off homer. Also, the Yankees have won 15 of 16 games for the first time since 1980. Love this team, you guys. They're something special.
Box Score, WPA Graph & Standings
For the box score and up to the minute standings, head over to ESPN. MLB has the video highlights and we have a handy dandy Bullpen Workload page. Here's the win probability graph:

Source: FanGraphs
Up Next
An off-day, finally. The 18 games in 18 days stretch is over and it went about as well as we could've possibly hoped. After the off-day, the Yankees will welcome the Red Sox to the Bronx for a three-game series. That'll be fun. Severino and Drew Pomeranz are the scheduled starting pitchers for Tuesday night's series opener. RAB Tickets can get you in the door if you want to catch that game or any of the other five games remaining on the homestand live at Yankee Stadium.