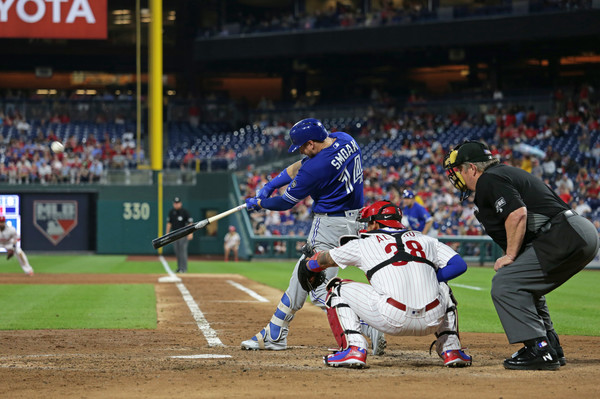 One day after being in Detroit and two days after being in Baltimore, the Yankees are in Toronto to begin a quick two-game series with the Blue Jays later tonight. Three cities and two countries in three days is no fun.
The Last Time They Met
The Yankees hosted the Blue Jays for a four-game set back in April, and came away with three wins. If you remember this series for any one moment in particularly, it's almost certainly Gleyber Torres making his big league debut in the final game of the series. He went 0-for-4 with a strikeout – I think it's safe to say that he's improved a bit since then. Some other notes:
The bullpen was leaned on heavily in the first game, as CC Sabathia was limited to just 4.1 IP in his first start back from the disabled list, and they responded brilliantly. Chad Green, Dellin Betances, David Robertson, and Aroldis Chapman combined for the following line – 4.2 IP, 2 H, 1 R, 2 BB, 8 K.
The Yankees had one of their best innings of the year in the bottom of the 6th of game three, plating seven runs and sending twelve batters to the plate. And they scored those 7 runs without hitting a home run, to boot.
Miguel Andujar capped the series off by going 4-for-4 with 2 doubles, raising his season line to .308/.327/.596. He went 7-for-12 in the series as a whole.
Check out Katie's Yankeemetrics post for more interesting tidbits.
Injury Report
Josh Donaldson, Steve Pearce, Marcus Stroman, and Troy Tulowitzki are all on the disabled list, and none will be back for this series.
Their Story So Far
Toronto is 26-33 with a -27 run differential, but that may paint an overly optimistic portrait of the team as-is. The Blue Jays were 12-5 with a +38 run differential when they started their last series against the Yankees, and they've been rubbish since. They've had injuries aplenty, Roberto Osuna was placed on administrative leave while he awaits a trial for assault, and Russell Martin has made starts at third, short, and left as the team scrambles to trot out a starting lineup everyday. To put things into context, their offense is the strongest aspect of the team right now, and they rank 18th in baseball in wRC+.
Meanwhile, fans of all ages and loyalties are waiting for wunderkind Vladimir Guerrero Jr. to get his call to the show.
The Lineup We Might See
A sense of normalcy has settled over the Blue Jays lineup to some extent, excepting for Donaldson returning to the disabled list. Manager Jay Gibbons utilizes a platoon at the top of the lineup, but everything else is fairly straightforward.
Teoscar Hernandez, LF – .254/.301/.514, 8 HR, 3 SB
Yangervis Solarte, 3B – .257/.322/.477, 12 HR, 0 SB
Justin Smoak, 1B – .258/.386/.468, 9 HR, 0 SB
Kendrys Morales, DH – .194/.267/.321, 4 HR, 2 SB
Kevin Pillar, CF – .259/.301/.423, 4 HR, 9 SB
Russell Martin, C – .174/.314/.318, 5 HR, 0 SB
Devon Travis, 2B – .200/.262/.326, 2 HR, 0 SB
Randal Grichuk, RF – .120/.209/.280, 3 HR, 1 SB
Aledmys Diaz, SS – .221/.279/.425, 6 HR, 1 SB
Curtis Granderson (.219/.352/.380, 4 HR, 1 SB) will probably get the start in left and bat leadoff against Sonny Gray.
The Starting Pitchers We Will See
Tuesday (7:07 PM EST) – LHP CC Sabathia vs. RHP Marco Estrada
Estrada has struggled mightily thus far, pitching to a 5.68 ERA (5.21 FIP) through 11 starts. He's allowed at least 4 runs in 7 of those starts, and his strikeout (16.5%) and groundball (26.0%) rates are the worst of his career. At 34-years-old one has to wonder if this is the beginning (or the middle) of the end.
Last outing (vs. BOS on 5/29) – 3.2 IP, 7 H, 4 R, 0 BB, 1 K
Wednesday (7:07 PM EST) – RHP Sonny Gray vs. RHP Sam Gaviglio
Gaviglio has been something of a godsend for the Blue Jays, stepping into the rotation when Stroman went down and performing admirably through three starts (17.1 IP, 16 H, 3 BB, 16 K, 3.63 ERA). He's primarily a sinker/slider guy, with his high-80s sinker and mid-80s slider accounting for upwards of 75% of his offerings in a given game. There's not a ton of separation his stuff, as his little used change-up comes in in the mid-80s, so he's all about deception and weak contact.
Last outing (vs. BOS on 5/30) – 6.0 IP, 7 H, 4 R, 0 BB, 4 K
The Bullpen
The absence of Osuna hasn't doomed the Blue Jays thus far. In fact, the bullpen has been quite good on the whole, utilizing a closer by committee approach with Tyler Clippard (yes, that Tyler Clippard – he has a 3.41 ERA and 9.9 K/9), Ryan Tepera (3.14 ERA, 10.0 K/9), and Seung-Hwan Oh (3.12 ERA, 9.7 K/9) picking up the slack. Aaron Loup (3.22 ERA) and John Axford (3.33 ERA) have been good, too. They don't have a true shutdown reliever out there right now, but it's not quite quantity over quality, either.
Who (Or What) To Watch
It would be pretty great if Vladimir Guerrero Jr. was called-up today or tomorrow, but that's almost certainly not happening; I'm nevertheless already all-in for the Torres vs. Guerrero storylines. Other than that, the most exciting thing about the Blue Jays right now is either Kevin Pillar's defense, or wondering what position Russell Martin will end up at next.