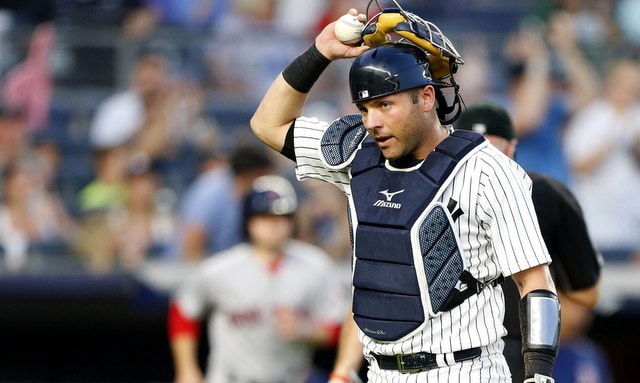 11:21pm ET: The Yankees say the MRI came back negative and Romine is day-to-day. Phew. That's good. Losing another catcher would've been bad, bad news.
11:14pm ET: Well this isn't good. Austin Romine is going for a precautionary MRI on his left hamstring tonight, the Yankees say. He was removed from tonight's game in the seventh inning with tightness in the hamstring. There wasn't an obvious play where he got hurt. Seems like it just tightened up on him as he squatted behind the plate on a hot night.
The Yankees are already without Gary Sanchez, so third catcher Kyle Higashioka is now the backup. Romine missing any length of time would push Higashioka into the starting role. Right now organizational depth catcher Francisco Diaz and independent league signing Wilkin Castillo are the catching tandem in Triple-A. The Yankees are not especially deep with catchers at the moment.
Romine is predictably crashing back to Earth — he's currently mired in a 4-for-36 (.111) slump — but, with Sanchez out, Romine is far and away the team's best catching option. Hopefully the MRI brings back good news and Romine can avoid the disabled list. If not, the Yankees might have to make a trade for a stopgap backstop because Sanchez isn't due back until the All-Star break.