The following is a guest post from Adam Moss, who goes by Roadgeek Adam in the comments. He's written scores of guest posts at RAB over the years.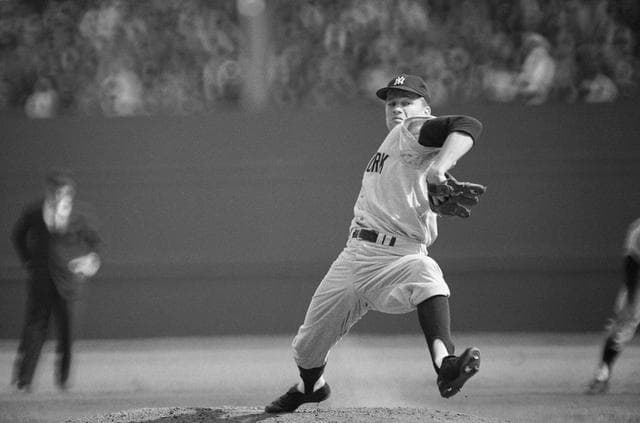 On this June the 17th, 2018, we have the 72nd Annual Old Timers' Day. While modern fans will be honoring those like Andy Pettitte, Jason Giambi and Nick Swisher on their first appearance, 79-year Jim Bouton will be possibly making his last appearance in a Yankee uniform. Bouton suffers from cerebral amyloid angiopathy, a disease that causes bleeding within the brain, causing dementia-like symptoms. His grandchildren have never seen Bouton in a Yankee uniform (even in his 1998 appearance at Old Timers' Day). This may be the last time we see the resident of Great Barrington, Massachusetts in a Yankee uniform and we should treasure him.
For over 25 years, the general belief was that Jim Bouton, "The Prodigal Son" of Yankees baseball, was not allowed at Old Timers' Day because of his feud with Yankee legend Mickey Mantle. The belief that Bouton had made questionable comments about the slugger in his 1970 book, Ball Four, led to a blacklisting. That rumor held up for many years because of the fact that Bouton did not come to Old Timers' Day until after Mantle died in 1995. Bouton's first Old Timers' Day was 1998. That year, they also invited the 1978 Dodgers to the stadium in a rematch of the 1978 World Series. However, it ended a long departure from Yankee-life for #56.
However, the 1970s were a strange decade for the former 20-game winner. Despite numerous attempts to come back to the game he enjoyed, Bouton went for a different career: Sportscaster. The job in the media opened him to a national stage aside of his pitching in New York during a bad time in Yankees history. Until finally getting the chance in 1978 to return to a pitching mound, Bouton's life during this time is almost a comedy in itself, unlike the reaction to Ball Four. One he never regretted.
Prodigal Son
For those who may not have lived in the 1960s, it is important to explain who Jim Bouton, the Yankee, was. A native of Newark, New Jersey, James Alan Bouton came to this world on March 8, 1939. Raised as a fan of the New York Giants, baseball was not Bouton's sport of interest originally. Instead, he wanted to be on the basketball team and/or football team in Bloom Township, Illinois, where his family moved from Northern Jersey in the 1950s. Bouton almost never made the baseball team either, but eventually did. He was slow to start, being a bench arm for his 10th grade year. By his senior season, he was much improved, throwing a no-hitter that year. However, his pitches were very amateur: lots of different styles, but almost no velocity.
Eventually, he developed a knuckleball, and enrolled at Western Michigan University. His sophomore season he got a scholarship and when pitching in an amateur league in 1958, scouts began to look at Bouton. Art Stewart, the protégé scout of Lou Maguolo, signed Jim Bouton in 1958 for $30,000. After working his way through the minors, Bouton finally cracked the major league team out of Spring Training in 1962, Ralph Houk gave him #56 on his back, the first to ever wear that number in a regular season game for the Yankees. #56 would become Bouton's lone number afterwards to show just how hard he worked to make it to the majors.
Bouton's best seasons in a Yankee uniform were in 1963 and 1964. In 1963, the Yankees knuckleballer put up a 2.53 ERA as one of the better right-handers behind Whitey Ford. He started 30 games in 1963 and appeared in relief for 10 others. Bouton won 2 games in the 1964 World Series for Yogi Berra against the St. Louis Cardinals, outdueling Curt Simmons twice. The Yankees ended up losing that World Series in seven games as a gassed Mel Stottlemyre lost to Bob Gibson.
In a game against the Baltimore Orioles on June 6, 1963, Bouton nearly had his season ended by a foul ball to the face off the bat of Jackie Brandt. The shot was so powerful that Bouton appeared to have rebounded backwards from the force. He landed on his face in front of 28,000 people, who thought his jaw was broken. Joe Soares, the Yankees athletic trainer, ran with Bouton to Union Memorial Hospital in Baltimore, despite Bouton's pleas to stay in the game. Bouton had a nasty wound in his jaw, which took 12 stitches to clear. Soares joked with Bouton after "You'll have to cut down on that smooching now." He had married his wife in December 1962. Bouton, feeling a little embarrassed for being at the hospital, made his next start on June 10 in the second game of a doubleheader against the Washington Senators. He pitched seven innings and gave up one run (overshadowed by a complete game shutout by Claude Osteen.)
Bouton fell apart after the 1964 season. His arm started flaring up pain. Bouton's motion was thrown out of whack and as a result, Bouton's numbers fell apart. He was sent back to Syracuse in 1967 and fell apart farther there. However, the Yankees knuckleballer didn't give up entering the 1968 season, but the Yankees did. Despite a great Spring Training, Bouton was sent to the Seattle Pilots expansion team for $20,000 (Yankees paid $8,000). Bouton was loved by the media for his openness, which made it easier on them to say positive things about the righty, but Bouton was bad and the Yankees wanted to go with their rotation of Stottlemyre, Bill Monbouquette, Stan Bahnsen, Fritz Peterson and Al Downing over Bouton.
The Pilot's Author
Now a member of the famous 1969 Seattle Pilots season, playing in Sick's Stadium, Bouton joined former Yankees Lou Piniella, Steve Barber, Mike Ferraro and Gary Timberlake along with third base coach Frank Crosetti on a new team. It was during this season that Bouton started taking notes about his daily life at his locker and compile everything going on in his life and around him in the Pilots clubhouse. This led to a lot of strain as he would hide his notes so his teammates and coaches would not see him. Multiple times he took shots at Pilots pitching coach Sal Maglie, a former Yankee. Like many of his teammates, he was traded on August 24, 1969 to the Houston Astros for former teammate Dooley Womack and Roric Anderson. 1969 ended up being his last full season, appearing in 73 games as a reliever for the Pirates and the Astros.
He returned to the Astros in 1970 and threw 29 games for the Astros, but sported a 5.40 ERA and released by the club on August 12, 1970. However, in June 1970, the book Ball Four hit bookshelves as the production of Bouton's daily notes. The 371-page book opened the door into clubhouse life for the Yankees and the Pilots. The book was so popular, by September 1970, it reached to a spot between Up the Organization by Robert Townsend and Inside the Third Reich by historian Albert Speer.
Bowie Kuhn, the Commissioner of Baseball, tried to discredit the book and force Bouton, a noted activist, to recant everything. He did not. Many people in baseball saw it as a betrayal, along with some sportswriters. Dick Young called Bouton and Leonard Shecter, the editor, 'social lepers' for the book. The person Bouton was, he released a second book in 1971 called I'm Glad You Didn't Take it Personally, which was in response to Dick Young's comments, along with his battles with the Kuhn administration.
Bouton would end up calling it quits in 1970 after his release and that's where we pick up his story. The ones not really talked about in Ball Four and the regular baseball media.
There Goes the News Van Again
While Jim Bouton was toiling with the Houston Astros during the 1970 season, going up and down between the minors and the majors, another group of people had interest in his services. This group, however, was not one of a baseball franchise. In just its third year of existence, Albert Primo, the director of news broadcasts for WABC-TV in New York City needed a new sportscaster. Howard Cossell, who worked aside of acerbic news legend Roger Grimsby, was the sportscaster for Eyewitness News. Cossell had other things to do, such as Monday Night Football, which became his big project with veteran Keith Thomas. However, Thomas was let go and the job became Cossell's.
WABC in this time period was last in ratings compared to powerhouses WNBC and WCBS. Al Primo, was brought from KYW-TV in Philadelphia to revamp a middling news show called Roger Grimsby and the Noisemakers. The show was an 11 pm newscast, with a bit of a twist. Everyone on the group was a bit acerbic or maybe the better term, crazy. All of the members of the crew with Grimsby were established people with high egos. Facing against Jim Jensen & Robert Trout of WCBS, WABC sent Howard Cossell as the "Sports Noisemaker"; Tex Antoine as the "Weather Noisemaker", smock and all; Allan Jefferys as the "Broadway Noisemaker"; Jimmy Breslin as "All-Around Noisemaker"; and Rona Barrett as the "Hollywood Noisemaker". The group was definitely a raucous mix. They often all fought with Grimsby about his attitude towards them, especially Rona Barrett and Howard Cossell. Cossell once ripped Grimsby live on air after Grimsby went after one another in a series of backhanded comments.
When Primo came in, he had to deal with a lot of mixed personalities. Immediately he set new standards and abandoned the Noisemaker format. Barrett, Grimsby, Antoine and Cossell still thought they could beat to their own drum. Primo immediately asked all members for WABC to start wearing suits and skirts. This offended Tex Antoine, who was famous for wearing a smock on air (and smoking on air during his time at NBC) and his friend Uncle Wethbee. Despite his pleas to keep the look, he followed suit. Rona Barrett disliked having to be in New York for her work, preferring sunny Southern California. That and she was a noted pest to Grimsby (and Primo). One newscast, the acerbic Grimsby went ahead and introduced her with "Speaking of trash, here is Rona Rooter." The entire studio laughed. Allan Jefferys quit in 1969 after a piece on a Broadway show was removed in favor of a series on prostitution.
In 1970, as Primo was hiring new reporters and new anchors for more broadcasts, Primo hired former New York city-based ABC reporter Bill Beutel to work aside Grimsby. Beutel was the ABC bureau chief in London from 1968 to 1970 and replaced Tom Dunn as the side anchor. He joined Grimsby, Antoine, Melba Tolliver, Bob Lape, Doug Johnson, Gil Noble, John Schubeck, Milt Lewis among others in the new Eyewitness News. This new approach, where reporters would be on-scene to report the news, was a far cry from Noisemakers, where it was just people telling you the news. Ratings skyrocketed. In 1970, Primo also hired Geraldo Rivera, then a member of the Young Lords, a Puerto Rican activist group considered similar to the Black Panthers. He gave Rivera a scholarship to journalism school, as well as dropping the name Jerry Rivers in favor of being the first Puerto Rican on television. The ratings were going up in WABC's favor in 1970 and 1971 with the new format. Grimsby and Beutel made a great pairing together.
Also, in 1970, Al Primo picked up Jim Bouton to be a sportscaster for WABC. Primo, whose colleagues noted he had a knack for finding raw talent, called Bouton and offered him a position. However, Bouton wanted to focus on baseball first. During the All-Star Break of 1970, Bouton performed an audition for Primo and co, who offered him a five year deal for $40,000 base salary (escalators to $50,000). With the Astros, he basically made $27,000 in 1970. Bouton bombed the audition and decided that the requirement that he would have to quit baseball immediately was not an option he wanted to pursue.
However, after being sent to the minors, Bouton decided to go ahead and take their offer. Bouton was being beaten around in the minors for the Astros. The timing made sense. Instead of the five-year deal, the deal was reduced to one year with a starting salary of $24,000 on the 11 pm news.
Bouton told The New York Times that the adjustment to being a broadcaster over a ballplayer was hard. Never having a job, Bouton had to learn on the job. He learned from old movies about how to be a reporter, but on his first day at WABC, Bouton was put to the test. Denny McLain, a pitcher for the Detroit Tigers, was suspended a second time from baseball. The first time it was for bookmarking operation (also known as sports betting). This time, McLain dumped buckets of water on Jim Hawkins of the Detroit Free Press and Watson Spoelstra of the Detroit News. Bouton, on his first day, looked like a professional, shouting questions towards McLain.
On his first show as the 11 pm sportscaster, Bouton was modest, something unusual in the news industry in that time period. After being introduced by Grimsby & Beutel, Bouton noted that "Some people say I can't pitch, others say I can't write, now we'll find out if I can't broadcast." During the first week, Bouton made several comments about Bowie Kuhn instructed players to not talk to the media. He made comments about women's liberation could lead to "bra-less tennis tournaments" and even defended the use of "greenies" by Soveit weight lifters. (This is despite calling out the use of greenies in Ball Four.)
William Aylward, a veteran of Eyewitness News was disappointed that veteran sportscaster Lou Boda was moved out in favor of Bouton. At a bar near Channel 7 (Chipp's at 66th & Columbus), Aylward told Bouton that he was terrible and that if Bouton did not get better, he would be out. Aylward considered Bouton an "interfering, inexperienced, dumb jock" (Bouton's words). Despite that, ABC hired Bouton to replace Boda. Bouton did not fire Boda, so it was not Bouton's fault. Bouton noted he got 3 minutes for the sportscast, whereas Boda got a lot less time for his effort.
The really interesting relationship at Channel 7 with Bouton was not with Aylward, or with Roger Grimsby for that matter. Howard Cossell was still with Channel 7 when Bouton was brought aboard. Cossell thought that Bouton was in the way and competition for him. Most people around the station hated Cossell one referring to a question of his location with "He's out walking his pet rat." Despite claiming to everyone that he was influential in bringing Bouton into Channel 7, he would waste no time talking crap about Bouton at other occasions.
Andy Lawson
Possibly the most interesting part of Jim Bouton's tenure at WABC came in his waning months. Comeback attempts were still in Bouton's blood. In 1972, he attracted a tryout with the Pittsfield Senators (AA affiliate of the Washington Senators). That failed. However, in 1973, sports producer Pete Heller wanted to video tape a Yankees tryout in August. Now, Pete Heller did not sign up for the tryouts. Jim Bouton did not sign up for the tryouts. "Andy Lawson" signed up for the event. In choosing the name, Bouton noted that it was the most generic baseball name he could come up with.
In August 1973, when the tryout came around, Bouton hid his hair under a dark black wig, while a dark black mustache that looked like the 70s (two small diagonal lines on his upper lip) was pasted to his face. Along with a Yankees hat, he looked like a different person altogether. At the tryout "Andy Lawson" showed off six different pitches, including the knuckleball, for the scouts at the camp. About sixty people from all different backgrounds (lawyers, cooks, television broadcasters, etc.) came to the 1973 tryout, an annual event.
In order to direct the cameras, Bouton had a microphone wired under his uniform, which he would whisper to. Now, Bouton's work impressed the scouts that they asked him for a 2nd look. "Lawson" claimed that he was 21 originally, but when they asked for what year "Andy Lawson" was born, Bouton blew his cover by saying 1961. If you do the math, 1973-1961 = welp. The cover was mostly blown. Depending which year you ask Bouton (1973 vs. 1990), he seemed to have differing opinions on whether or not he really wanted to make the team. In the 1973 newspaper articles about the tryout, Bouton told the press that he did not really want to make the team, just show the world what a Yankee tryout was like. In 1990, that statement was not present.
However, Bouton did get to play some baseball in 1973. Well, it was softball. The broadcaster joined fellow radio and television broadcasters in a game against The Carpenters. These were Karen and Richard Carpenter, who were playing softball as part of fundraising for the American Cancer Society. They raised $3,500 during the game for the cause, but the Carpenters guaranteed $5,000 no matter what. Bouton pitched on the mound. Karen Carpenter fouled out consistently against Bouton. However, she reached second and scored after an error. Bouton's team was quite the mix: Dave Marash, Murray the K, Tubby Ted Brown, Jim Scott, Jim Hartz, Sherrye Henry, and Vince Hartnett. However, the two names that really stuck out were Cousin Brucie (Bruce Morrow) and Geraldo Rivera (Bouton's colleague at WABC), the latter of which caught for the team. Can you imagine Geraldo Rivera in 2018 catching at an event? They had some security problems as many girls wanted the young Rivera's autograph. The Carpenters and their crew won 17-5 in 87-degree heat.
From 66th Street to 57th Street
In late August 1973, WABC's management team decided to not renew Jim Bouton's contract for the years 1974, 1975 and 1976. On Tuesday, September 11, 1973, Bouton informed viewers of Eyewitness News that he would not be returning, noting that "I guess I lost my fastball or something. To those of you who sent crank letters, let me just say you won't have Jim Bouton to kick around anymore." After signing off with Grimsby and Beutel, Bouton noted to the press that he was probably "too outspoken" for their preferences, but they gave him full editorial leeway until the very end.  He denied it having anything to do with money and was happy working at WABC. Bouton also noted that he had discussions with other stations and considering going back to pitching.
Bouton had no trouble getting a new gig. On September 19, WCBS' news director Ed Joyce announced to the press that Jim Bouton would be joining the station. They felt that Bouton would have the right to be as outspoken as he wished at WCBS. Bouton, who made $30-40,000 at WABC, was said to make double that at WCBS. At WCBS, he joined with local newscasters Rolland Smith, the recently hired Dave Marash, the legend Jim Jensen along with Alan Kasper and Pat Collins.
However, you could not pull the baseball out of Jim Bouton. In August 1975, WCBS let Bouton pitch for three weeks in the Northwest League's Portland Mavericks. Bouton picked up a baseball and threw his knuckleball. That was his inspiration. Instead of his five-figure salary, WCBS let him take a leave of absence for a $300/month salary for the Northwest League team. Bouton told the press in November 1975 that he would try to hook up with a AA or AAA team and that he would attend Spring Training in 1976.
In April 1976, however, Jim Bouton turned his role from baseball player to baseball actor as CBS picked up a new comedy named Ball Four. He, along with Marvin Kitman of Newsday, were co-writers for the new television show. Bouton and Ben Davidson were the main stars. Unfortunately, the show only lasted five episodes before CBS pulled the plug. That is show business. After the plug was pulled, Bouton left CBS completely. The game of baseball was still fresh on the mind of Bouton.
In 1977, the Portland Mavericks were the home of Jim Bouton once again. Despite the day to night work of sports casting and acting, Bouton was physically drained. Despite turning down $100,000 a year salary, Bouton decided to sell his $125,000 house in Englewood for a smaller, cheaper house for his wife and kids. That spring, he tried to join the Chicago White Sox farm team of Knoxville (AA) and then dropped by Durango in the Mexican League (AAA). Bing Russell offered Bouton back at $400 a month.
His comeback attempts finally came to a successful conclusion in September 1978 when the Atlanta Braves called him up. Now age 39, Bouton started five games for the Braves, consisting of 29 innings. The results were lackluster, 4.97 ERA and a 1-3 record. The knuckleballer, who had not appeared in eight seasons, was done, his dream completed. In December 1978, he called it quits for good. Bouton got an offer from WCBS to return to do sports on the 11 pm news. Another station in New York (unknown) offered him a positon as a sportscaster as well.
On January 15, 1979, Bouton returned to WCBS as a sports correspondent. He replaced former Met and Yankee Ron Swoboda. He wasted no time trying to get the big interview. Thurman Munson was not exactly an easy person to deal with an interview. Munson told Bouton thrice that he was not interested in an interview in Fort Lauderdale. Munson took his microphone and swore at Bouton rather than politely said no. Munson apparently did not like Ball Four, like many people.
However, by 1980, Bouton was gone from WCBS and replaced by a man who would become a legend in his own right, Warner Wolf. He moved on to freelancing and lecturing. The midlife crisis was over.
We all know the rest.