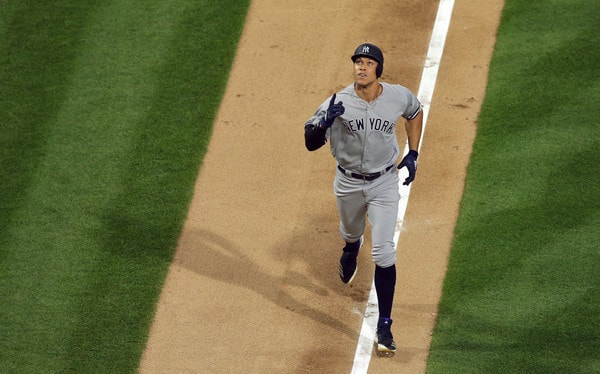 The Yankees put an end to that annoying three-game losing streak and got back into the win column last night. Aaron Boone had to use his bullpen — his worn out bullpen at that — heavily behind Jonathan Loaisiga, though he was able to do that knowing Luis Severino would be on the mound today, and Severino is a good bet to take the ball deep into the game.
Offensively, wow is Giancarlo Stanton locked in or what? He is 7-for-8 with two doubles and a homer in the last two games, and he's hitting .329/.402/.671 with eight homers in his last 22 games. We've seen the downside of Stanton's streakiness already. Those ugly strikeout filled slumps. Now we're seeing the MVP caliber player who stings the ball every time up. Fun fun fun. Here are the lineups:
New York Yankees
1. CF Aaron Hicks
2. RF Aaron Judge
3. SS Didi Gregorius
4. LF Giancarlo Stanton
5. 2B Gleyber Torres
6. 1B Greg Bird
7. 3B Miguel Andujar
8. C Austin Romine
9. RHP Luis Severino
Philadelphia Phillies
1. 2B Cesar Hernandez
2. LF Rhys Hoskins
3. CF Odubel Herrera
4. 1B Carlos Santana
5. RF Nick Williams
6. SS Scott Kingery
7. C Andrew Knapp
8. 3B Maikel Franco
9. RHP Jake Arrieta
A nice weather night in Philadelphia. Good evening for a baseball game. Tonight's game will begin at 7:05pm ET and you can watch on YES. Enjoy the game.
Injury Update: Masahiro Tanaka (hamstrings) threw his second bullpen session today as scheduled. He also went through some fielding drills yesterday. Everything is going well and he is currently scheduled to pitch in a simulated game Friday, though Aaron Boone said it's possible Tanaka will make a minor league rehab start instead.