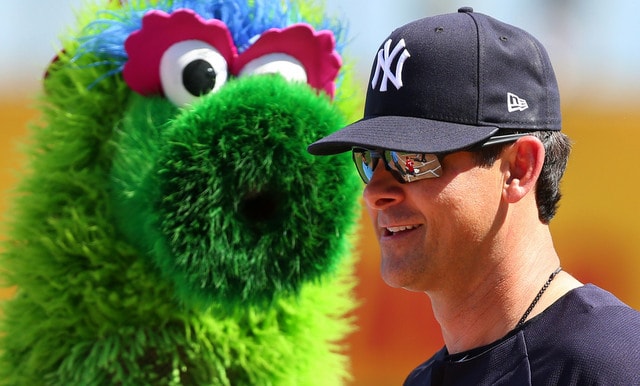 The Yankees have won the first two games of this three-game series with the Phillies thanks largely to their pitching. Jonathan Loaisiga and Luis Severino combined for 12.1 scoreless innings the last two nights. Aside from Domingo German on Sunday, the pitching has been great this month. How great? The Yankees have a 2.31 ERA in June. Best in baseball. The Giants are a distant second at 2.73 ERA.
Tonight Luis Cessa is making a spot start against the Phillies because the Yankees want to push CC Sabathia back into this weekend's Red Sox series. Cessa is not really stretched out — he hasn't thrown more than 46 pitches in an outing since hurting his oblique in April — so today is more of a bullpen game than a spot start. Fortunately, there's an off-day tomorrow, so Aaron Boone can use his relievers aggressively. Here are today's lineups:
New York Yankees
1. LF Brett Gardner
2. RF Giancarlo Stanton
3. CF Aaron Hicks
4. SS Didi Gregorius
5. 2B Gleyber Torres
6. 3B Miguel Andujar
7. 1B Neil Walker
8. C Kyle Higashioka
9. RHP Luis Cessa
Philadelphia Phillies
1. 2B Cesar Hernandez
2. LF Rhys Hoskins
3. CF Odubel Herrera
4. 1B Carlos Santana
5. RF Aaron Altherr
6. SS Scott Kingery
7. 3B Maikel Franco
8. C Jorge Alfaro
9. RHP Zach Eflin
There is some rain in the forecast in Philadelphia tonight, though the heaviest stuff is still a few hours away. As long as this one doesn't go to extra innings (please no), the Yankees and Phillies should be in the clear. Anyway, tonight's game will begin at 7:05pm ET and you can watch on YES. Enjoy the game.
Injury Update: Masahiro Tanaka (hamstrings) will pitch in some type of game tomorrow, either a simulated game or a rehab game … A.J. Cole (neck) will pitch in a rehab game for Triple-A Scranton tonight. He hasn't been out very long. He may only need the one rehab game and be able to return to the Yankees this weekend. We'll see … Aaron Judge is fine. Just a pre-planned rest day. He's available to pinch-hit and whatnot.
All-Star voting update: I forgot to mention this yesterday, but MLB has released the latest fan voting update for the AL All-Star starters. Aaron Judge is the only Yankee in line to start the game. Torres, Andujar, and Stanton are all distant second at their positions and Gary Sanchez is within striking distance of Wilson Ramos at catcher, though he's hurt now, so it doesn't matter. Here is the voting update and here's the ballot.