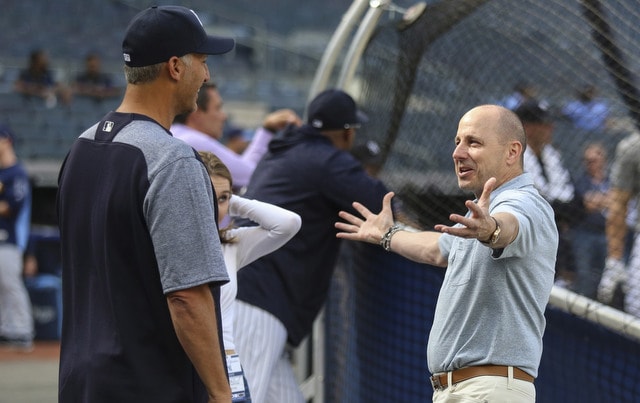 It is only June 29th — still more than half-a-season to go! — but this feels like a Very Important Series. For all intents and purposes, the Yankees and Red Sox have been tied atop the AL East since late April, and it's difficult for me to see how one of these teams can pull away from the other without there being injuries or a big trade. These teams are going to be neck-and-neck all year. That makes these head-to-head games that much more important.
The Yankees and Red Sox have played six times already this season. The Red Sox took two of three at Fenway Park in April and the Yankees took two of three at Yankee Stadium in May. They still have 13 head-to-head games remaining, including three this weekend and the final three games of the season up in Boston. I can't help but feel like that final series is going to decide the AL East. Let's not get too far ahead of ourselves though. Win tonight, then focus on tomorrow. Here are the starting lineups:
New York Yankees
1. CF Aaron Hicks
2. RF Aaron Judge
3. DH Giancarlo Stanton
4. SS Didi Gregorius
5. 2B Gleyber Torres
6. 3B Miguel Andujar
7. 1B Greg Bird
8. C Austin Romine
9. LF Brett Gardner
LHP CC Sabathia
Boston Red Sox
1. RF Mookie Betts
2. LF Andrew Benintendi
3. DH J.D. Martinez
4. 1B Steve Pearce
5. SS Xander Bogaerts
6. 2B Eduardo Nunez
7. 3B Rafael Devers
8. C Christian Vazquez
9. CF Jackie Bradley Jr.
LHP Eduardo Rodriguez
Nice and hot in New York today. It's going to cool down a bit tonight, thankfully. Tonight's series opener will begin at 7:05pm ET and you can watch on YES locally and MLB Network nationally. Enjoy the game.
Roster Move: Welcome back, Brandon Drury. He was called up today to give the Yankees an extra righty bat against the three lefty starters this weekend. Aaron Boone said there's a "good chance" Drury will remain with the team long-term. Luis Cessa was sent down following Thursday's game to clear a roster spot.
Injury Update: Masahiro Tanaka (hamstrings) threw 48 pitches in a three-inning simulated game in Tampa earlier today. He bought all the minor leaguers Chick-fil-A afterward. "I was able to throw with force and use all my pitches. So, I feel good about it," he said to the Associated Press. Tanaka will pitch in a minor league rehab game next.