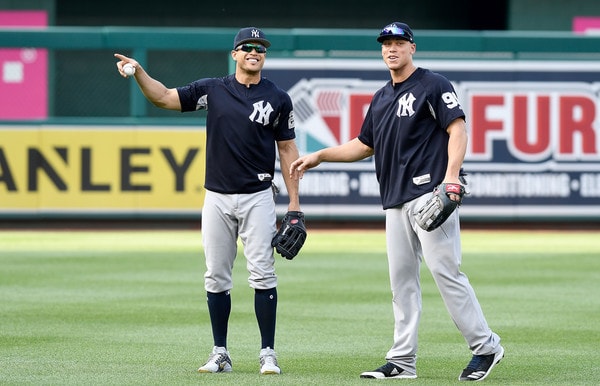 Rather than enjoy an off-day, the Yankees are in Washington today to play a doubleheader against the Nationals. Except it's not really a doubleheader. It's a one-and-a-half-header. The Yankees and Nationals are completing their May 15th suspended game tonight, then, a half-hour after that, they'll make up their May 16th rainout.
The suspended game is currently tied 3-3 in the middle of the sixth inning. The top of the sixth just ended, and, when they begin tonight, Bryce Harper will lead off the bottom of the sixth. Also, the Yankees technically don't have a pitcher in the game! Brett Gardner pinch-hit for Masahiro Tanaka in the top of the sixth. Aaron Boone said this afternoon Chad Green will "start" the suspended game. Sixth inning of a tie game with the middle of the order due up? That's a Chad Green situation all the way.
How did they get here? Tanaka allowed a solo homer to Anthony Rendon in the first inning and run-scoring hits to Andrew Stevenson and Pedro Severino in the second to put the Yankees in an early 3-0 hole. The Yankees stormed back thanks to Tyler Austin, who hit a two-run opposite field homer against Gio Gonzalez in the fourth, and a sac fly in the fifth to tie the game 3-3. Here are the current lineups:
New York Yankees
1. CF Aaron Hicks
2. RF Aaron Judge
3. LF Giancarlo Stanton (due to lead off the 7th)
4. C Gary Sanchez
5. SS Didi Gregorius
6. 1B Tyler Austin 1B Neil Walker
7. 3B Miguel Andujar
8. PH Brett Gardner (will be replaced by Green)
9. 2B Gleyber Torres
Washington Nationals
1. SS Trea Turner
2. RF Bryce Harper (due to lead off the 6th)
3. 3B Anthony Rendon
4. LF Matt Adams
5. 2B Howie Kendrick ???
6. 1B Mark Reynolds
7. CF Andrew Stevenson ???
8. C Pedro Severino
9. RHP Wander Suero
Austin is in Triple-A and has been replaced in the lineup by Walker. Boone could've replaced him with Greg Bird, but chose not to. Kendrick is injured and Stevenson is in Triple-A, and I have no idea who is replacing them. Everyone on each team's 25-man roster is eligible to play in the suspended game provided they were not removed from game already. Example: Gio Gonzalez started for the Nationals, was pinch-hit for by Moises Sierra, who was then replaced by Suero. Gonzalez and Sierra are no longer eligible to play in the suspended game. Also, there is no 26th man for the suspended game. Only tonight's makeup game.
It is disgustingly hot and humid in Washington today. Real feel temperature is over 100° right now, and by the end of the night, it's expected to get down into the low-90s. Gross. At least there's no rain in the forecast. The suspended game will resume at 5:05pm ET and you can watch on YES locally and MLB Network out-of-market. The second game will begin 30 minutes after the suspended game ends, and that will also be on YES locally and MLB Network out-of-market. Enjoy the game and a half.
Injury Updates: Gardner is dealing with inflammation in his right knee and is day-to-day. He went for an MRI yesterday that came back clean, and he is expected to be available to pinch-hit in tonight's game … Jacoby Ellsbury saw a back specialist last week and is getting ready to "ramp up" baseball activity. We'll see.
Roster Move: Welcome back, Clint Frazier. Frazier has been called up and Ronald Torreyes has been sent down, the Yankees announced. Didn't see that coming. I thought Clint would be the 26th man tonight, but he'll be available for the suspended game as well. (He was on the original roster for the suspended game anyway.) With Gardner banged up, it makes sense to carry another outfielder for the time being … Gio Gallegos will be the 26th man tonight.
Update (6:42pm ET): The Yankees dropped the completion of the suspended game earlier this afternoon. Now here are the lineups for the makeup game tonight:
New York Yankees
1. CF Aaron Hicks
2. RF Aaron Judge
3. SS Didi Gregorius
4. LF Giancarlo Stanton
5. 2B Gleyber Torres
6. 1B Greg Bird
7. 3B Miguel Andujar
8. C Austin Romine
9. RHP Sonny Gray
Washington Nationals
1. RF Adam Eaton
2. SS Trea Turner
3. CF Bryce Harper
4. 3B Anthony Rendon
5. LF Juan Soto
6. 1B Mark Reynolds
7. 2B Wilmer Difo
8. C Pedro Severino
9. RHP Erick Fedde
First pitch is scheduled for 6:45pm ET and Gallegos has been activated as the 26th man.