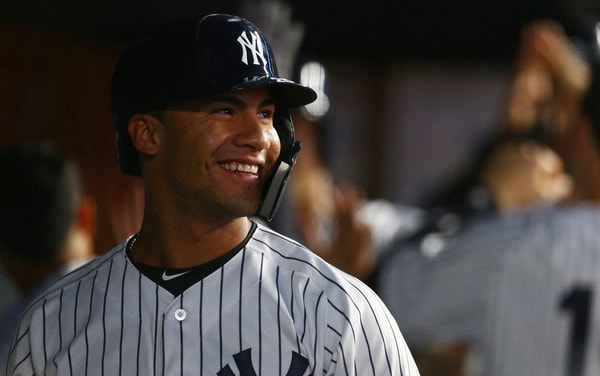 According to Ken Davidoff, Gleyber Torres said he will pass on participating in the Home Run Derby next month. It's unknown whether MLB has invited him, but it doesn't matter now. Torres will pass. "I'm not a home-run hitter. I'm a contact hitter," he said.
Gleyber may not seem like the Home Run Derby type, but there are a few things to keep in mind here. One, MLB definitely wants a Yankee involved to generate buzz, and an exciting young Yankee would be preferable. Two, Torres has socked a lot of dingers lately. Here is the home run leaderboard since the day he was called up:
J.D. Martinez: 18
Jose Ramirez: 17
Mike Trout: 15
Khris Davis: 15
Gleyber Torres: 14 (tied with five others)
And three, several big names have already says they're going to pass on the Home Run Derby this year, including Aaron Judge. Others like J.D. Martinez and Mookie Betts have said they're unlikely to take their hacks in the Home Run Derby. Even Bryce Harper is supposed on the fence and the game is at Nationals Park.
With so many big name players passing on the Home Run Derby, MLB needs some guys fans want to see — Justin Bour and Charlie Blackmon were in the Home Run Derby last year, and no offense to them, but not many folks tuned in to see those two hit — and Torres is definitely one of those guys. Instead, he's passing.
I'd bet the farm on at least one Yankee participating in the Home Run Derby. MLB wants a Yankee there. With Judge and Torres out, Giancarlo Stanton makes sense, especially since he's done it a bunch of times before and won it two years ago. I suppose Gary Sanchez is a possibility too. Maybe Miguel Andujar? We'll see. I'd bet on there being at least one Yankee sin the Home Run Derby though.
Torres, 21, came into today hitting .287/.344/.556 (142 wRC+) with those 14 home runs in 51 big league games. He's not going to beat out Jose Altuve in the fan voting for a spot in the starting lineup, but Gleyber definitely has a chance to go to the All-Star Game as a rookie.