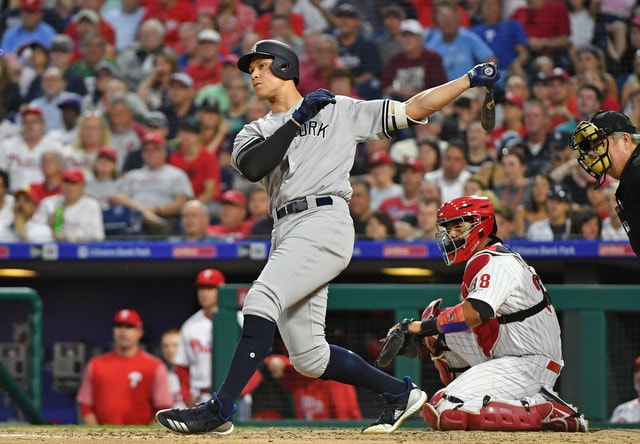 Thanks to my previous gig at FanGraphs and current gig at CBS, I've been exposed to the other 29 fan bases over the years, and I've learned one thing: They all complain about the same things. The team sucks with runners in scoring position, the third base coach is terrible, the ace isn't really an ace, why aren't they calling up that Triple-A reliever with great numbers, so on and so forth. That stuff is most definitely not limited to the Yankees.
There is, however, one common complaint that is (mostly) limited to the Yankees: They're too reliant on the home run. The Dodgers have had some of that this season, but for the Yankees, this has been going on for years. They don't score enough runs in other ways and they're going to get shut down in the postseason because you can't hit homers against good pitching, blah blah blah, yadda yadda yadda. Nevermind that homers are plentiful in October …
2017 regular season: 1.26 homers per game
2017 postseason: 1.37 homers per game
2015-17 regular season: 1.14 homers per game
2015-17 postseason: 1.22 homers per game
… or that the idea you can't hit homers against good pitching, but you can string together multiple hits and walks (and productive outs, I guess) in one inning to score against good pitching is nonsensical. Great pitchers limit mistakes, so when they do make mistakes, you have to capitalize. Example:
Good luck beating Justin Verlander or Max Scherzer or Craig Kimbrel with a single, a stolen base, a grounder to move the runner over, and a sacrifice fly.
Last postseason more runs were scored on homers than any other means
. Intuitively, not being able to hit homers in the postseason makes sense because only good teams are in the postseason and good teams tend to have good pitching, and in the postseason they do away with fifth starters and middle relievers and only use their best pitchers. The facts state otherwise. There are lots of dingers in October.
Going into last night's game the Yankees had scored 51.6% of their runs this season on home runs, the highest rate in baseball. The Indians were a distant second at 47.1%. Since June 6th — an arbitrary date to fit the narrative — the Yankees are 18-for-123 (.146) with runners in scoring position and yet they are 12-6 since that date. Why? Well, the pitching has been really good, for starters. But also because they hit homers better than any team in baseball. They hit 29 homers in those 18 games. Other clubs hit .146 with runners in scoring position and go 6-12. The Yankees went 12-6.
It is harder to get a base hit right now than it has been at any point since the mound was lowered in 1969. The league batting average is .245 at the moment. It is .249 for non-pitchers, if you want to take those offensive siphons out of the equation. Strikeouts are up — MLB is going to set a new record high strikeout rate for the ninth time in the last ten years this season — and defensive positioning has never been better. How many line drives did the Yankees hit right at defenders over the weekend? Getting a base hit is hard, man.
Home runs are not a good thing. They're a great thing. Literally the best thing a hitter can do in an at-bat! And the Yankees do it better than any team. They might do it better than any team in the history of baseball when it's all said and done. They're currently on pace for 266 home runs. The 1997 Mariners hold the all-time record with 264 home runs. Losing Gary Sanchez for a month reduces the team's chances to break that record, but either way the Yankees are an elite home run hitting team.
And that makes them an elite offensive team. Every team goes through funks with runners in scoring position during the season. Don't believe me? Check Google. It has happened to the Yankees this month and chances are it's going to happen to them again before the end of the season. That's baseball. The Yankees are able to overcome these inevitable runner in scoring position funks because they hit the ball out of the ballpark better than anyone. That bodes well for the postseason. They're better equipped to score runs without hits in runners in scoring position — or with few baserunners in general — than any other team in the game.
For whatever reason there is now a stigma attached to home runs. Hit a lot of them and it's spun as a bad thing. I don't get it and I never will. Pitching and defense is so good and so specialized these days that relying on extended rallies to generate offense is harder than ever. Too much needs to go right for those to happen. The Yankees are better suited for quick strikes — get your pitch, hit it, put a run(s) on the board — than any other team. Home runs are not a liability and they do not disappear in the postseason. They're the best thing a team can be good at.