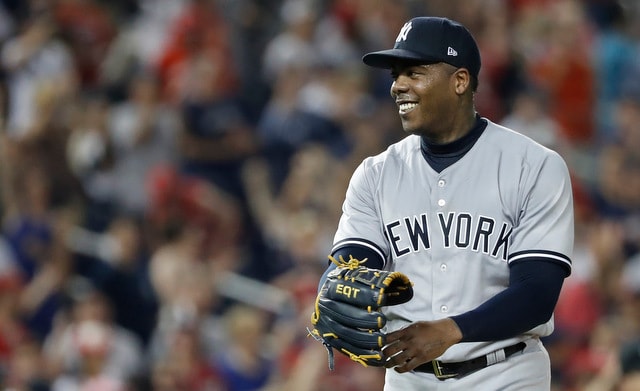 As expected, the bullpen has been a strength for the Yankees so far this season. The relief crew actually got off to a bit of a rocky start the first week or two, though things have settled down nicely since, and Aaron Boone now has arguably the best and deepest bullpen in the game at his disposal.
Here are the team's bullpen ranks 95 games into the season:
ERA: 2.69 (first)
FIP: 3.01 (second)
WHIP: 1.08 (second)
Strikeout Rate: 31.6% (first)
Shutdowns: 102 (fifth)
Meltdowns: 37 (first)
WAR: +6.6 (first)
Shutdowns and meltdowns are a neat win probability stat. Shutdowns are relief appearances that increase the team's win probability least 6%. Meltdowns are relief appearances that decrease the team's win probability at least 6%. Long story short, the Yankees have had an excellent bullpen this year, and that was the expectation coming into the season. Time to grade the relievers.
Dellin Betances
Midseason Grade: A
Expectations for Betances were pretty low coming into the season. He collapsed down the stretch last year and his control disappeared — Dellin walked eleven batters in his final 12.2 regular season innings — so much so that he was basically persona non grata in the postseason. Use only in an emergency. The Yankees stuck with Betances over the winter when much of the fan base was ready to dump him.
And, coming out of the gate this year, it seemed Betances was still broken. He allowed a homer in his first appearance of the season and Kevin Pillar embarrassed him by stealing his way around the bases in his second appearance. Six appearances into the season, Betances had allowed six runs on ten hits and three walks in 6.2 innings. He allowed three homers in his first 6.2 innings this year after allowing three homers in 59.2 innings last year.
Something funny happened after that: All-Star Dellin Betances returned. The Yankees and Boone said they were going to stick with Betances and get him right, and they did. Since April 14th, Betances has pitched to a 1.56 ERA (1.70 FIP) with lots of strikeouts (44.1%), lots of grounders (48.2%), and a tolerable amount of walks (11.8%) in 34.2 innings. Opponents are hitting .121/.244/.164 against him in those 34.2 innings. The knee-bucklers are back. The swag is back.
With Betances, given his history, it always feels like we're waiting for the other shoe to drop. Will this be the outing when he hits a batter and walks three? I get it, and it's not an unreasonable feeling after last season. For now though, Betances has reclaimed the eighth inning setup role and gone back to being a monster strikeout machine. He could've gone to his fifth straight All-Star Game this year but did not. That doesn't diminish his season performance at all.
Aroldis Chapman
Midseason Grade: A
The first year of Chapman's reliever record five-year, $86M contract did not go according to plan. He got hurt early in the season and lost his closer's job at midseason before finding it late and dominating in the postseason. This year, Chapman has come right out of the gate looking like the historically great late-inning reliever he's been basically his entire career.
Through 95 team games Chapman has a 1.35 ERA (1.49 FIP) with his typically excellent strikeout rate (44.2%) and a strong ground ball rate (46.3%). His 10.4% walk rate is a tick below his 11.3% career average. Chapman is 26-for-27 in save chances and, in the one blown save, he didn't even get hit around. A single, a hit-by-pitch, and two wild pitches pushed a run across. And the Yankees won that game anyway, so who cares?
We are more than halfway through the season now, so we can say for sure Chapman's trademark velocity is down a tick. He's averaging a still otherworldly 99.7 mph with his fastball. That's down from 100.2 mph last year and 101.1 mph the year before. You have to go back to 2013 for the last time Chapman's average fastball velocity was this low. We still see a few 103s and 104s, though not nearly as frequently as in the past.
Chapman is 30 years old now and he has been pitching basically his entire life, so a little velocity loss is no surprise. It is completely natural. He's compensated for that velocity loss — again, the dude is still averaging 99.7 mph with his heater, so it's not like he's out there slinging mid-80s gas — with more sinkers and more sliders, especially with two strikes. It has worked wonderfully too.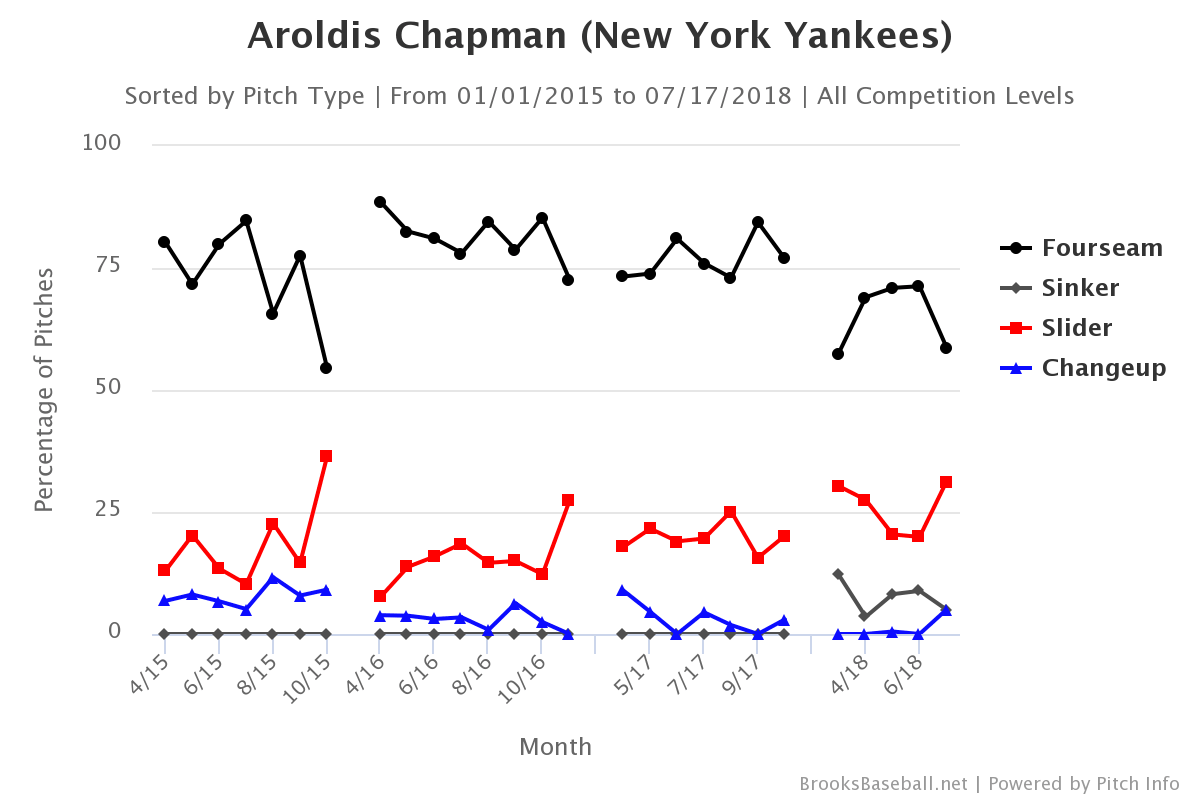 Amazingly, Chapman has pitched this well despite ongoing tendinitis in his left (push-off) knee. He's been dealing with it for weeks and he's admitted he'll probably have to deal with it all season. Chapman is getting regular treatment and it hasn't stopped him from taking the mound — the knee did force him to leave a game earlier this month, though that had more to do with not wanting to push it with a four-run lead than "I can't pitch it hurts too much" — so that's good.
I'm not a big fan of players — especially very important players — playing through an injury, but what I think doesn't matter, so Chapman will continue to pitch through the knee trouble. The doctors know better than me anyway. Even with the knee trouble, Chapman is having a truly outstanding season, a season that deservedly sent him to the All-Star Game. He's been a rock in the ninth inning. Hand him a lead and the game is over.
A.J. Cole
Midseason Grade: A+
Cole is that kid whose family moved in the middle of the school year and the teachers at his new school grade him on a curve. The Yankees acquired Cole from the Nationals in a cash trade on April 24th because they needed a long man, and, as a 26-year-old former top 100 prospect, he offered some upside. Cole was terrible with Washington — he allowed 15 runs and 22 baserunners in 10.1 innings before the trade — but he was a low risk pickup. At worst, he'd soak up some innings in a blowout, then be cast aside for the next guy.
Instead, Cole has become the best long man the Yankees have had in quite some time. Probably since 2013 Adam Warren. He's allowed one run in 18.2 innings around a minor neck injury, striking out 24 and holding opponents to a .172/.243/.234 batting line against. The Yankees, as they are wont to do, have Cole throwing far more sliders than ever before.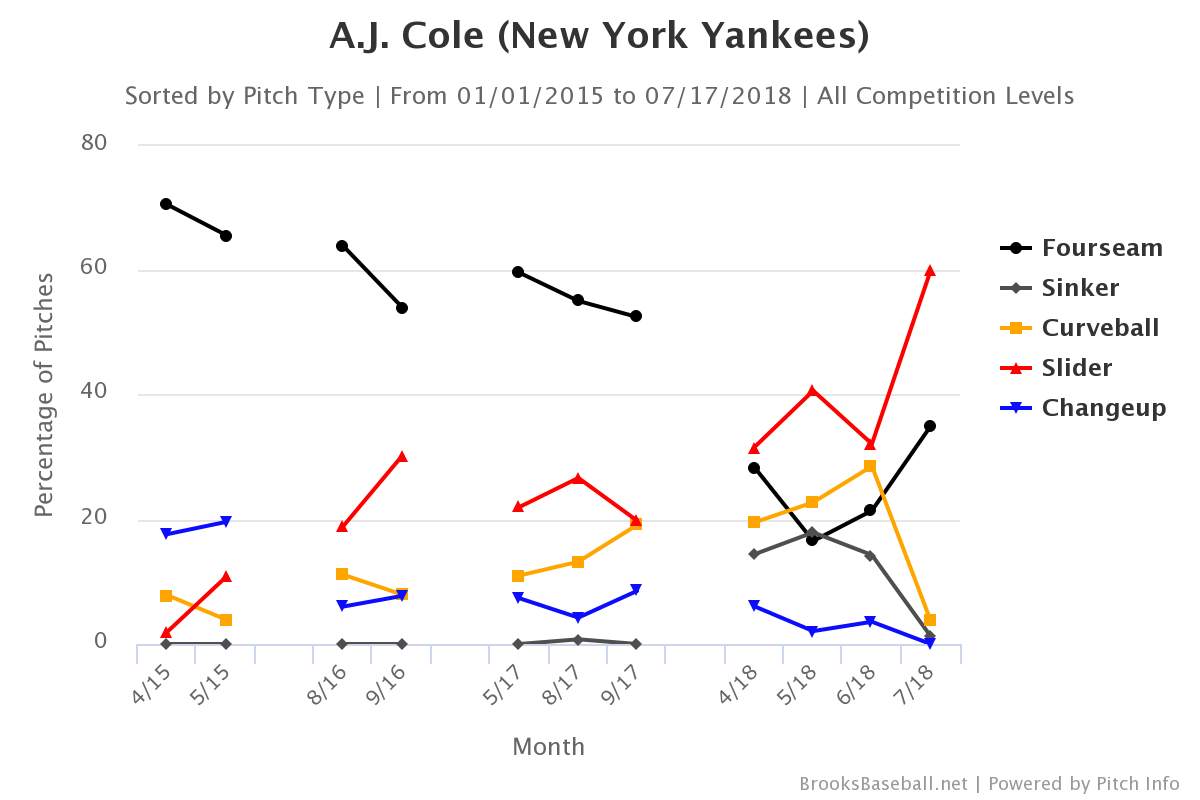 The Yankees have such a good bullpen that they haven't needed Cole to pitch in high (or even medium) leverage situations. His average leverage index when entering the game is 0.53. That's nothing. That is 33rd lowest among the 324 relievers with at least ten innings pitched this season. Perhaps there will come a time when Cole can audition for high leverage work. Right now, the Yankees don't need him in that role. He can be a highly effective long man and there's nothing wrong with that at all.
Chad Green
Midseason Grade: B
Two things are true this season. One, Green has been very good overall. Two, Green has not been as good as last season. Two blowups in two appearances prior to the All-Star break left a sour taste in everyone's mouth, though, prior to those last two appearances, Green had a 1.91 ERA (2.39 FIP) in 42.1 innings. He was fantastic and he probably deserved to go to the All-Star Game.
Here is 2017 Chad Green vs. 2018 Chad Green:
| | IP | ERA | FIP | K% | BB% | HR/9 | Fastball Whiff% |
| --- | --- | --- | --- | --- | --- | --- | --- |
| 2017 | 69 | 1.83 | 1.75 | 40.7% | 6.7% | 0.52 | 37.9% |
| 2018 | 46 | 2.74 | 3.01 | 31.5% | 5.0% | 1.17 | 27.7% |
Good numbers overall but also some discouraging trends. Green's strikeouts are down, he's not getting as many swings and misses with his trademark fastball, and his home run rate is up. He's allowed six homers in 46 innings this season after allowing four homers in 69 innings last year, so yeah. That includes two back-breaking homers in his last two appearances of the first half.
I think Green's step back this season — and by step back, I mean going from elite to merely above-average — has more to do with it being incredibly hard to succeed as a fastball only guy. Green's slider kinda stinks but his fastball is great in terms of velocity and spin rate. But unless you have Chapman's velocity, it's hard to throw fastballs by hitters long-term. Green did it most of the season. Things kinda got away from him those last two outings.
Aside from Chapman, pretty much every reliever in the bullpen has been written off at some point this season. People were ready to move on from Betances, from David Robertson, from Jonathan Holder, so on and so forth. It seems it is now Green's turn. Fortunately, the Yankees call the shots, not fans, and they'll stick with Green and work to get him right. And, chances are, he'll get right soon enough. No, Green has not been as good as last year. But he's still been very good overall, and I see those last two outings as more of a bump in the road than anything.
Jonathan Holder
Midseason Grade: A
Another reliever who gets an A. Fourth in five reviews so far. Holder was in the Opening Day bullpen as basically the last guy on the roster, though he quickly earned a demotion to Triple-A after allowing seven runs and eight baserunners in his first 2.2 innings of the season. That includes taking the loss in a frustrating 14-inning game against the Orioles on April 6th.
Holder went to Triple-A, resurfaced in late April after Adam Warren went down with a lat issue, and since then he's been out of this world good. He's thrown 36.1 innings with a 0.50 ERA (1.99 FIP) since returning, with a good strikeout rate (22.4%) and an excellent walk rate (3.7%). It felt like he "arrived" on June 18th, when he inherited runners on the corners with no outs and a one-run lead against the Nationals, and didn't allow a run to score.
Holder's newfound success comes after a change in his pitch mix. He went to Triple-A, scrapped his high-spin curveball, and came back as a fastball/slider/changeup pitcher. He's always had the slider and changeup, but they took a backseat to the curveball. Now the curveball is taking a backseat to the slider, which he uses against righties, and the changeup, which he uses against lefties.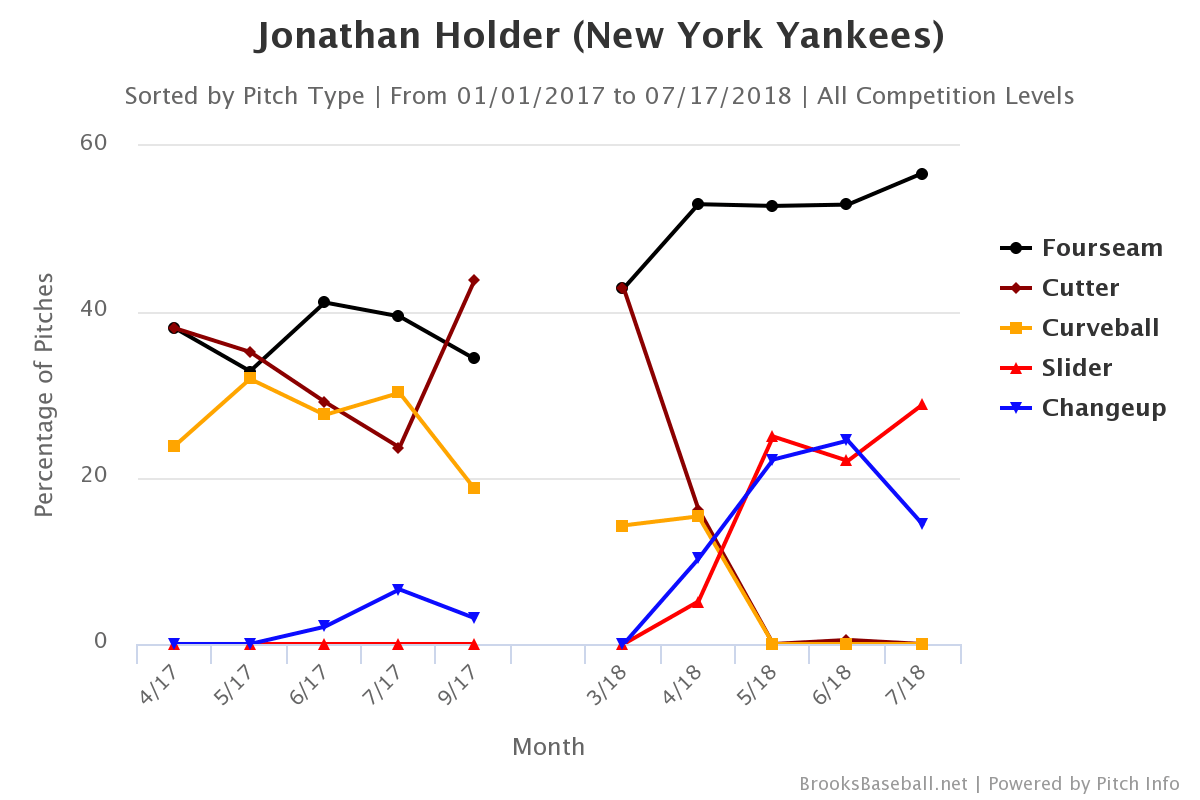 Goodbye curveball (and cutter), hello slider and changeup. That adjustment has helped Holder make the jump from up-and-down depth arm to reliable middle reliever. In fact, on most other teams, I reckon Holder would be pitching in a traditional setup role by now. But because the Yankees are so deep in quality relievers, Boone is able to use Holder in the middle innings, when the starter bows out early and it's a little too early to go to Betances and Green. Holder has been invaluable in that role.
Tommy Kahnle
Midseason Grade: F
Tough, but fair. Expectations were high for Kahnle coming into the season because he was so good last year and so effective in the postseason. Instead, Kahnle has been injured and ineffective this year. He's allowed eleven runs and 16 baserunners in nine big league innings around a biceps/shoulder injury, and, worst of all, he's walked as many batters as he's struck out. Ten apiece. Ouch.
The Yankees sent Kahnle to Triple-A in early June — he essentially lost his middle innings job to Holder — and, with Triple-A Scranton, he owns a 2.81 ERA (2.32 FIP) with 37.6% strikeouts and 10.6% walks in 16 innings. That's good. Certainly better than what he did in his limited big league time this year. So it's not like Kahnle has suddenly forgotten how to pitch, you know?
The big issue this year is fastball velocity. Kahnle's heater averaged 98.1 mph last year and 97.0 mph the year before. This season it was down to 95.6 mph. The fastest pitch he threw with the Yankees this year checked in at 97.6 mph. That's still below last year's average fastball velocity. Minor league velocity reports can be unreliable, though they have Kahnle sitting 95-96 mph with the RailRiders.
On one hand, 95-96 mph is plenty good enough to get outs at the big league level. Holder's fastball is averaging only 93.2 mph this season, for example. On the other hand, Kahnle is not exactly blessed with great command. He's a pure grip it and rip it pitcher, and hey, that works too. Worked great for him last year. But Kahnle at 95-96 mph is a different animal than Kahnle at 98-99 mph. Especially since the velocity on his changeup is unchanged. The velocity gap between the two pitches is smaller and that makes both of them less effective.
Kahnle has been down in the minors long enough to delay his free agency, which I guess is good for the Yankees. I suspect they'd happily trade that extra year of control for a healthy and effective Kahnle at the big league level though. He was part of that big trade last season with the idea that he'd be a long-term bullpen piece. Instead, Kahnle has been a non-factor this season, and it's unclear whether he'll regain last year's effectiveness at some point.
David Robertson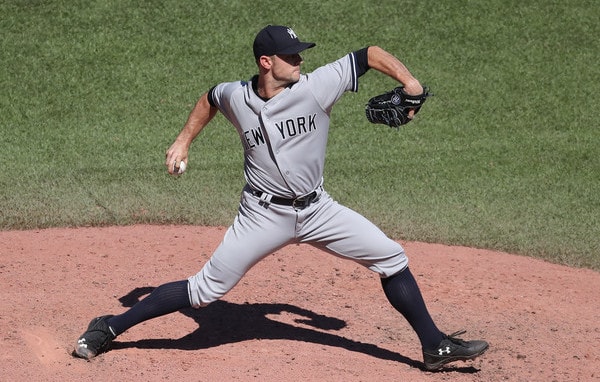 Midseason Grade: B+
Ho hum, another typically strong David Robertson season. He's basically the CC Sabathia of the bullpen at this point. Still very effective, still lots of folks seemingly ready to call him done any time he stumbles. Robertson had a rough patch in May but has otherwise been very good this season, pitching to a 3.09 ERA (2.47 FIP) with strikeout (30.5%) and walk (8.1%) rates right in line with his career norms. He is the same guy he's always been.
Betances' reemergence and Green's overall effectiveness has allowed Boone to use Robertson in all sorts of situations. He's brought him into the middle of an inning to escape a jam, used him as a seventh and eighth inning guy, and Robertson has even gone 2-for-2 in save chances on days Chapman was unavailable. Robertson has made 43 appearances this season. Here's when he's entered the game:
Sixth Inning: 4 times
Seventh Inning: 13 times
Eighth Inning: 17 times
Ninth Inning: 5 times
Extra Innings: 4 times
That is a man who is not married to a specific inning. Robertson was out of this world good after rejoining the Yankees last season — he allowed four runs in 35 innings after the trade — and he was great in the postseason. He hasn't been quite that good this year, but he's been very good overall. As good as he is, I still get the feeling Robertson is underappreciated. He's a hell of a reliever.
Chasen Shreve
Midseason Grade: D
I suppose you could argue Shreve is meeting expectations. He owns a 4.54 ERA (5.22 FIP) with 28.8% strikeouts and 11.1% walks in 33.2 innings this season. From 2016-17, he pitched to a 4.37 ERA (5.06 FIP) with 26.8% strikeouts and 11.2% walks in 78.1 innings. Shreve is the same guy right now that he's been the last two years. Unfortunately, that makes him a replacement level reliever.
As the very last guy in the bullpen — and that's what I think he is at this point, I think Cole has jumped him in the pecking order — Shreve is okay. He's someone who takes a beating in blowout games, basically. The problem isn't Shreve, really. It's that Boone keeps using him in somewhat leveraged left-on-left matchup situations even though Shreve isn't good against lefties. They're hitting .239/.364/.556 (.386 wOBA) against him this year. Yuck.
The Yankees clearly like Shreve. He wouldn't have stuck on the roster this long otherwise. And I get it. He's a just turned 28-year-old southpaw with a history of missing bats. Guys like that are hard to find. If another team had Shreve and they designated him for assignment, I'd look at him as a potential reclamation project pickup. If Boone stops using Shreve as a left-on-left guy and starts using him as a mop-up man, he'll be fine. It'd be fine. Just fine.
Adam Warren
Midseason Grade: B
Once again, Warren has been a boringly reliable Swiss Army Knife reliever this season. He did miss more than six weeks with a lat strain, which drags down his midseason grade, otherwise the guy has thrown 24.1 innings with a 1.85 ERA (2.94 FIP) and very good strikeout (28.4%) and walk (8.8%) rates. And he is what, the sixth best reliever in the bullpen? Yeah, that'll play.
I get the sense Warren will take on increased responsibility in the second half. The injury threw a wrench into things in the first half and it seems Boone is still trying to figure out when exactly to use him. In the second half though, I think Warren will be used for more multi-inning stints in the middle of the game as the Yankees look to control Luis Severino's workload and also try to shorten games by not letting their starter go through the lineup a third time.
Either way, Warren has again been a reliable bullpen arm who flies under the radar because the Yankees have so many good relievers. Missing all that time with the lat injury stinks, but you know what? It gave Holder an opportunity to emerge, and the Yankees are a better team now because of it. In that sense, Warren's injury turned out to be a good thing. Now he's healthy and again an effective do it all bullpen option.