The All-Star break has arrived and this is the perfect time to take a step back and review the first half of what has been a very successful 2018 Yankees season to date. We'll review the team and hand out some letter grades (relative to expectations), because why not? We begin today with the catchers.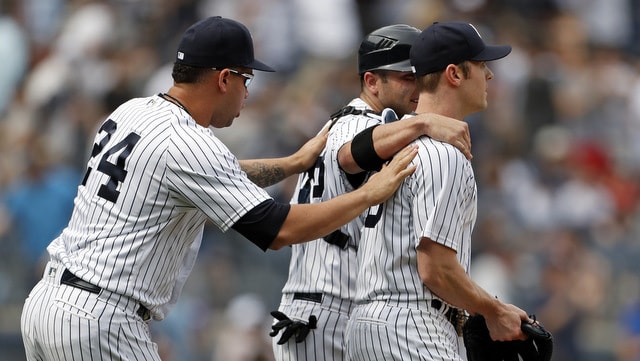 Coming into the 2018 season, the catcher position was expected to be a strength for the Yankees. Gary Sanchez established himself as one of the top backstops in baseball last season — certainly as the top power-hitting catcher, at the very least — and the expectation was he would again produce at that pace this year, if not improve. Instead, it's another Yankees catcher who has improved this year. Let's review the season to date behind the plate.
Kyle Higashioka
Midseason Grade: Incomplete
We're going through the players alphabetically and I suppose it's fitting we begin with an incomplete grade. Season's still far from over. Kyle Higashioka has been on the big league roster for less than a month as the backup catcher during Gary Sanchez's disabled list stint. Higashioka was the No. 3 catcher on the depth chart coming into the season and he had to bide his time in Triple-A until an injury struck.
Prior to the call-up, Higashioka authored a weak .191/.265/.328 (66 wRC+) batting line with five homers in 51 games with Triple-A Scranton. In eleven games with the Yankees he's gone 5-for-30 (.167) with three home runs. His first three big league hits were dingers! Higashioka and Alfonso Soriano are the only players in franchise history to do that.
Defensively, I'm not really sure what to say about a guy with 81 innings behind the plate. Runners are 9-for-9 stealing bases against him, which is terrible, though
Baseball Prospectus
(subs. req'd) says he's been a slightly above-average pitch-framer, so that's good? Better than the alternative, I suppose.
Ultimately, Higashioka has been a perfectly cromulent backup backup catcher. Three dingers in 33 plate appearances is more offense than I would've expected from a third string catcher, and his receiving has been fine. (The stolen bases are another matter.) Higashioka's been in the organization long enough that he knows the pitching staff fairly well. He's been fine in his limited big league team. That's a good way to describe it. Fine. He's been fine.
Austin Romine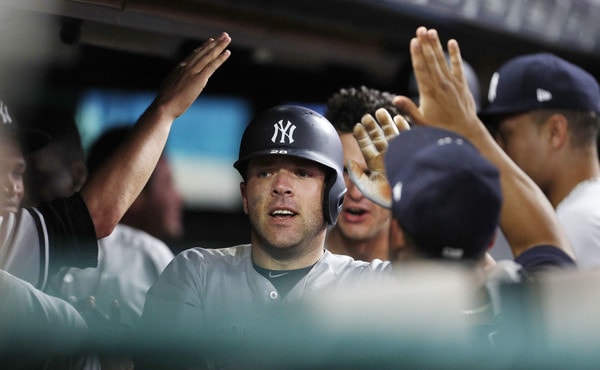 Midseason Grade: A+
I'm not sure any player on the roster has exceeded expectations more than Austin Romine so far this season. Romine was legitimately bad the last two years. He hit .228/.271/.330 (57 wRC+) in 428 plate appearances from 2016-17 and, for what it's worth, the Baseball Prospectus (subs. req'd) defensive numbers had him at +1.8 runs above average behind the plate, which is not nearly good enough to make up for the lack of offense.
The defensive numbers are basically unchanged this year, but, for the first time in his big league career, Romine has been a legitimate threat at the plate. He currently owns a .270/.333/.492 (124 wRC+) batting line — a .492 slugging percentage! — with six home runs in 136 plate appearances. Romine hit seven home runs total in 611 career plate appearances prior to this season. Now he has six in 136 plate appearances.
Early in the season Romine went the Giancarlo Stanton path and really closed up his batting stance — I'm not going to embed the image again, but you can see it here — and while he doesn't seem as closed at the moment, there has been a mechanical adjustment. It has not been a dumb luck hot streak for Romine. Some numbers:
Hard Contact Rate: 36.2% (27.3% from 2016-17)
Ground Ball Rate: 41.9% (46.0% from 2016-17)
Opposite Field Rate: 40.4% (32.7% from 2016-17)
Average Exit Velocity: 89.1 mph (85.7 mph from 2016-17)
Expected wOBA: .342 (.291 from 2016-17)
Chase Rate: 25.4% (37.8% from 2016-17)
One on hand, we're talking about 136 plate appearances spread across 95 team games. Context is important. On the other hand, Romine has never done anything like this before in his career. More hard contact, more balls in the air, more balls to the opposite field, fewer chases out of the zone. Pretty good combination there. The results are backed up by promising underlying trends.
Will Romine continue at this pace all year? Who knows. Expecting him to maintain a 124 wRC+ the rest of the way might be asking too much. But there is enough underlying improvement here to think Romine now is a better hitter than he was the last two years. And, even if he reverts back to pre-2018 Romine, his first half already happened. These 136 awesome plate appearances happened and they've helped the Yankees win games. Even the biggest Austin Romine fans did not expect this. What a first half for the backup catcher.
Gary Sanchez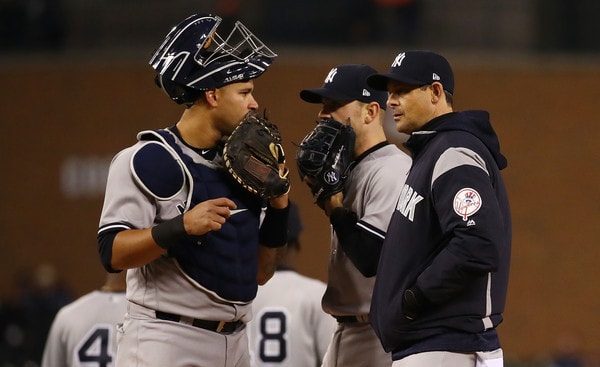 Midseason Grade: D
Relative to expectations, yes, this has been a very disappointing season for Gary Sanchez. And not just because of the groin injury that has sidelined him since June 25th. Prior to the injury Sanchez hit .190/.291/.433 (96 wRC+) with 14 home runs in 265 plate appearances, and his passed ball issues remain. Gary allowed one passed ball every 50.2 innings before the injury. The MLB average is one passed ball every 117.1 innings.
Relative to big league catchers, Sanchez had a pretty good first half. I mean, a .190 batting average is a .190 batting average, and that's terrible. But catchers are hitting .231/.305/.373 (85 wRC+) overall this season. Sanchez is in the ballpark with his OBP and his power is far better than pretty much everyone else. Gary hasn't played in three weeks and he still leads all catchers with 14 home runs. The power has been his saving grace.
More than anything, Sanchez's problem this season has been pop-ups. His strikeout rate (22.9% vs. 23.8%) and chase rate (36.3% vs. 32.1%) are not wildly out of line with last year, but he's been popping the ball up much more often. Pop-ups and weak fly balls are easy outs. A .194 BABIP is absurdly low and won't continue forever, but it's not entirely undeserved either. Some launch angle data: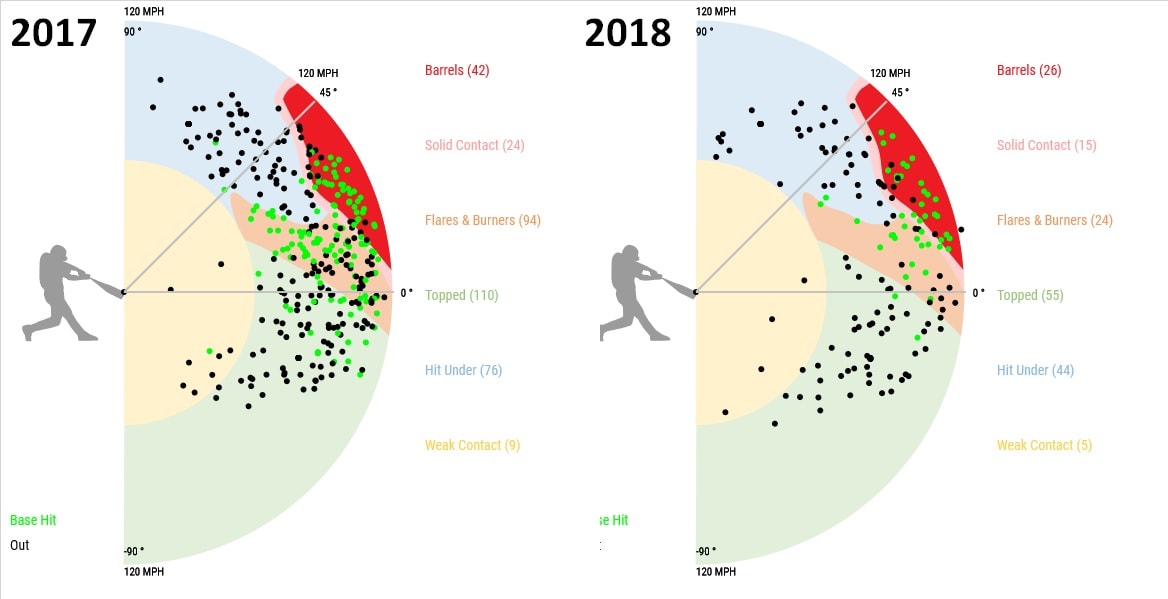 Sanchez already has more batted balls near the 90° line than last season, and he has 44 "hit under" balls among 169 balls in play, or 26.0%. Last year he had 76 "hit under" balls among 355 balls in play, or 21.4%. Gary's 21.1% infield fly ball rate — that's 21.1% of all fly balls that are infield pop-ups — is far above last year's 10.8% rate and far above the 10.3% league average. Totally matches the eye test in my opinion. So many pop-ups. So many.
Gary did have some big moments in the first half. There was the walk-off homer against the Twins, and the go-ahead homer that had Ken Giles punching himself, and the game-tying homer against the Mariners. Believe it or not, Sanchez does have a 150 wRC+ in high-leverage spots and a 139 wRC+ with runners in scoring position this season. Even with the overall disappointment, Gary came through in some really big moments in the first half.
The pop-ups and weak fly balls are really dragging down Sanchez's batting average and overall production. I don't know if he's changed his hitting mechanics, gotten too home run happy, or fouled himself up trying to improve his launch angle, but whatever it is, it's something Gary and the Yankees have to fix and soon. He's expected back from his groin injury for the start of the second half Friday. The sooner good Gary returns, the better.