For the first time since the Joe Girardi non-challenge gift-wrapped ALDS Game Two for the Indians, the Yankees lost a game to Cleveland on Friday night. They'd won seven straight games against the Tribe before this one. The winning streak was bound to end sometime, I guess. The final score was 6-5.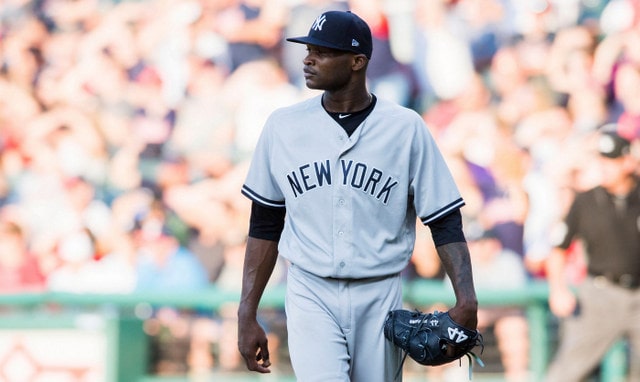 Domingo's Latest Dud
For the third time in his last four starts, Domingo German failed to complete five innings Friday. And like most of his other starts, German was dominant for a few innings and Triple-A caliber for the rest. I suppose that comes with the territory with command challenged rookies. This was the fourth time in eleven starts German allowed at least six runs. It is happening entirely too often.
The Indians put four runs on the board in the first two innings and the story there was the fastball. German threw 37 fastballs in those first two innings and only 14 were strikes. Couldn't locate the heater at all. When he located it, he dominates. When he doesn't, he walks four of the first 12 batters he faces like he did Friday, and the offspeed stuff isn't nearly as effective. German manufactured Cleveland's first run with two walks, a wild pitch, and a ground ball. He did well to escape that jam with one run, all things considered. That had a chance to get ugly fast.
In the second though, the Indians added a single and two very loud doubles to two walks to score three runs. Michael Brantley's two-out, two-run double into the right-center field gap was the back breaker. German was oh so close to wiggling out of that inning with just one run allowed, then he put a changeup on a tee to Brantley, and that was that. A suboptimal pitch, it was. A hitter with more power than Brantley — Brantley's awesome, I don't mean this as a knock, I'm just saying — would've hit it out of the park.
German did settle down and retire seven straight at one point. That streak ended when Brantley sent a ground ball single back up the middle to start the fifth inning, and Jose Ramirez followed with a triple into the right field corner. Ramirez later came around to score to close the book on German. His line: 4 IP, 5 H, 6 R, 6 ER, 4 BB, 6 K on 91 pitches. The Yankees need another starter, though that's hardly new information. German has had his moments, but this ain't cutting it.
(Also, as an aside: I wonder if German is going to get optioned to Triple-A Scranton before tomorrow's game. Because of the All-Star break, his next start can be pushed back to eleven days from now, so the ten-day rule won't prevent him from being called back up in time. Option German after the game and call up another reliever for the weekend. Maybe? I dunno. But it's an idea.)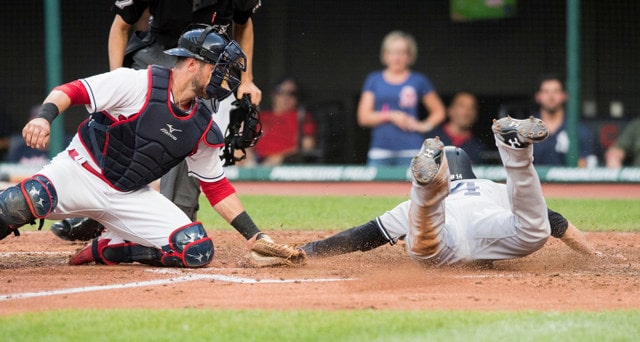 No Bieber Puns Tonight
This is a Justin Bieber pun free zone. I'm neither hip enough nor creative enough for that. Rookie Shane Bieber largely flummoxed the Yankees with well-located hitters and a good array of breaking stuff across his seven innings. The Yankees finally got to him in the fifth inning. That was the only inning they got to him, really. Three runs on three hits and a walk that inning. They had two hits and one walk in his other six innings combined.
That fifth inning rally started with a Greg Bird double down the right field line. Glad he's finally starting to swing the bat better. The lack of first base production was getting annoying. Miguel Andujar followed with a walk — three straight games with a walk for Miggy! — and fan favorite Neil Walker brought Bird home with a double off the left field wall. I thought it had a chance to go out off the bat. Andujar then scored on a wild pitch to cut the deficit to 4-2.
At that point, after the wild pitch, the Yankees had a runner on third with no outs. They were all set up to get to within one run, and they did exactly that on Brett Gardner's sacrifice fly. Walker was dead to rights at the plate, but thankfully Yan Gomes couldn't handle the throw. Kyle Higashioka struck out and Tyler Wade infield singled between the wild pitch and the sac fly. The inning ending when Aaron Judge juuust missed a hanger.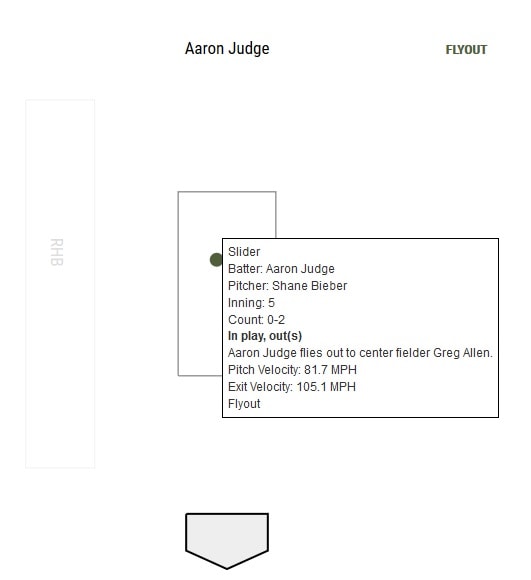 Gah. Had the good exit velocity. Too much launch angle, I guess. Judge usually hits that pitch into the seats. Instead, he flew out to center with Wade on second base to end the three-run fifth inning. The Yankees were able to get to within 4-3, though that didn't last long. German and Jonathan Holder conspired to allow the Indians to get back two runs in the bottom of the fifth.
Late Chances
The Yankees had chances to get back into this game. Wade started the eighth inning with a double to left field. He moved up to third on a passed ball and scored on Brett Gardner's grounder. It wasn't a routine grounder. It was up the middle and Francisco Lindor made a stellar play to turn it into an out. Judge then took a pitch to the forearm after that to bring the tying run to the plate! Strike 'em out, throw 'em out double play to end the inning. Gah.
Why is Judge running, exactly? You're down two runs with five outs to go. The risk of losing the baserunner isn't nearly worth the reward of the extra 90 feet, especially with the power the Yankees have. If Hicks grounds into a double play, what can you do? Play to your strengths. The Yankees are not a speed team. They are not a small ball team. No matter how much people want them to be, they're not. They're designed to do this:
Giancarlo No Si Puo Stoparlo !!! #yankees #pinstripepride pic.twitter.com/dSIgUNhKP9

— Bronx Bombers Beat (@bomberbeat2) July 14, 2018
The Yankees need to stop sending in front of Stanton in close games. This was at least the third time a runner was thrown out trying to steal second in front of Stanton within the last three or four weeks. Didi Gregorius had the other two. I know Giancarlo wouldn't have necessarily homered had Judge not been thrown out. I know that. But dingers are Stanton's thing. Let him hit with as many men on base on possible. Sheesh.
Cody Allen tried like hell to give the Yankees this game in the ninth. After Stanton's leadoff dinger cut the deficit to 6-5, Bird singled to right to put the tying on base. Then Andujar grounded into a first pitch 6-4-3 double play. Argh. But wait! Allen then walked Walker to put the tying run on base again. And then Didi Gregorius popped up this pitch …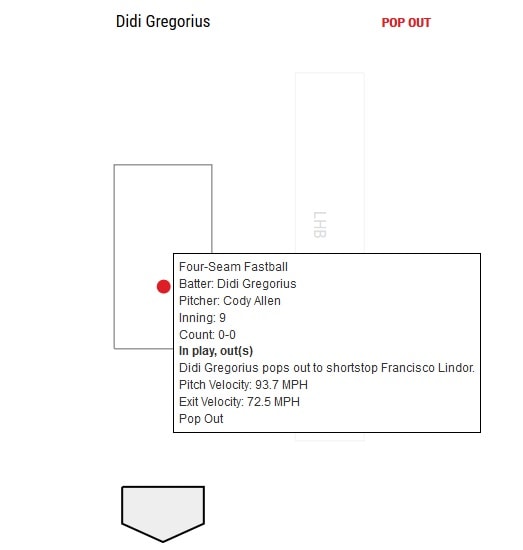 … behind shortstop to end the game. ARGH. Pretty frustrating end to that game. Cleveland's bullpen is so crappy. Allen tried like hell to give that ninth inning away, and between Andujar's first pitch double play and Didi popping up a cookie, the Yankees let him off the hook. Sending Judge with Stanton looming on deck was real bad too. Get as many men on base for Judge and Stanton and things'll take care of themselves. Stop getting cute with steal attempts.
Leftovers
Holder allowed the runner he inherited from German to score in the fifth inning, though he was effective overall, giving the Yankees two innings with just the inherited runner allowed. Too bad the inherited runner was the deciding run. Chasen Shreve put some men on base but two scoreless innings is two scoreless innings. I'll take it no matter how ugly.
Two hits for Bird, two hits for a Wade, a hit and a walk for both Andujar and Walker. Gardner, Judge, and Hicks went a combined 0-for-9 with a walk, a hit-by-pitch, a sacrifice fly, and four strikeouts atop the lineup. Bummer. That the 1-2-3 hitters can do that and the Yankees are still deep enough to still score five runs and threaten a bunch of other times is a good thing, you know.
Box Score, WPA Graph & Standings
For the box score and updated standings, go to ESPN. MLB has the video highlights and we have a Bullpen Workload page. Here's the loss probability graph:

Source: FanGraphs
Up Next
The Yankees and Indians are halfway through this four-game series. Former Indian CC Sabathia and current Indian Mike Clevinger will be on the mound Saturday night. That's a 7:15pm ET start.