We've got a dozen questions in this week's mailbag. Remember when mailbags were four or five questions? I've spoiled y'all. Anyway, send all mailbag questions to RABmailbag (at) gmail (dot) com.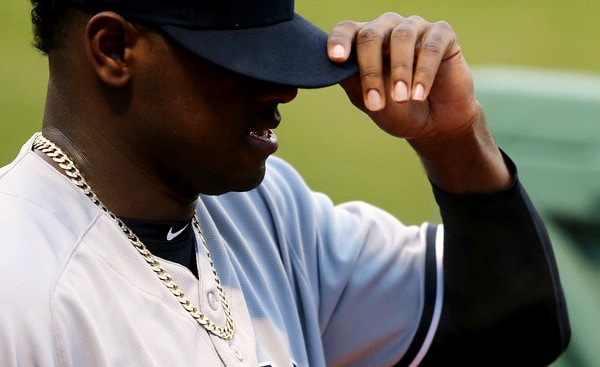 Greg asks: Does Severino have a below average spin rate on his fastball? It seems like guys hit it into the ground regardless of location.
Quite the opposite. Luis Severino has one of the highest fastball spin rates in baseball. Among the 121 pitchers to throw at least 1,000 pitches this season this season, Severino has the 17th highest average spin rate at 2,370 rpm. The MLB average is 2,262 rpm. Furthermore, Severino's fastball has allowed a 14.7° average launch angle, which is comfortably below the 17.2° league average.
Generally speaking, high spin on a fastball produces swings and misses while low spin produces grounders. Severino's heater has a high spin rate and he gets lots of swings and misses with the pitch. We know that. But hitters also have a difficult time elevating his fastball, as the low launch angle shows. Among those 121 pitches who've thrown at least 1,000 pitches this season, only four have a 2,350+ rpm average spin rate and a sub-15° average launch angle on their fastball:
Sonny Gray: 2,424 rpm and 14.6°
Garrett Richards: 2,603 rpm and 12.0°
Tyson Ross: 2,521 rpm and 14.9°
Luis Severino: 2,370 rpm and 14.7°
Two Yankees, one guy who's been mentioned as a possible Yankees' trade target (Ross), and another guy I've mentioned as a possible Yankees' trade target (Richards). Huh. Funny how that works. Point is, Severino's fastball is very unique, and not just because he throws harder than any starter in baseball. It's a rare high spin fastball that gets both swings and misses and grounders.
Joe asks: Given the Zack Cozart injury, is there a trade for Brandon Drury or Neil Walker that makes sense with the Angels? Thanks.
The Angels have crashed hard the last few weeks — going into last night's game they were 18-27 since May 15th and eleven games back of a postseason spot — so I don't think they have much of a need for a rental like Walker, even with Cozart done for the season. Drury is a long-term controllable player, and with Ian Kinsler a free agent after the season, the Halos could play Drury at third and Cozart at second going forward.
Anaheim does have some quality starters, specifically lefties Andrew Heaney and Tyler Skaggs, though I get the sense they're going to hang on to those guys and try to win with them next year. Richards is a free agent after the season though, and the Angels might be willing to trade him. Drury for Richards? I feel like the Halos should kick in a little more because it is three and a half years of Drury for half-a-year of the very injury prone Richards, but the framework seems doable. Heaney or Skaggs would be preferable. Richards isn't a bad option though.
Benjamin asks: Thoughts on players boycotting the hr derby? Do you think there is collusion!!???! Players sticking it to MLB?
Hah, I hadn't thought about that. Several big name players have already said they're going to skip the Home Run Derby, including Aaron Judge, Gleyber Torres, Mookie Betts, Mike Trout, and J.D. Martinez. Bryce Harper said he'll only participate in the Home Run Derby if he's an All-Star, which can't be what MLB wanted to hear since the All-Star Game is at Nationals Park. (Harper was among the fan voting leaders as of the last update, so he'll likely be an All-Star.)
The MLBPA is said to be furious over last offseason's free agent market, so much so that there's already talk about a work stoppage when the Collective Bargaining Agreement expires in three and a half years. That's no good. It's been a long time since there were even whispers of a work stoppage. The players reportedly turned down an All-Star Game voting overhaul a few weeks ago as a form of protest against ownership. Maybe big name players are skipping out on the Home Run Derby as a way of getting back at MLB. That'd be something.
Chris asks: Is the Yankee lineup too righty heavy?
I don't think there's a right answer to this. I guess if they're consistently being shut down by right-handed pitchers, the answer is yes, the lineup is too righty heavy. But if they're still having success against righties, the answer is no. Here are the Yankees' platoon splits (MLB rank in parenthesis):
| | AVG | OBP | SLG | wRC+ | BB% | K% |
| --- | --- | --- | --- | --- | --- | --- |
| vs. RHP | .248 (14th) | .324 (7th) | .453 (2nd) | 111 (4th) | 9.4% (8th) | 23.2% (19th) |
| vs. LHP | .255 (9th) | .342 (2nd) | .489 (1st) | 126 (1st) | 11.2% (1st) | 23.5% (24th) |
The Yankees annihilate lefties — the Astros are the second best southpaw hitting team with a 119 wRC+ — and are merely very good against righties. Are there times a hard-throwing righty with a nasty breaking ball shuts the Yankees down? Yes, absolutely. But those guys tend to shut every team down. Guys like Aaron Judge, Giancarlo Stanton, and Gary Sanchez have historically handled righties very well and, based on what I've seen, Gleyber Torres and Miguel Andujar can more than hold their own against same-side pitchers as well.
The offense definitely leans right-handed heavy at the moment and I'd love to see another quality left-handed bat in the lineup to balance things out (hello Greg Bird). I mean, the Yankees rank 19th in baseball with 35 homers by left-handed hitters. How does that happen with the short porch? To answer the question, no, I don't think it's a problem the lineup leans righty. The results say this team can do damage against both righties and lefties.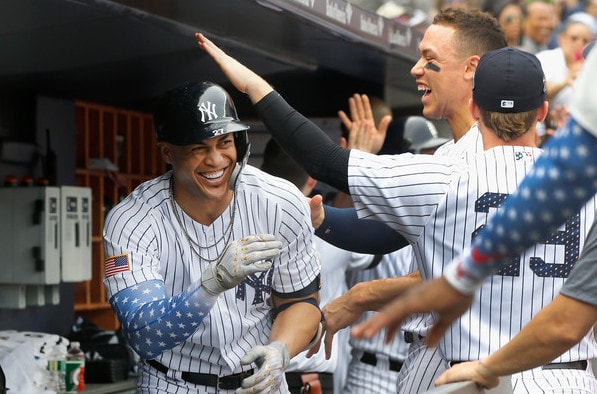 David asks: For a million reasons, all the focus is on the upcoming free agent class, but the next one's supposed to be pretty good too, right? I think Sale and Arenado will be free agents… Who else?
Chris Sale and Nolan Arenado will indeed become free agents following the 2019 season. Those two plus Madison Bumgarner are the crowd jewels of the 2019-20 free agent class at this point, though I'd be surprised if the Giants don't sign Bumgarner long-term before then. Other big names due to hit the open market that winter include Justin Verlander, Gerrit Cole, Anthony Rendon, Paul Goldschmidt, Jose Abreu, Xander Bogaerts, Marcell Ozuna, and Michael Wacha. Aaron Hicks, Didi Gregorius, Dellin Betances, and Sonny Gray are the notable Yankees who will become free agents that offseason. As always, the quality of the free agent class will only get worse between now and then because guys will sign extensions and guys will decline. The 2019-20 offseason is a looong time away.
Jeff asks: Just watched Hicks hit his 3rd homer vs. BOS. He's arbitration-eligible next year and a free agent prior to 2020. Loaded question (obviously)…but what do you do with Aaron Hicks over the next 18 months? Trade? Extension? Something else?
I think the Yankees should just let the next year and a half play out. Hicks is awesome, I am totally on board with him really being this good, but the fact of the matter is he's only been this good for 642 plate appearances due to injuries. He's hit .263/.364/.493 (131 wRC+) since Opening Day last year in those 642 plate appearances. Hicks still hasn't had a full season at this performance level.
Generally speaking, players who sign extensions the year before free agency get paid free agent dollars. There's no discount. So there won't be much of a difference financially between signing Hicks this offseason and next offseason. Right now, I say let it play out and reevaluate things after next season. Of course, if Hicks goes to the Yankees and is willing to sign a sweetheart deal this winter, go for it. Otherwise wait it out, and I say that as a Hicksie believer.
Anonymous asks: Janson Junk has to be my favorite 'punny' name in the system, even more than Judge. Please tell me he's not a fireballer, so if he ever makes it to the bigs, headline-writers can have a field day describing his crafty wins with marginal stuff.
Alas, Janson Junk is not a junkballer. He's a Yankees prospect. They don't do junkballers. The Yankees selected Junk out of Seattle University in the 22nd round last year. Here is Baseball America's pre-draft scouting report (subs. req'd):
Junk is a power-armed righty who didn't have a great year statistically (6-7, 5.92), but there are teams who might be interested enough in the stuff to take a flyer on him. His fastball has sat 94-96 mph at its best in shorter stints, though it can be flat. His average changeup has some tumble, but his breaking ball remains below-average.
Junk, 22, has a 4.08 ERA (4.23 FIP) with 17.8% strikeouts and 6.8% walks in 39.2 innings with Low-A Charleston, and hey, I'd say those are junkballer stats. But sadly, no, he is not a junkballer pitcher. Mr. Junk can bring the heat.
Tom asks: We've certainly heard Judge's name being thrown around in the early going, but what about Severino for MVP?
Severino absolutely belongs in the MVP conversation. I know some folks are against it, but I'd have no trouble whatsoever voting for a pitcher for MVP. The voting guidelines explicitly say pitchers are eligible for MVP. Severino's performance alone is worthy of MVP considerations. To wit:
ERA: 1.98 (second lowest)
Innings: 118.1 (fifth most)
fWAR: +4.4 (third among pitchers and eighth among all players)
bWAR: +4.9 (second among pitchers and seventh among all players)
It'd also be pretty easy to build a "Severino for MVP" narrative. He's been no worse than the second best player on one of the best teams in baseball (Judge is at +4.5 fWAR and +4.8 bWAR), and given the state of the Yankees' rotation, you could argue Severino is the team's most indispensable player. CC Sabathia is an injury risk, Jordan Montgomery's hurt, Masahiro Tanaka hasn't been great when healthy, and Sonny Gray has stunk. Remove Severino from the rotation and it would get ugly quick.
The MVP voting body changes each year — two BBWAA members from each city in the league vote on MVP — so this year's group may be open to voting for a pitcher for MVP. Or it could be a group that is anti-pitchers for MVP. I'd have zero trouble voting for a pitcher for MVP and Severino absolutely deserves to be among those considered for the award based on his season to date.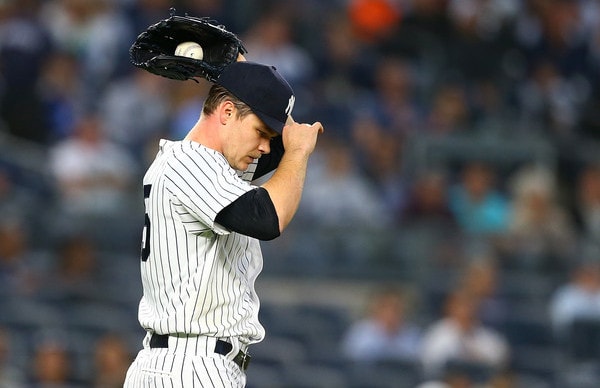 Marc asks: Is there a point at which you think it makes sense for the Yankees to send Sonny Gray to AAA to try to work through all these continuous issues hes having? Could only do once Tanaka is back of course. Similar to what the Rockies are doing with J. Gray or the Twins with Sano/Buxton? I believe he still has 1 or 2 option years remaining.
If the Yankees are going to do this, they need to do it basically right now. Tuesday is the fifth anniversary of Gray's big league debut and he'll reach five years of service time on that date. Players with five or more years of service time can refuse minor league assignments, and they almost always do. Jon Gray, Miguel Sano, and Byron Buxton had no choice but to accept their minor league assignment at their service time level.
As bad as Gray has been overall, I don't see the Yankees sending him to the minors. That's not their M.O. They are extremely patient. They stuck with Hicks when everyone wanted him gone. They stuck with Betances when everyone wanted him gone. They stuck with Gregorius when everyone wanted him gone. They stuck with Severino as a starter when everyone wanted him in the bullpen. ("Everyone" is an exaggeration, but you catch my drift.) The Yankees tend to be patient and lately they've been rewarded for their patience in a significant way. I imagine they'll stick it out with Gray and continue to try to get him right.
Adam asks: Given the checkered injury history for Loaisiga, it seems like there is no better time than the present to trade him. Is Loaisiga plus another #20-30 prospect enough for the Yankees to pry away a steady #3-#4 starter with a 1.5-2.5 years of control? Does he have much value on the trade market? Seems the Yanks would do well to sell high on him.
I love Johnny Lasagna but I'd have no trouble whatsoever trading him for MLB help. Jonathan Loaisiga's injury history is ugly and he just had a fairly successful four-start big league cameo. His trade value may never be higher. I'm not saying the Yankees should give Loaisiga away! I'm just saying I wouldn't let him stand in the way of a trade at the deadline. It's tough to gauge's his trade value because he's had such an unconventional career. Very limited track record, lots of injuries, but great stuff and great stuff results. Baseball America even had him in their midseason top 100. If the Yankees can use Loaisiga as part of a package to get an impact starter at the trade deadline, they absolutely should do it. The best predictor of future injuries is past injuries, flags fly forever, etc etc.
Dennis asks: Game 7, World Series. Sevy, CC and Tanaka pitched Game 4, 5 and 6. Would you go right to the bullpen for Game 7? Play to the strength of the team? Or just start Sevy on short rest? Thanks.
Severino on short rest. It's Game Seven of the World Series! Have to go with your best there. You could definitely make the case Severino on short rest is not the best option and that a parade of relievers would give the Yankees the best chance to win, but I dunno man. Severino's putting up shutdown reliever numbers as a starter. And besides, chances are the bullpen would have worked a lot in the series already, right? So I'm not sure the bullpen would be any less fatigued than Severino on short rest. I think you have to go with Severino in this situation. He's a bona fide ace and one of the top starters in the game. It's not like the Yankees would be starting Sonny Gray on short rest, you know?
Mark asks: I am in no way saying that I would rather have the Yankees NOT hit homers with the frequency they do, but man it seems like forever since a "big inning" happened without a long ball. Even hits with runners in scoring position seem to be hit too hard to score Gardy from second (lol). It got me thinking: when is the last time the Yanks had a damn bases clearing double? I feel like I've seen a bunch of lined shots by (insert struggling first baseman name here) the past two weeks ended up in (Sox / Nats / Bravos) first base mitts instead of right field corners. "Enquiring" minds want to know!
The Yankees have had four doubles with the bases loaded this season and three of them cleared the bases. The other wasn't a booming double into the gap or down the line. Tyler Wade split the outfielders and Kevin Pillar got the ball in quickly, so the third runner didn't have much of a chance to score (video). The team's last bases-clearing double came on June 15th. You probably remember it:
The other two bases-clearing doubles came from Sanchez on April 12th (
video
) and Miguel Andujar on April 21st (
video
). I know three bases-clearing doubles in 84 games doesn't seem like much, but there have only been 103 doubles with the bases loaded in baseball this season, and only 43 cleared the bases. That works out to 1.43 bases-clearing double per team. The Yankees are double that!