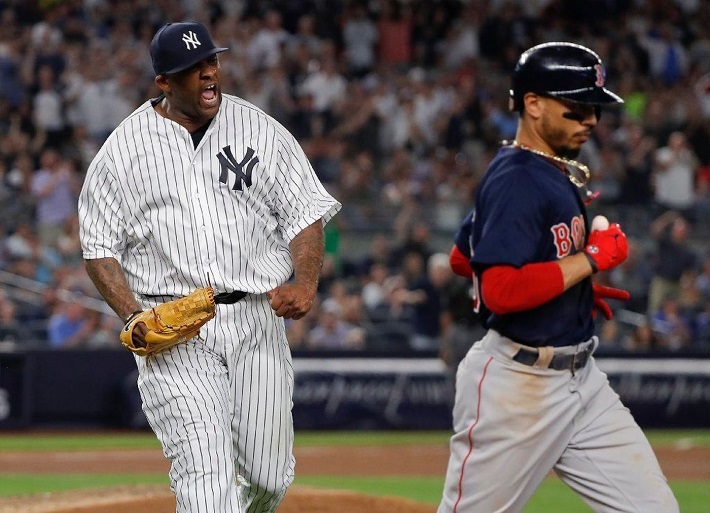 CC The Stoppah
The Yankees kicked off the Most Important Series of the Season with a cruise-control win, 8-1. It was the first time this season Boston lost a game by at least seven runs; prior to Friday, they were the only MLB team that hadn't suffered a loss of more than six runs.
Gleyber Torres ignited the offense with a his first career triple to lead off the second inning. Congrats to him for being the youngest Yankee to hit a triple in a game against the Red Sox since a 20-year-old Mickey Mantle on September 25, 1952.
Miguel Andujar and Greg Bird turned the game into a rout, belting consecutive homers in the fourth inning to put the Yankees ahead 5-0. It was the sixth time this season the Yankees went back-to-back, tied with the A's for the most in the majors (through Friday), and more than halfway to their 2017 total (11).
Bird's dinger was a 392-foot rocket to left-center field, a rare type of homer for the pull-heavy lefty. It was just his second career opposite-field shot and the farthest left that he's gone deep in his career.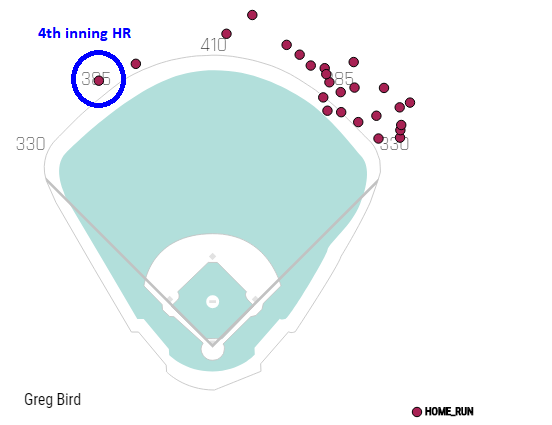 Aaron Judge joined the dinger party in the seventh inning, muscling a chest-high fastball over the wall in right-center. It was his 50th longball at Yankee Stadium, as he became the fastest player in MLB history to hit 50 homers at home, doing so in his 259th career game.
CC Sabathia delivered a masterful performance, and it was no surprise that he was absolutely brilliant on the biggest stage. He is now …
12-0 with a 2.47 ERA in 18 regular season starts following a Yankee loss since the start of 2017.
3-0 with a 2.34 ERA in six starts this season against teams with a .500 record or better.
6-0 with a 1.83 ERA in his last seven starts vs. the Red Sox dating back to September 2016.
Sabathia is the first Yankee to win six straight decisions against the Red Sox since Ron Guidry also went 6-0 in eight starts against them spanning the 1977-79 seasons.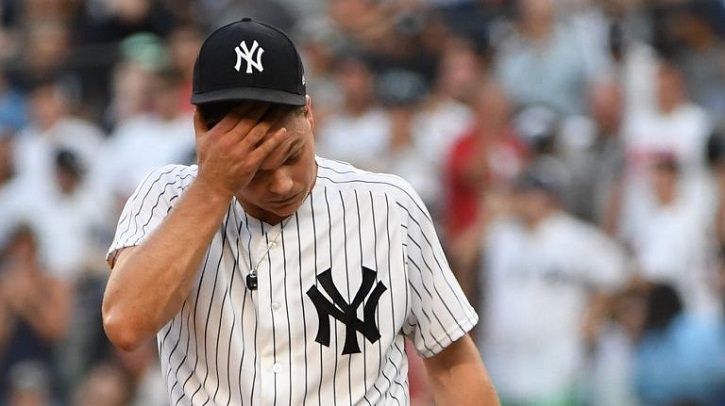 Nightmare on River Avenue
Twenty-four hours after celebrating one of their most satisfying wins of the season, the Yankees produced one of their most miserable losses on Saturday night.
They were blitzed, 11-0, tied for the worst shutout loss ever by the Yankees against the Red Sox in the Bronx (also lost 11-0 on Sept. 6, 2003). And the only other time that the Yankees suffered a worse shutout loss to the Red Sox was a 13-0 defeat on May 30, 1941. Saturday's disaster was the Yankees fourth time being shut out this year (all of them since June 10!), one more than they had for the entire 2017 season.
Chris Sale plowed through the Yankees lineup, overpowering them and making them look silly with his fastball-slider combo. He gave up one single and struck out 11 over seven scoreless innings, nearly matching the 1-hit, 10-strikeout performance he had against them in 2014. Sale is the only pitcher in MLB history to have multiple career games with double-digit strikeouts and no more than one hit allowed against the Yankees.
While Sale was doing his best peak-Pedro impression, Sonny Gray was in full Carl Pavano/A.J. Burnett mode. He was destroyed early and often by the Red Sox, coughing up six runs on seven hits before getting pulled with one out in the third.
Given this matchup — at Yankee Stadium, against the Red Sox — Gray's awful outing was hardly surprising. The gory details:
Gray is the first Yankee ever to pitch consecutive games versus the Red Sox allowing at least six earned runs and throwing no more than three innings (remember April 12?).
He is now 0-4 with a 9.35 ERA in four starts against the Red Sox as a Yankee. The only pitchers in franchise history to have a worse ERA in this rivalry (min. 4 starts) are Jose Contreras (16.43) and Andy Hawkins (14.44).
His ERA at Yankee Stadium this season ballooned to 8.25 in eight starts. That would be the highest ERA at home for any Yankee pitcher in a single season (min. 5 starts), ahead of Jaret Wright (7.86 in 2005) and Phil Hughes (7.83 in 2011).
Gray's overall ERA is 5.44, putting him on pace to own the worst qualifying ERA in a non-strike season in Yankees history. The current record-holder is Bump Hadley (5.30 in 1937) followed by A.J. Burnett (5.26 in 2010).
Okay, that's enough ugly stats, here's something positive: The bullpen, despite allowing five runs in 6 2/3 innings, finished June with a 1.32 ERA. That was the lowest ERA (min. 40 IP) by a Yankee bullpen in any calendar month in the Divisional Era (since 1969).
Home Run Derby in the Bronx
One night after getting embarrassed by their rival, the Yankees got their revenge in style, routing the Red Sox 11-1 to improve to 54-27 at the midpoint of the season. Since the American League went to a 162-game schedule in 1961, this is just the second time that the Yankees have won at least 54 of their first 81 games. The other season was 1998, when they started 61-20.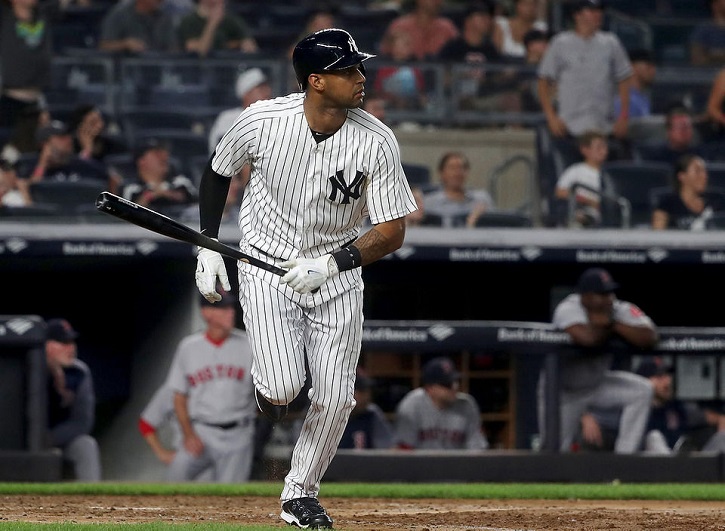 Aaron Hicks was the star of the home run derby with a trio of longballs in the second, fourth and eighth innings. He is just the third Yankee to hit three homers in a game against the Red Sox, joining Mark Teixeira (May 8, 2010) and Lou Gehrig (June 23, 1927), and the first one to do it in the Bronx. Hicks also became the first Yankees leadoff batter ever to go deep three times in a game.
Gleyber Torres broke the game open with a three-run opposite field blast in the first inning to put the Yankees ahead 4-0, his 15th career homer. Playing in his 60th big-league game, he is the first AL player age 21 or younger to hit 15 home runs this early into his career. It was also his sixth homer with at least two men on base this season, the most of any player in MLB.
Kyle Higashioka crushed a homer in the fourth inning for his first career hit; he had been hitless in his first 22 MLB at-bats, the longest hitless streak to start a career by any Yankee to debut in the Live Ball Era (since 1920).
It was deja vu all over again for the Yankees against their perennial punching bag David Price, who allowed a career-high five homers and eight runs before getting the hook in the fourth inning. Let's recap the cold, hard facts:
Price is the first Red Sox pitcher to surrender at least five longballs and eight or more runs at Yankee Stadium (old and new).
He is the only pitcher in MLB history to have three games against the Yankees of fewer than four innings pitched and at least eight earned runs allowed (he also did it in 2014 and 2015 with the Tigers).
Price's ERA in nine starts against the Yankees since joining the Red Sox in 2016 is 8.43, easily the highest of any player with at least four starts against them in the last three seasons. And his 10.44 ERA in five starts at Yankee Stadium with the Red Sox is also the worst of any pitcher that has made more than one start there since 2016.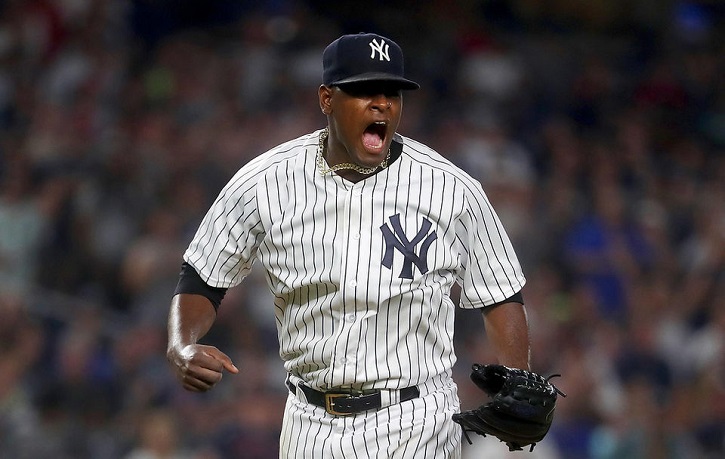 The Yankees had their ace on the mound and Luis Severino tossed a gem, allowing just two hits across 6 2/3 scoreless innings. He's given up no more than three runs in 15 straight starts, matching the Yankees longest such streak in the Live Ball Era (since 1920), set by Ron Guidry during his 1978 Cy Young-winning campaign.
Since the start of 2017, he has allowed one run or fewer in more than half (25) of his 49 regular season starts.
Most Starts 1 R or Fewer Allowed Since 2017:

Luis Severino 25
Chris Sale 23
Justin Verlander 22
Max Scherzer 22

— Katie Sharp (@ktsharp) July 2, 2018