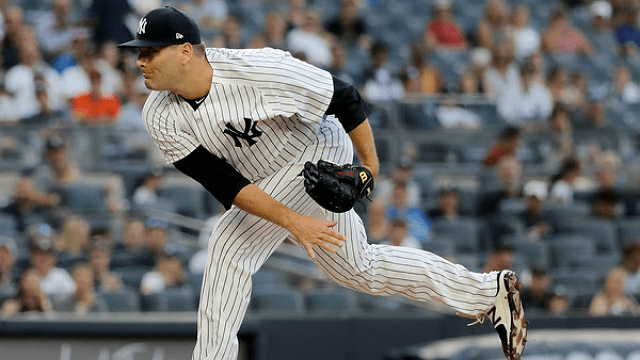 That Rays series was a bummer, right? Yuck. Two opportunities to win the series with one clunker and another lifeless heartbreaker. Luckily, the Yankees' schedule moves down the AL East standings to the Blue Jays, who got into New York late last night. They had their series finale in Kansas City delayed by rain and then had to fly all the way to NYC. Good chance to catch a tired team.
The Yankees will face Marcus Stroman, who the Bombers roughed up in April. Read more about that in Domenic's series preview. Good stuff as always from Dom! Meanwhile, Lance Lynn toes the rubber aiming for his fourth straight good outing as a Yankee. He closed his forgettable April with a loss to the Jays, but he's looked like a different pitcher over the last month. A strong 0.54 ERA since the trade deadline.
Here are the lineups for tonight's contest:
New York Yankees
1. Brett Gardner, LF
2. Giancarlo Stanton, DH
3. Aaron Hicks, CF
4. Didi Gregorius, SS
5. Miguel Andujar, 3B
6. Gleyber Torres, 2B
7. Greg Bird, 1B
8. Neil Walker, RF
9. Austin Romine, C
RHP Lance Lynn
Toronto Blue Jays
1. Curtis Granderson, RF
2. Devon Travis, 2B
3. Justin Smoak, 1B
4. Kendrys Morales, DH
5. Russell Martin, C
6. Kevin Pillar, CF
7. Randal Grichuk, LF
8. Aledmys Diaz, 3B
9. Richard Urena, C
RHP Marcus Stroman
There's a chance of thunderstorms right around first pitch, though it's only about 50-50. An opportunity for a small delay, but they'll should be able to get this game in, interruption or no. The first pitch is scheduled for 7:05 PM EST and the broadcast will be on WPIX, not YES, though you can catch pregame and postgame on YES.
Jays Roster Moves: The Blue Jays called up Billy McKinney this afternoon to replace Luke Maile, who is on paternity leave. That gives McKinney the opportunity to play his first game at Yankee Stadium after making his only appearance as a Yankee at Rogers Centre.
Update: 10 p.m. Game is in a rain delay with the Yankees leading, 7-5, in the bottom of the seventh. Rain is coming in steady, so it may be a while until they continue or call it.
Update: 11:10 p.m. Game is called and it's a Yankee win! Won't have the recap up for a while, so here's a one-sentence recap: Bullpen and offense made up for early Lynn struggles while Stanton and Walker both went deep. Huzzah.