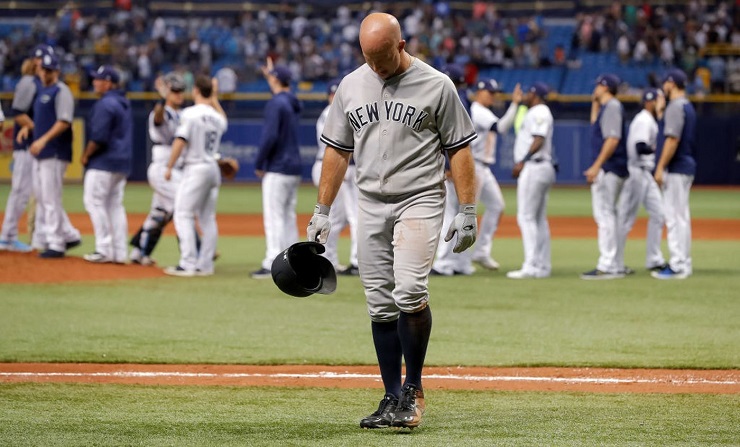 Stop me if you've heard this before, but Brett Gardner is struggling in the second half. For his career, Gardner's second half OPS is just .691, an 88 tOPS+, which means he's 12% worse than he normally is. For comparison, his first half tOPS+ is 109, nine percent better than he normally is. Since the end of the All Star break this year, Gardner has just ten hits in 49 at bats, good for a .204 average. He's got six walks and one HBP, but his overall OBP is low at .304; his slugging looks even worse at .245. You know it's a bad stretch when your SLG is lower than your OBP.
On its own, Gardner being right is important as anything to the Yankee lineup. He's the leadoff hitter and thus helps set the tone for what the rest of the lineup is going to do. In the absence of Aaron Judge and Gary Sanchez, Gardner's struggles are even more noticeable. Despite flashes of power, Gardner is never going to match the strokes of Judge or Sanchez, but he can and does provide value in working counts and getting on base. With Judge and Sanchez out, there are two fewer sure things in the lineup–though Sanchez was hardly sure most of this year–meaning it's all that much more critical for Gardner to give Giancarlo Stanton RBI opportunities when his spot comes up.
So, how should the Yankees get Gardner to start producing again? The first option is the easiest, and that's to let him stay where he is and let him work out his issues. He's a veteran player who, presumably, knows something is up and will work to fix it, whether by himself or with the coaching staff. But, as we've come to know, this second half swooning is a bit of a pattern with Gardner.
Alternatively, the Yankees could drop Gardner in the lineup and let him work himself out from a less critical position. This might also give Gardner a chance to hit with some runners on base, which is a benefit to just about every player in the league (unless you're Aaron Hicks with the bases loaded, apparently).
The hardest–and least likely–option is to find a way to beef up the bottom of the lineup so that Gardner isn't hitting with the bases empty, thanks to the likes of Austin Romine, Kyle Higashioka, and Shane Robinson being, well, who they are. There hasn't been much wavier wire movement on position players the Yankees could use and given their record, it's unlikely that players they need would make it through to them. Additionally, there would be a roster crunch upon the returns of Judge and Sanchez. That should be ignored, considering the Yankees' pursuit of a playoff spot, but that isn't realistic.
Presumably, Aaron Boone will leave Gardner in the leadoff spot to let him figure things out. It's easy to trust Gardner to do so, given that he's a long-time player and likely knows himself. However, given his second half struggles over his career and the relative importance of the next two months or so of baseball, perhaps a move needs to be made until he gets himself right.