Yet another game against a last place team in which the Yankees looked like the last place team. They are now 17-13 against the Orioles, Royals, Rangers, and Marlins this season. Gross. The Yankees turned a 2-0 lead into a 9-3 loss in the series finale in Miami on Wednesday night.
A Bad Sixth Inning
Man that sixth inning was annoying. The Marlins scored five runs in the sixth inning and three of those five runners reached on infield singles. The rally started with a line drive leadoff single to center field. The next batter reached on an infield single, the next batter moved the runners up with a ground ball, and the next batter got a run in with an infield single. Four batters, three baserunners, one ball out of the infield, one run. So stupid.
At this point Lance Lynn's pitch count was sitting at 99, and while the Marlins weren't smacking him around, he wasn't missing any bats. It seemed like a spot for a strikeout reliever. A fresh reliever seemed like the better option there than Lynn, who isn't all that good to start with, approaching 100 pitches. Instead, Lynn stayed in, he missed his spot by the entire width of the plate to Miguel Rojas …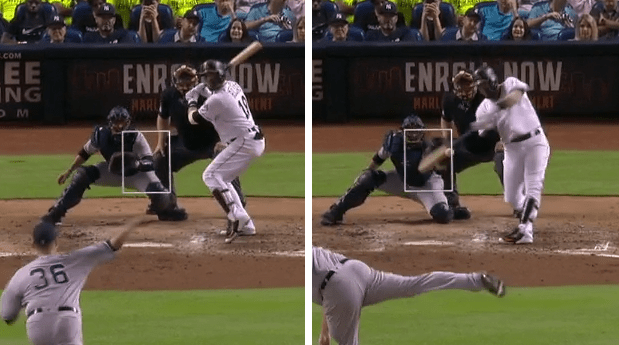 … and Rojas deposited it into the bullpen for a go-ahead three-run home run. The 2-1 lead became a 4-2 deficit. Lynn danced in and out of danger in the first five innings but wasn't able to in the sixth. He stayed in to allow one last infield single after the home run before being pulled. Tommy Kahnle's first pitch was hit off the wall in right field to score another run and stretch Miami's lead to 5-2.
Lynn's final line: 5.1 IP, 9 H, 5 R, 5 ER, 1 BB, 6 K, 1 HR on 110 pitches. First home run he's allowed as a Yankee. Came at a bad time, eh? Also, Lynn generated only nine swings and misses among those 110 pitches. It's actually the third time in his five games with the Yankees that he had single-digit swings and misses. I guess when you throw all fastballs — 104 of those 110 pitches were a fastball (four-seamer, two-seamer, cutter) — it can be hard to get whiffs.
Waving The White Flag
Man, I just do not get it. Last week Aaron Boone brought A.J. Cole into a game the Yankees were trailing by one, and very quickly they were down multiple runs. On Wednesday, Boone brought Chance Adams into the seventh inning of a game the Yankees were trailing by two runs. They were very quickly trailing by more than two. A two-run deficit against the crappy Marlins is hardly insurmountable. It's winnable! Maybe treat it as such?
Look, I get it. Pretty much the entire bullpen was used in the 12-inning game Tuesday night and David Robertson is unavailable because of his shoulder issue. But there's an off-day Thursday, there was an off-day Monday, and Sonny Gray was the only reliever used Sunday. Also, Cole and Chad Green were the only relievers to throw more than 17 pitches in the 12-inning game Tuesday. Couldn't use Jonathan Holder there to try to keep it close?
Well, anyway, Adams got rocked. He faced 12 batters and seven reached base. Three singles, three walks, one home run, zero strikeouts, two swings and misses among 46 pitches in his first relief appearance since 2016. Adams stunk. He was also brought into a game he never should've been brought into in the first place. Second time in two weeks a winnable game got out of hand because the last guy in the bullpen was brought into a close game. Boone has to be better that.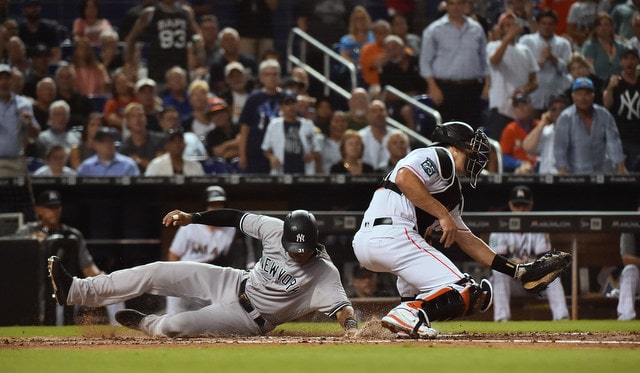 Not Enough Offense
Five runs in 21 innings against a team with a 4.81 ERA (4.53 FIP) on the season. It's hard to score runs when one-third of the lineup is Greg Bird-Austin Romine-Pitcher. Bird swung through a middle-middle 90 mph fastball from Javy Guerra in the ninth inning like it was 99 mph. He is so far beyond lost right now. I don't know if it's physical or mechanical or mental, but he's been a zero at the plate for a long time now. He's down to .202/.292/.397 (85 wRC+).
The Yankees scored their first run in the fourth inning, when Neil Walker's line drive bounced in and out of the glove of a diving Rafael Ortega in right field. Aaron Hicks was able to score from first with two outs following his one-out walk. Their second run game in the sixth, after two singles and an intentional walk loaded the bases with one out. Walker brought that run home as well, this time with a sacrifice fly to center field.
The last best chance to get back in the game came in the seventh inning. Luke Voit (single) and Brett Gardner (walk) reached base with two outs and moved up on a wild pitch. Giancarlo Stanton got a run one with an infield single to short. He was moving pretty good down the line. The hamstring must be feeling okay. Hicks struck out to end the inning then Adams barfed all over it. The 5-3 deficit became a 9-3 deficit and that was that.
Leftovers
Gardner, Stanton, and Hicks each had a single and a walk. The 4-9 hitters went a combined 4-for-22 (.182) with a walk, and the walk was intentional. Walker has his run-scoring double and Voit, Romine, and Ronald Torreyes had singles. The Yankees had five hits in the game until Romine and Torreyes strung together together back-to-back one-out hits in the ninth. The Yankees need another bat. It is clear as day.
Kahnle replaced Lynn and allowed the run-scoring double, then struck out the next two batters he faced. Cole retired the only batter he faced. Adams was getting into dangerous territory with his pitch count and Boone had to protect the youngster. Holder, Green, Dellin Betances, and Zach Britton will go into Friday's game having pitched once since Saturday.
Box Score, WPA Graph & Standings
ESPN has the box score, MLB has the video highlights, and ESPN has the updated standings. Here's our Bullpen Workload page and here's the loss probability graph:

Source: FanGraphs
Up Next
Another off-day. The road trip continues Friday night in Baltimore. CC Sabathia is coming off the disabled list to make that start. Alex Cobb will be on the mound for the Orioles.