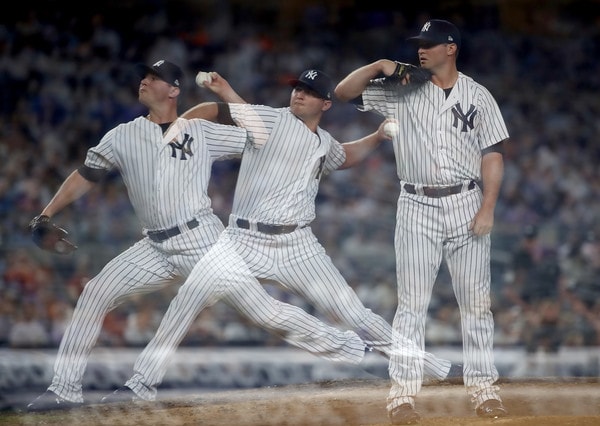 In his two weeks as a Yankee, Zach Britton has yet to provide the team with much impact. Well, he's having an impact, just in the wrong direction. Britton has allowed a run in four of his eight appearances as a Yankee, including in three of the last four. He's allowed six runs and put 17 runners on base in 7.1 innings. Bad. Bad bad bad.
Monday against the Mets, Britton's most recent outing, was kinda dumb. He faced seven batters, struck out one, hit one, and got five ground balls. Only two of the five ground balls left the infield and Britton still wound up getting charged with a run when Gleyber Torres flubbed the transfer on a double play pivot. Like I said, kinda dumb. He got BABIP'd hard that inning. His other outings? Not so much.
Britton is coming back from a torn Achilles and last year he spent two stints on the disabled list with forearm tightness, so he hasn't done a whole lot of pitching the last year or so. Certainly not much pitching while healthy. He's a very simple pitcher. Britton throws his mid-to-upper-90s sinker nine out of every ten pitches and lets the movement do the rest. He just hasn't been in the zone enough.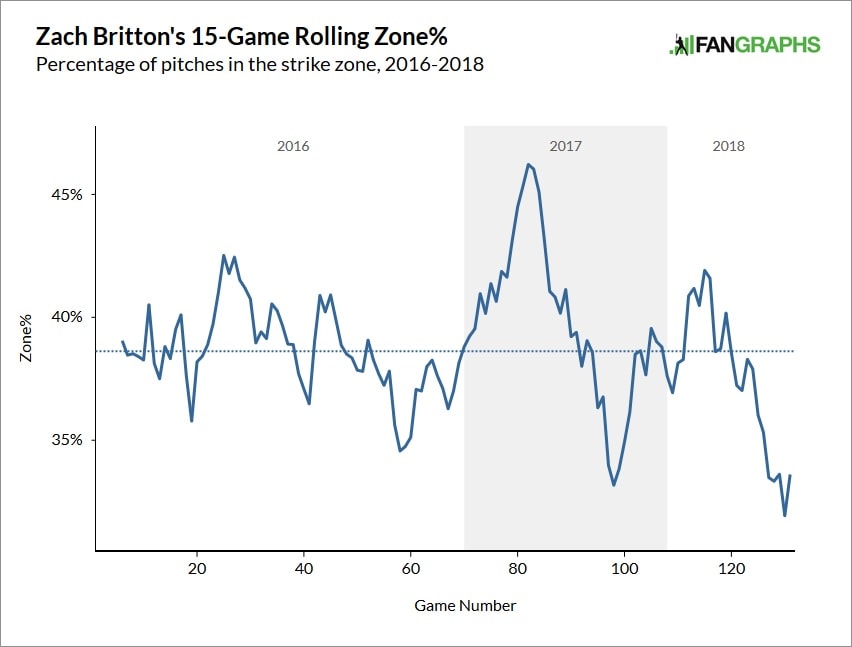 Strikes have been hard to come by since the forearm trouble last year, and I'm guessing missing the first half of this season with the Achilles injury has only compounded things. So far Britton has walked six and plunked two in his 7.1 innings as a Yankee, and that's after walking ten and hitting one in 15.2 innings with the Orioles. He has a 13.5% walk rate since coming back from the forearm injury last year. It was 6.9% from 2014-16.
"I had the mindset I should have, which is attack the zone with my sinker and get the guys to put the ball in play on the ground. Just continue to do that, whether they get a hit or an out," said Britton to Dan Martin following Monday's game. "That's been my mindset prior, but this year that approach has been inconsistent … Aaron (Boone) talked to me about getting me out there as much as I can so I can get in a nice rhythm and get back to myself."
Britton's sinker is so good — the velocity is down from where it is was 3-4 years ago, which is normal for a 30-year-old, but the pitch is still moving a ton — that he doesn't need to be precise with it. He doesn't have to paint the corners or clip the knees. Get it over the plate in the lower third of the zone and things will be okay. If he leaves it up, it'll get hammered, as Jose Abreu reminded us last week.
Getting the ball over the plate in the lower third of the zone has been the problem. When it's over the plate, it's often been too elevated or too far down in the dirt. No pitcher can just chuck a sinker middle-middle and hope for ground balls. Hitters are too good. Britton's sinker is better than most, but even he needs to stay down around the knees. He hasn't been able to do that. Too often the pitch has been belt high or in the dirt.
"It's about as frustrating as I've been throughout my career right now. Coming off the surgery, command has been the biggest struggle," said Britton to Greg Joyce over the weekend. "At the end of the day, it's about me commanding the pitches and finding a way to consistently command my sinker. Once I get to that point, the performance is going to be a lot better."
Keep in mind the Yankees knew they were not getting the vintage Britton. He'd been back roughly a month and was getting progressively better each time out, but he wasn't all the way back to where he was post-Achilles surgery. If he were all the way back, they've wouldn't have been able to acquire him for a non-top 100 prospect and two fringe top 30 prospects. They knew it would take time for Britton to get back to normal.
Also keep in mind the Yankees did not acquire Britton for August and September. I mean, they did, they have to win these games to get to October, but they acquired Britton for the postseason. The rotation is not a strength and, once the postseason begins, the plan is to have a quick hook with the starters and let the bullpen take over. Adding Britton was about making the Yankees more dangerous in the postseason, not so much August and September.
There is some element of bad luck with Britton's balls in play. He's allowed 23 balls in play with the Yankees, two have been hit out of the infield in the air, and both went over the fence. He's also allowed four infield singles with the Yankees after allowing five all of last year and five in 2016. An 87.0% ground ball rate with a lower than league average 30.4% hard contact rate should yield something more favorable than a .350 BABIP on grounders. It hasn't. Such is life.
As long as Britton keeps getting grounders, the balls in play stuff will work itself out. Control is the biggest issue right now. Not even command. We're talking basic strike-throwing here. Britton isn't throwing enough strikes and he's getting himself into trouble with walks and hit batters. Perhaps he's broken forever and the Yankees made a bad trade. Wouldn't be the first time. I'm inclined to think Britton just needs more time following surgery. He hasn't been good thus far, but he still has seven weeks to start throwing strikes before the Yankees really need him in the postseason.