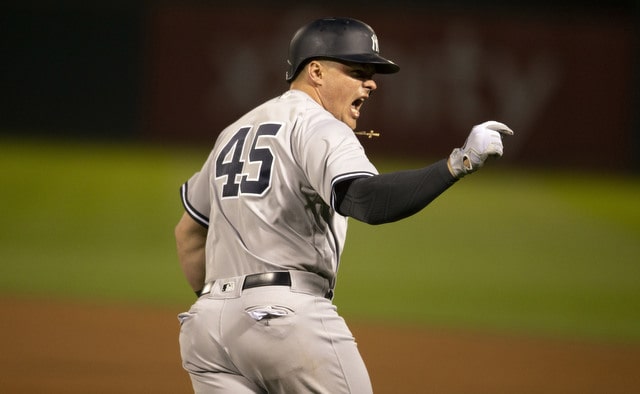 I've been watching baseball long enough to know every great time has surprise contributors. The best teams are the teams that not only go into the season with the best players, but they're also the teams that have players come out of nowhere to contribute big. Last year it was Marwin Gonzalez for the Astros. The year before it was Kyle Hendricks for the Cubs. Solid contributors became stars.
For the Yankees, their currently big out-of-nowhere contributor is first baseman Luke Voit, who clocked another home run last night. It was a game-winner too. His solo homer against Fernando Rodney gave the Yankees a 2-1 seventh inning lead in the eventual 5-1 win. It was Voit's third straight game with a homer and his seventh homer in his last 12 games.
As great as last night's homer was, I thought Monday's was more impressive. Rodney left an 81 mph changeup out over the plate last night. That thing screamed "hit me!" On Monday night though, Voit belted a 93 mph sinker at the knees over the high wall in right-center field. That ain't easy.
These out-of-nowhere types can arrive in different ways. Gonzalez was a career utility man who put a together an All-Star season at the plate. Hendricks was a young up-and-coming player who dead fish changeup-ed his way to Cy Young votes. They'd been with their teams for several years and it all came together at the right time.
That is not the case with Voit. At least not the "been with their teams for several years" part. The Yankees got him from the Cardinals on July 28th, so he wasn't even in the organization six weeks ago, and at the time of the trade he was no better than third on the first base depth chart behind Greg Bird and Tyler Austin. Austin was traded a few days later, but Voit was still behind Bird, so much so that he spent two stints with Triple-A Scranton.
It took Bird not just being awful, but looking absolutely miserable at the plate for Voit to even crack the starting lineup. Let's be real here, had Bird been hitting into some bad luck or something like that, he was staying in the lineup. Instead, he was swinging through center-cut 90 mph fastballs. There's no power behind his swing at all. Voit started against the Orioles on August 24th, went deep twice, and has forced his was into everyday duty.
Last night's game was Voit's sixth consecutive start and ninth start in the last ten games. Bird has three starts and 12 plate appearances in the last 12 games. A Wally Pipping is in progress. Voit is crushing home runs — he's crushing them against righties too, only one of his seven dingers with the Yankees has come against a southpaw — and Didi Gregorius has even given him an emoji (an ox). It's Twitter official now. Voit's a Yankee.
#startspreadingthenews yankees win great start by ? going 6strong innings with 5k's, ?? with the big bases loaded walk and rbi single, ? with the solo homerun and ? with the solo homerun, ??bullpen?? and ? to close it… ??WHAT A GAME!!..

— Sir Didi Gregorius (@DidiG18) September 5, 2018
"We're all just kind of smiling because we're waiting to see what antics he might have running around the bases, or if he's going to leap and fist bump and chest bump and get the crowd going," said Aaron Boone following last night's game. In addition to the dingers, Voit is a real high energy player. He's got that Sammy Sosa hop after home runs, and he points to the dugout and pumps his teammates up as he rounds the bases. It's great.
Here's the thing: I have no idea how long this will last. Maybe forever! But there does seem to be a little Shane Spencer magic here, meaning an older rookie (Voit is 27) crushing homers and adding some life to a very good Yankees team that needs a little kick in the pants, and we all know how Spencer turned out. After all, is what Voit's doing now really all that different than what Austin did earlier this year? Austin his six homers in 14 games at one point, remember, and I was getting mailbag questions about whether he was first baseman of the future. Maybe Voit is the Yankees' Max Muncy and this is sustainable to a degree.
I do believe Voit is a better hitter than Austin because he doesn't swing-and-miss nearly as much (14.1% vs. 19.0% whiff rates) and he seems to hang in against offspeed stuff better. Also, Voit is an exit velocity rock star. His average 92.2 mph exit velocity 26th highest among players with 25 batted balls. That's Mookie Betts (92.3 mph) and Manny Machado (92.2 mph) territory. Austin ranks 161st with an 89.1 mph average exit velocity. That is … meh.
I do think Voit is better than Austin, but that hardly guarantees Voit will have long-term success. Here's the thing though: Who cares about the long-term? Worry about that another time. Right now, the Yankees need some help offensively, especially with Bird looking lost, and Voit has provided that help. A lot of help too. He's hitting .322/.385/.678 in 19 games with the Yankees. It happened and it's in the bank, and the Yankees will ride this production as long as possible the rest of the year.
"I think we're going to get hot at the right time," said Voit following last night's game. "This team is so freaking dangerous. Especially when we get some of these guys back from injuries, the sky is the limit. I'm excited to get deep into the playoffs with this team."