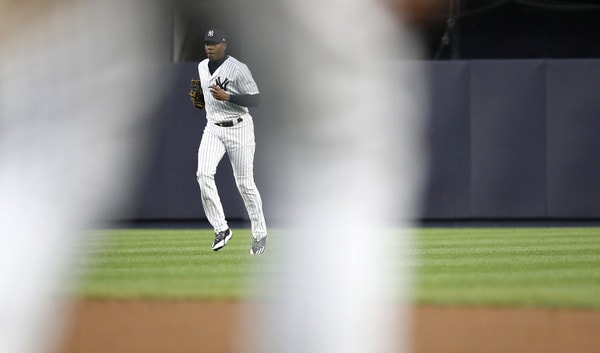 The Yankees have been hammered by injuries in the second half this season. Gary Sanchez missed roughly two months, Aaron Judge hasn't played in nearly six weeks now, Didi Gregorius is closing in on two weeks missed, Clint Frazier hasn't been available since the All-Star break, and CC Sabathia missed time as well. At one point the Yankees were without their starting catcher, starting shortstop, starting right fielder, and a starting pitcher. Rough.
Another injured Yankee: Aroldis Chapman. Chapman has been on the disabled list since August 22nd with tendinitis in his left knee. He pitched with the tendinitis for months — Chapman first revealed he had a knee issue on June 9th, when he said his knee had been barking for weeks — and eventually there was just too much discomfort. Chapman exited a game in Miami and has been out of action since.
The Yankees did all they could to manage Chapman's injury. He skipped the All-Star Game to rest and made only nine appearances in the month following the All-Star break. Three times he received at least six days of rest between appearances. Chapman was automatic in the first half. As good as he's ever been. After the break though, he walked eleven in seven innings and there was a noticeable plummet in fastball velocity.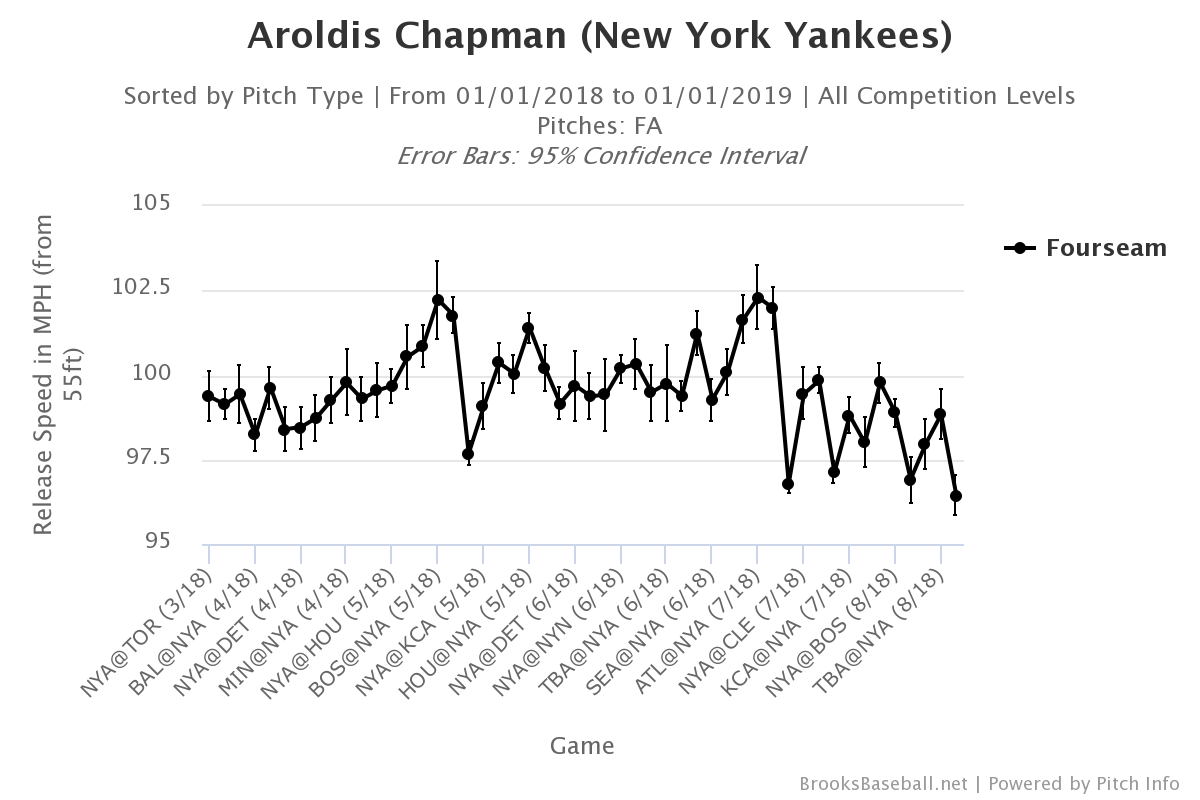 The knee had become a significant issue, not a manageable injury, and it was time for Chapman to hit the disabled list. He's since received two platelet-rich plasma injections (it was a planned series of two injections) and has been resting. That's really all he can do. There was some talk Chapman could begin throwing in the coming days, then, over the weekend, Brian Cashman admitted it's possible Chapman will miss the rest of the year.
"I can't guarantee when we're going to see him. I'm hopeful we'll see him. The hope is (the injections) solve the issue and we get him back to where he was," said Cashman to Dan Martin. "I know he's going through the motions now of getting the treatments necessary. Until he's out there doing what we've seen him do in the past to the level he's capable of doing it, it's probably best for me to be cautious on that. The timeline is tougher because the season now only has a month left to go."
Cashman all but admitted he is being extra conservative with Chapman's timetable after the Yankees so badly botched the announcement of Judge's timetable, but it doesn't seem crazy to think Chapman won't return before the end of the year. There's less than four weeks to go in the regular season and Chapman just received two PRP shots. Those usually take some time to kick in. Then he has to resume throwing and get back in game shape and all that.
On paper, the Yankees have the bullpen pieces to cover during Chapman's absence. It hasn't worked out quite that well in reality. The bullpen has allowed a run in eleven of the last 13 games and no one really seems to have a role. For all the sabermetric fantasizing about a flexible, role-free bullpen in which anyone can pitch at any time, players do like knowing their role. They like to know when they're going to pitch. There's been a lot of mixing and matching lately. Five different relievers have a save since Chapman went down.
The concern isn't so much the regular season though. No, the Yankees haven't clinched anything yet, but they're pretty well locked into a postseason spot. It would take a massive collapse — a massive collapse caused by far more than the closer being hurt — for the Yankees to miss the playoffs right now. The greater concern with Chapman is the postseason. The Yankees are built from the ninth inning forward. They win with their bullpen and Chapman is an important part of that bullpen.
A healthy and effective Chapman changes the bullpen outlook entirely. When he's ready to go, Aaron Boone & Co. know the ninth inning is locked down, freeing up the Dellin Betances, David Robertson, Zach Britton, Jonathan Holder, and Chad Green quintet for the middle innings. With Chapman, the Yankees really only need four innings from their starter in the postseason. Maybe even only three. That's always been a plan.
Without Chapman, that's one more inning — one more high-leverage inning, at that — that has to be soaked up by someone else. Maybe that means squeezing another inning from the starter, or pushing someone like Green or Holder for a second inning, or asking (gulp) A.J. Cole or Lance Lynn to step into important situations. During the regular season, a deep bullpen allows you to spread the workload around and always have quality relievers available. During the postseason, a deep bullpen allows you attack every single game.
Since Chapman went down the Yankees shifted Justus Sheffield and Chance Adams to the bullpen — that was not a coincidence, I don't think — and of course they will be considered for the postseason roster. That was going to be the case even with a healthy Chapman. Now though, with Chapman's injury, Sheffield and Adams have an even greater opportunity to earn a postseason roster spot. There's a potential opening, so pitch well and you could find yourself on the October roster.
For now, the Yankees and Chapman do have some time on their hands. The minor league season is over, which means no rehab games, so in a perfect world Chapman would return with enough time to get five or six appearances in before the end of the season. Start out with some low-leverage work to get back into the swing of things, then finish up with a few save opportunities before the season lets out. That'd be ideal and hopefully it happens.
If Chapman doesn't come back, the Yankees will have a problem on their hands. Yes, they are better equipped to absorb losing their closer than most teams, but that doesn't make losing Chapman hurt less. He's very good when healthy and the Yankees, who are built around their bullpen, would be short a high-leverage arm going into the postseason. Adding Britton was a hedge against Chapman's injury. Maybe Sheffield or Adams can pick up the slack, but that's a lot to put on a rookie. Either way, no Chapman in the postseason changes the dynamic for the Yankees.
"The expectation is we'll get him back," Cashman added. "Will he still feel it? I don't know. We're going to find out, one way or the other. I know he's tough. He pitched through a lot of this all year … We have our fingers crossed that we get him back and put everybody else where we want them to be, but we're also thankful we have players that are more than capable of doing the job. We're better equipped than most to handle losing your closer for a period of time, if not the entire time."