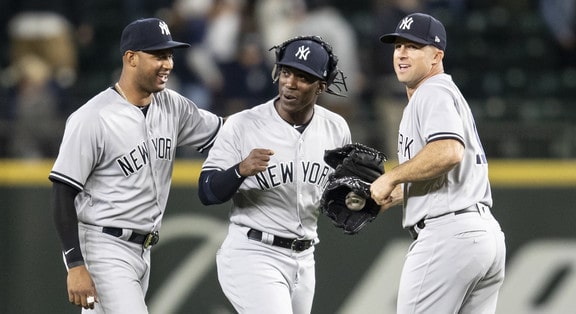 No later than three weeks from yesterday, free agency will open and the 2018-19 offseason will really get underway. Well, at least in theory. MLB free agency tends to be slow-moving — that was especially true last winter — whereas other sports see a big rush of signings on Day One. Much like the MLB season, MLB free agency is a marathon, not a sprint.
According to both Joel Sherman and Buster Olney, the qualifying offer has been set at $17.9M for the upcoming offseason. That is up slightly from $17.4M last offseason. As a reminder, the qualifying offer is a one-year contract worth the average of the top 125 salaries in baseball. Teams must make a free agent the qualifying offer to receive draft pick compensation should he sign elsewhere.
The Yankees have a small army of players due to becoming free agents this winter — eight players on their ALCS roster will be free agents and a ninth has an option — and, despite that, the qualifying offer will be a non-factor for them. None of those eight (or nine) players will get a qualifying offer. We can drop them into one of three buckets.
Not Eligible For The Qualifying Offer
Zach Britton
J.A. Happ
Adeiny Hechavarria
Lance Lynn
Andrew McCutchen
David Robertson
Neil Walker
A player must spend the entire regular season with his team to be eligible for the qualifying offer. Britton, Happ, Hechavarria, Lynn, and McCutchen all came over in midseason trades and thus can not receive the qualifying offer. Britton, Happ, and McCutchen would've been qualifying offer candidates otherwise. Hechavarria and Lynn wouldn't have received the qualifying offer even if eligible. Their production doesn't warrant it.
Also, thanks to the latest Collective Bargaining Agreement, players can only receive the qualifying offer once in their careers. The Yankees made Robertson the qualifying offer during the 2014-15 offseason and the Mets made Walker the qualifying offer during the 2016-17 offseason. Robertson rejected the qualifying offer and the Yankees received a draft pick, which they used on Kyle Holder, when he signed with the White Sox. Walker accepted the qualifying offer and returned to the Mets. Anyway, because they received the qualifying offer previously, Robertson and Walker are not eligible to receive it this winter despite spending the entire year in pinstripes.
Not Getting The Qualifying Offer
Sabathia is indeed eligible for the qualifying offer. He spent the entirety of this past season with the Yankees and he's never received the qualifying offer before. Back when Sabathia first signed with the Yankees, the old Elias Type-A/Type-B free agent compensation system ruled the land. CC is eligible for the qualifying offer this winter.
That said, the Yankees are not giving Sabathia the qualifying offer. They didn't give him one last offseason and there's no reason to give him one this offseason. Sabathia would take that one-year, $17.9M contract in a heartbeat. He made $10M this season and, regardless of whether he re-signs with the Yankees or heads elsewhere, he figures to sign a similar one-year contract worth $10M-ish this winter. Sabathia's no longer worth $17.9M a year. He'd take the qualifying offer. No doubt about it.
The Option Decision
Gardner has never been a free agent in his career and he might get the opportunity this winter. The Yankees hold a $12.5M club option on Gardner for next season — the option includes a $2M buyout, so it is effectively a $10.5M decision — and, if they decline the option, they're not going to make him the qualifying offer. They wouldn't pass on bringing him back for $12.5M only to give him a $17.9M offer, you know? Gardner would take the qualifying offer. Looking for more guaranteed money as a free agent, even spread across two or three years, would be pushing it.
* * *
The Yankees won't tender any of their free agents the qualifying offer, but, in all likelihood, they're going to win up signing a qualifying free agent. Bryce Harper? Patrick Corbin? Adam Ottavino? I don't know, but someone. (Manny Machado was traded at midseason and is ineligible for the qualifying offer.) Here are the compensation rules for teams that sign a qualified free agent:
Signing team receives revenue sharing money: Forfeits their third highest draft pick.
Signing team paid luxury tax during most recent season: Forfeits second and fifth highest draft picks, plus $1M in international bonus money.
All other teams: Forfeit second highest draft pick plus $500,000 in international bonus money.
The Yankees sure as heck don't receive revenue sharing money — they pay more into revenue sharing than any other team — and they successfully avoided paying luxury tax in 2018, which means they fall into the "all other teams" bracket. They'll give up their second highest draft pick plus $500,000 in bonus money for the 2019-20 international signing period for every qualified free agent. All first round picks are protected now.
The new free agent compensation rules are pretty lax these days — that is especially true now that the Yankees avoided paying luxury tax — and I can't see how giving up your second highest draft pick and $500,000 in international bonus money would stop the Yankees from signing a qualifying free agent. Back in the day teams had to weigh giving up their first round pick to sign a mid-range guy. Now only the best of the best get the qualifying offer and you get to keep your first round pick. Free agent compensation is no real concern now.
Even with all those impending free agents, the Yankees do not have a qualifying offer candidate this offseason — only four of their nine possible free agents are even eligible for the qualifying offer — and the penalties to sign a qualified free agent are not harsh at all. If the Yankees don't sign any of their final year arbitration-eligibles long-term this winter, they'll have several qualifying offer candidates next season. This year though, nothing. The Yankees won't gain any extra draft picks. They could lose some non-first rounders, however, and that is not a big deal.