At least they went down with a fight. The ninth inning comeback fell a little short and the 2018 season ended with a 4-3 loss to the Red Sox at home in ALDS Game Four on Tuesday night. Given the hype, it's hard for me to consider this 100-win season anything but a disappointment. The Yankees were more talented than last season but not nearly as fun. It's cool though, the Yankees cut payroll by $50M and reset their luxury tax rate, and that was ownership's priority all along.
An Inexcusable (And Repeated) Mistake
I really don't know what to say. I am at a loss for words. I am speechless. I am without speech. Aaron Boone, after his managerial moronathon in Game Three, made the same exact mistake again in Game Four. He left his struggling starting pitcher in way too long and the result was runs on the board. In this case those runs were more or less the difference in the Game Four. An elimination game, I might add. Urgency? Who needs that.
CC Sabathia loaded the bases with two outs in the first inning and escaped when Ian Kinsler flew out to deep left field. The Yankees caught a break there. Kinsler swung at a bad pitch — Sabathia threw 20 pitches in that first inning and maybe three hit the glove — and still nearly hit it out of the park. Exhale. Sabathia pitched around a two-out walk in the second inning and was set to go through the middle of the lineup a second time in the third inning.
The third inning is when Sabathia went off the rails and the Boone spent literally the entire inning with his arms crossed in the dugout. Look at the Yankees' win probability as the inning unfolded:
Andrew Benintendi: First-pitch hit-by-pitch (46.0%)
Steve Pearce: Single in a 2-2 count to put runners at the corners (36.6%)
J.D. Martinez: Hard-hit sacrifice fly to center in a 1-1 count (38.8%)
Xander Bogaerts: Grounder back to Sabathia in a full count (40.6%)
Ian Kinsler: Double to left in a 2-1 count (30.3%)
Eduardo Nunez: First pitch single to left (22.4%)
Jackie Bradley Jr.: Ground out to first in an 0-2 count (23.9%)
Look at all that win probability slippin' away. It wasn't until the very last pitch of the Bogaerts at-bat that David Robertson started warming in the bullpen. He never did come in. After putting runners on the corners with no outs, Sabathia stayed in to face four more righties, three of whom hit the ball hard. This is what Boone said after the game:
I was fine with the way CC was throwing the ball. He was at the two-out point. We were going to have him go through Bradley, simple as that. We just kind of knew we had our guys lined up enough that we could — especially had we got to that point, we could get through the game. I think it was a sound decision to move him, allow him to go through Bradley at that point.
Narrator: It was not a sound decision. It wouldn't have been a sound decision if Sabathia retired three straight after Benintendi and Pearce reached base to begin the frame. That's a manager more worried about how his bullpen is lined up for subsequent innings rather than what's unfolding right in front of him. I thought Sabathia should've been out after the Benintendi hit-by-pitch. Let someone else face all those righties in the middle of the order. The situation was that dire.
What happened in Game Three was a stunning display of managerial negligence. Then it happened again in Game Four. That was an inexperienced manager in over his head and unable to adapt to the things happening on the field. That Boone went out and made the same mistake — sticking with a laboring starter — in Game Four with the season on the line is inexcusable. I would be stunned if the Yankees fired Boone. But I don't know how any of the higher-ups could've watched the two managers in this series and been okay with it. Alex Cora managed circles around Boone. One was prepared and decisive. The other was trying to squeeze outs from his starter in an elimination game.
Too Little, Too Late
I'm going to skip to the ninth inning because that's when the last little bit of fun happened. The Yankees went into that inning down 4-1. In came Craig Kimbrel, who started the inning with a four-pitch walk to Aaron Judge. I never expected the Yankees to go down 1-2-3 in the ninth given the way things between these two teams usually go. The Judge walk put the wheels in motion, then Didi Gregorius pulled a grounder through the right side, and bam, the tying run was at the plate with no outs.
Giancarlo Stanton's ninth inning at-bat was miserable. A horrible at-bat in which it looked like he was actively trying to strike out. Kimbrel threw a two breaking balls, an elevated fastball, then another breaking ball for the finish pitched. Stanton swung and missed at the last two spinners. The locations: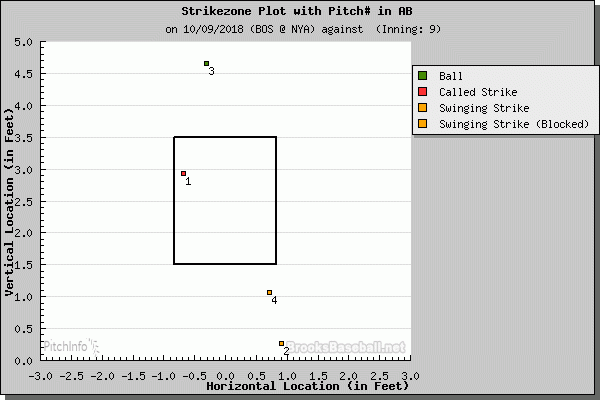 Awful. Hitting is very difficult. Hitting Kimbrel is even more difficult. But that was a garbage at-bat. "You've got to put the ball in play. You've got to get a pitch out over the plate," said Stanton after the game. So, maybe try to do that at some point? Giancarlo had a very good regular season. Not as good as his career average season, but he was very good overall and great from May through about August. Then he put together some craptastic at-bats in the ALDS. This one and his bases loaded strikeout with no outs in Game One stand out.
The Stanton strikeout was the first out. Kimbrel then walked Luke Voit to load the bases and plunked Neil Walker to force in a run. Fourteen of Kimbrel's first 17 pitches were outside the strike zone. I'm fairly certainly he would've walked Stanton had Giancarlo just stood there and kept his bat on his shoulders. That's what makes that at-bat even more infuriating. Kimbrel was very wild and he was backing himself into a corner. I mean, look at his pitch locations: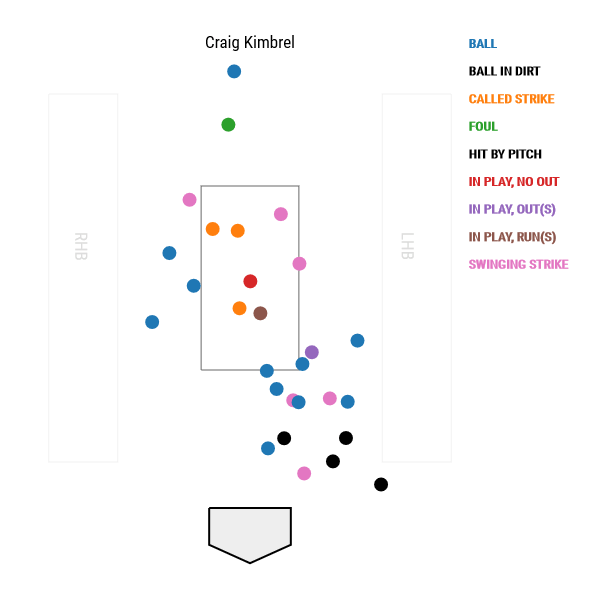 Anyway, I thought Miguel Andujar should've pinch-hit for Voit. Voit had some trouble with high-velocity righties in recent weeks and Kimbrel is very much a high-velocity righty. Then, after Voit walked, I thought Andujar should've pinch-hit for Walker. He got hit by a pitch. It all worked out, but man, I hate hate hate leaving your high contact extra-base hit machine on the bench in that inning. Voit and Walker were the two obvious pinch-hitter spots. They stayed in and got on base, so I can't complain. I still don't like that the Miggy bullet was left in the chamber.
With the bases loaded and one out, Gary Sanchez had the kind of at-bat he lacked far too often this season. He swung through two fastballs up in the zone (bad), took a curveball in the dirt (good), fouled away a fastball above the zone (bad considering it was a ball), then spit on a fastball and a curveball to work the count full (good). Gary did a heck of a job hanging in. The result of that at-bat:
I thought that was the big one. I really did. It was a towering blast that for an instant looked like it would land in the left field second deck, which only happens a few times a season. Alas, the launch angle was a little too launch-y (or angle-y?) there, and the ball fell a few feet short of the wall for a long sacrifice fly. The good: A run scored to get the Yankees to within one run. The bad: Sanchez missed a walk-off grand slam by maybe ten feet and made an out. At that point of the game, the out was more damaging than the run was helpful.
If nothing else, the final out of the season was an exciting one. Remember how last season ended? Greg Bird lifted a can of corn to George Springer in center field. Routine as it gets. This season, Gleyber Torres hit a weak grounder to third base, a weak grounder Eduardo Nunez nearly threw away. Steve Pearce made a great stretch at first base and stayed on the bag. The final out: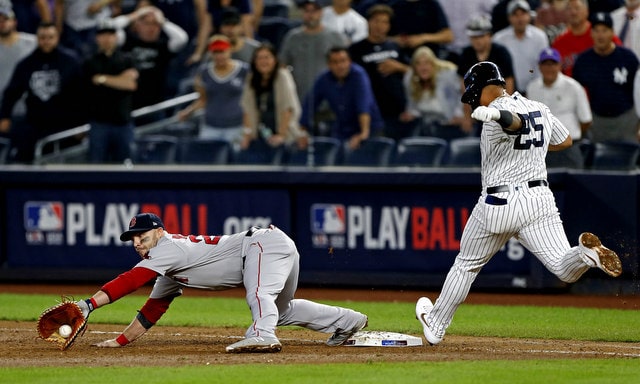 Boone called for replay instantly — he didn't even bother to check with video replay guy Brett Weber because why would you for the final out of the season? — and the replay crew confirmed the out call. As you can see in the photo, Torres was indeed out. Alas. In an alternate universe, Nunez throws the ball away, the tying run scores from the second, and the Yankees are still alive. That's what I get for calling him Eduardo Scissorhands all these years.
Leftovers
Know what stinks? Boston scored their fourth and game-winning run on a Yankee Stadium cheapie into the short porch. Christian Vazquez hit it against Zach Britton. Definitely one of the cheaper short porch homers of the season. Sigh. The Yankees hit more than their fair share of short porchers, so I can't complain, but damn. That was the only run the bullpen allowed. Britton, Robertson, Dellin Betances, and Aroldis Chapman combined: 6 IP, 3 H, 1 R, 1 ER, 2 BB, 11 K. Too bad they weren't used earlier.
The Yankees were held to five hits for the second consecutive game. Doubles by Gregorius and Sanchez, and singles by Gregorius, Walker, and Torres. Judge and Voit drew the walks and Walker was hit by a pitch, all against Kimbrel. The Yankees had ten hits (two doubles, eight singles) in Games Three and Four. Also, they struck out only seven times in Game Three and four times in Game Four. They made lots of contact. It just wasn't good contact.
Box Score, WPA Graph & Standings
ESPN has the box score and MLB has the video highlights. We don't need it anymore, but here's one last link to our Bullpen Workload page anyway. Here's the loss probability graph:

Source: FanGraphs
Up Next
The offseason. At some point in the coming days Boone and Brian Cashman will hold their annual end-of-season press conferences to discuss the state of affairs. As for RAB, I am planning to take it a little easy these next few days because I feel like my head has been in a vice the last week or so, and I need a bit of a break. We'll of course have some content and cover any breaking news. I just need to scale back a bit the next few days. RAB will return to normal next week and we'll begin our annual Season Review series and looking ahead to the offseason. This will be a big one.