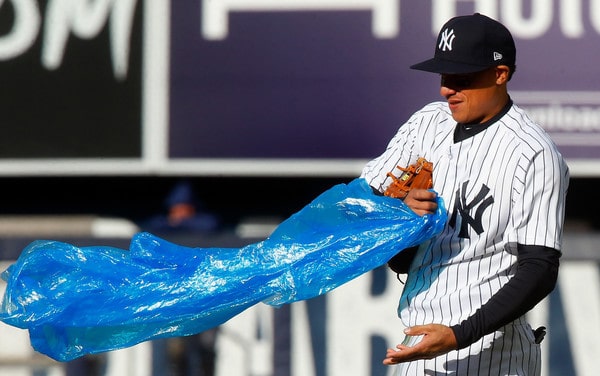 Adios, Joltin' Toe. The Yankees have traded Ronald Torreyes to the Cubs for cash or a player to be named later, the team announced earlier today. Torreyes was designated for assignment earlier this week to clear a 40-man roster spot when Parker Bridwell was claimed on waivers. This is the first Yankees-Cubs trade since the Gleyber Torres deal.
The 26-year-old Torreyes is projected to make $900,000 through arbitration next season and the Yankees are loaded with utility infielder types (Hanser Alberto, Thairo Estrada, Tim Locastro, Tyler Wade), so the most expensive (and least tooled up) of the bunch got the heave-ho when a 40-man roster spot was needed. Sucks, but that's the business.
Torreyes spent parts of three seasons with the Yankees — he was originally acquired from the Dodgers in a minor trade, then lost on waivers to the Angels, then reclaimed on waivers — and managed a .281/.308/.374 (80 wRC+) batting line with +1.6 WAR in 221 games. Pretty good for a utility dude. Torreyes is fun and I am pro fun. I'll miss him.
For Torreyes, the trade represents a homecoming of sorts. He spent a year and a half in Chicago's farm league system earlier in his career. Here is his career transactions log:
February 23rd, 2010: Signed with Reds as an international free agent.
December 23, 2011: Traded to Cubs in the Travis Wood/Sean Marshall deal.
June 2, 2013: Traded to Astros for cash.
May 15th, 2015: Traded to Blue Jays for cash.
June 12th, 2015: Traded to Dodgers for cash.
June 12th, 2016: Traded to Yankees in the Rob Segedin deal.
June 25th, 2016: Claimed on waivers by the Angels.
February 1st, 2016: Claimed on waivers by Yankees.
November 28th, 2018: Traded to Cubs for cash or a player to be named.
It's possible the Cubs will non-tender Addison Russell come Friday's deadline and, if they do, Torreyes will be their only shortstop capable backup infielder behind Javier Baez. He very well could be on their Opening Day roster. That said, Torreyes has an option remaining, so he could wind up in Triple-A.
Anyway, at this time of year a player to be named later could be a Rule 5 Draft eligible player — once the Rule 5 Draft is over and the player is unselected, he's sent over to complete the trade — though I don't think that's the case here. The cash part is a dead giveaway. That suggests it was a "take this or we'll just claim him on waivers" deal. So it goes.