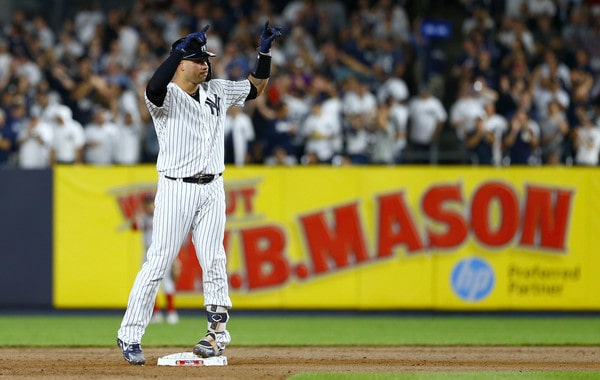 This past week's Winter Meetings were a dull affair. The Yankees did bring back J.A. Happ to fill out the rotation and it was reported that the team will meet with Manny Machado in New York in the coming days/weeks, but by far the most interesting Yankee rumor was their (brief) connection to Marlins' catcher J.T. Realmuto. Originally a tool to coerce the Mets to send Noah Syndergaard to the Bronx, the Marlins also tried to manufacture Yankee interest in obtaining Realmuto themselves—a rumor that was never believable because the Yankees already have one of baseball's best catchers in Gary Sanchez.
Gary is probably the most polarizing Yankee since Alex Rodriguez hung up his cleats three years ago. Fans either love him or hate him, with little room in the middle. He is accused of laziness and complacency and Joe Girardi's occasionally tense relationship with the Yankee backstop was rumored to be a big reason why the Yankees elected not to bring him back after the surprise success of the 2017 campaign.
Gary's abysmal 2018 amplified criticism of his defense and hustle, particularly after he failed to appropriately hustle in Tampa Bay in July and after a futile showing in Oakland (a showing in which Luis Severino surely deserves some blame) in September. Coupled with his .186/.291/.406 (89 wRC+) batting line, it appears at first glance that 2018 proved Gary's doubters right.
But the problem with narratives like these is that they often obscure the broader context. That is especially true in baseball, a provincial sport in which most fans watch only their own preferred team, over and over—magnifying flaws and frustrations at the expense of other teams' weaknesses. In other words, it's important to zoom out and consider the whole league to properly evaluate Gary's production and value.
When you do so, it becomes clear that Gary Sanchez is baseball's most powerful catcher. 32 players have at least 750 at-bats with at least 75 percent of their games behind the plate since the beginning of 2016, and Gary is 3rd overall in home runs with 71, trailing only Yasmani Grandal (73) and Salvador Perez (76), both of whom had at least 300 more plate appearances. He has the highest slugging percentage of the group at .516 and the highest OPS by a considerable margin at .849. (The next closest is Wilson Ramos with a .826 OPS.) He is 6th overall in RBI (188), 11th overall in OBP (.333) and walks (110), 13th in batting average (.252) and 14th in doubles (49). Calling Gary Sanchez anything but one of the league's most dominant offensive catchers is simply dishonest.
It's also worth mentioning that even his atrocious 2018 had plenty of silver linings—and wasn't that far off from league average. His 89 wRC+ was right in line with league average production of 91 wRC+ (leaguewide, catchers hit .237/.313/.385 in 2018), and he ranked 6th in home runs with 18. In fact, Baseball Prospectus' new offensive metric, DRC+, actually ranks Gary as an above-average catcher last year. (As Friend of RAB™ Jarrett Seidler said on Twitter the other day, his season was valued about the same as Realmuto's career average.) There is a convincing case to be made that Gary ran into considerable bad luck with balls he hit hard last year and it's also important to consider that he may have been hobbled by injuries, even when playing.
But most criticism of Gary is based on his futility at blocking balls, which are both obvious to fans watching and often ugly to watch. Gary leads the league in passed balls by a wide margin, and that alone is enough for some fans. But passed balls are not the only defensive responsibility of catchers—they also throw runners out, execute analytical gameplans and frame pitches. And the data and anecdotes show that in every one of those categories, Gary Sanchez excels. Coupled with his dominant offense, the runs that Gary allows on passed balls only scratch the surface of his run-production (and yes, even his run prevention).
But despite all of this, Gary will be the center of controversy again in 2019. That will be true even if he meets (or exceeds!) his current 2019 Steamer projection of .245/.322/.482 (116 wRC+), which would again rank him as one of baseball's dominant catchers. Some players just attract controversy—though it is worth noting that there are implicit reasons why—and he is one of them. That's not likely to change.
But as we all cheer on the Yankees next year, remember to tune out the noise around the Yankee backstop, because the data is clear: Gary Sanchez is one of baseball's very best catchers, and the Yankees are lucky to have him.