Good mailbag this week, I think. Eleven questions for the holiday weekend. Send your questions to RABmailbag (at) gmail (dot) com. I'll answer as many as I can stomach each week (I kid, I kid).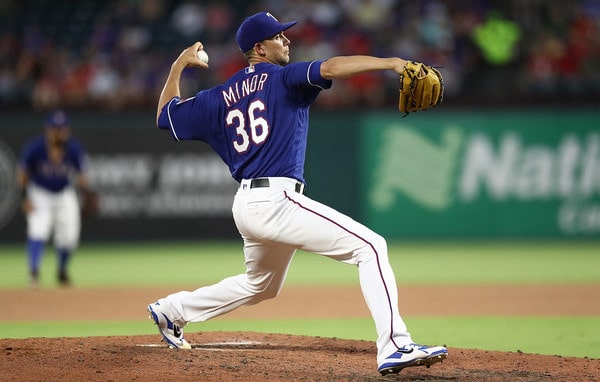 Steve asks: What's your thoughts on Mike Minor as a 6th Starter/swingman type that Yanks may look for? And on top of that, if everyone stays healthy he'd be a weapon out of the bullpen too right?
Minor was excellent out of the bullpen with the Royals last year (2.55 ERA and 2.62 FIP) and serviceable as a starter with the Rangers this year (4.18 ERA and 4.43 FIP), though, to be fair, he much better in the second half (2.97 ERA and 4.18 FIP). Also, for what it's worth, Minor is a big time spin rate guy, especially with his fastball (2,543 rpm in 2018), which could appeal to the Yankees. He's owed $9.5M in each of the next two seasons and carries a $9.33M luxury tax hit. Given how good he was with Kansas City, I'd be tempted to use Minor as a short reliever again rather than as a swingman type. Put him in the rotation if you must due to injuries/poor performance, otherwise using him as a high-leverage reliever seems like the better way to go. I'm not sure what the Rangers would seek in return though I assume Minor's available since they're rebuilding. I do like the idea. There's a chance he'll be just as effective as the big name free agent relievers and do so at a more reasonable cost in salary/prospects.
Douglas asks: Any chance there's a team out there with a decent 2B/SS prospect that is being blocked by a popular veteran that they might be willing to deal in exchange for Sonny Gray?
I looked into it as part of my 2018-19 Offseason Plan. Believe me, I looked. Essentially what you end up looking for is another team's Tyler Wade. A talented player with no real path to MLB playing who doesn't have much more to prove at Triple-A. I thought about Royals prospect Nicky Lopez, but he's too good. The Cardinals have a few guys (Max Schrock, Edmund Sosa) but I'm not sure how realistic that is. Teams tend to keep their middle infield prospects because they are typically the most athletic players and thus best able to move to other positions, if necessary. That's one reason why the Yankees chose Gleyber Torres over Eloy Jimenez in the Aroldis Chapman trade. Quality middle infielders are hard to find and I'm not sure a team would be willing to give up a good MLB ready middle infield prospect to get the current version of Sonny Gray.
Roy asks: Why has there seemingly been zero talk of the Yankees picking up Fiers?
Mike Fiers is a real bad fit for Yankee Stadium and the AL East. He has a fastball you can catch with your teeth (averaged 89.4 mph in 2018) and he's an extreme fly ball pitcher (39.4% grounders in 2018) who's allowed 90 homers in 494 innings the last four years (1.6 HR/9). His skill set plays in the National League or in Detroit or Oakland. When he played in that hitter friendly ballpark in Houston, the result was a 4.59 ERA (4.82 FIP) in 384.1 innings. There's a reason the Athletics chose not to start Fiers in the AL Wild Card Game at Yankee Stadium. He's a bad fit for hitter friendly ballparks. As a swingman/last guy in the bullpen type, I guess Fiers would be okay. Seems to me he'll end up with a starting job elsewhere though. Besides, I'm pretty sure Giancarlo Stanton would snap Fiers in half like a twig on the first day of Spring Training given their history.
Chris asks: If you were told that you could sign Machado or Harper but not both – to a similar contract – who would you pick? While we have more need in IF, I'd take Harper. I can't see going into season with a Yankee team with virtually no left handed power.
Bryce Harper and it has nothing to do with the right-handed batter vs. left-handed batter thing. Manny Machado is obviously excellent and, with a player that good, handedness at the plate is a secondary concern. I'd take Harper because I think he'll be the better player the next 5-7 years. That's all there is to it. The roster construction will change a ton during that time — the Yankees need a lefty bat now but it was only two years ago that they seemed overloaded with lefties — so I wouldn't obsess too much over current needs when signing a player like this. Harper (and Machado) is a 26-year-old star and guys like that are always worth acquiring. I think Harper will be the better player going forward so I'd take him. I would happily take Machado as a consolation prize.
Julian asks: Would you rather sign Machado this offseason or try to sign Arenado next offseason?
Machado this offseason, easily. For three reasons. One, I think he's the better player. Arenado is obviously excellent himself but I do wonder what his numbers look like outside Coors Field full-time. Two, Machado is a year and a half younger. And three — and this is a big one — Machado helps you win in 2019. Arenado doesn't. When you're an extreme win now team like the Yankees, waiting a year to sign that other desirable free agent almost never makes sense. Put yourself in the best position to win this year because you never know how quickly a window can close. (Or if that other player will even be available next year.) Even if you think Arenado is slightly better than Machado, the difference isn't large enough to justify waiting a year and forcing the 2019 Yankees to do more with less. Get Machado now. Don't wait around for Arenado (or Anthony Rendon!).
Jeff asks: You've made your thoughts on Realmuto vs. Sanchez clear…and I agree. But with the Mets signing Ramos and maybe shrinking the realistic market for Realmuto, what about NYY acquiring Realmuto AND keeping Sanchez? Moving one of them to 1st base could potentially answer the 1B production question mark. Would love to hear your thought process on that idea.
I'm not a fan of that idea. J.T. Realmuto and Gary Sanchez are elite offensive talents at their position, but move them to first base and DH, they go from special to just another guy. Realmuto had a 126 wRC+ this past season. That would've ranked seventh among first basemen with at least 400 plate appearances and isn't much better than C.J. Cron (122 wRC+). Realmuto and Sanchez are so valuable because they are catchers, a very hard to fill position. Move them to first base and you lose all that positional value. Also, it's going to take a lot to acquire Realmuto. I don't expect the Marlins to just give him away because the Mets (Wilson Ramos) and Nationals (Yan Gomes) found catchers elsewhere. The Yankees would have to give up a lot to get a guy when they already have a very good (and younger) player at the position, and then move one of them to a much less valuable position. Don't like it at all.
Mark asks: Troy Tulowitzki. Can you explain the "pro-rated portion" means here? That would mean the whole season correct? Or does a team have to pay him two years worth because of his contract?
Just the current season. Sign Tulowitzki before Opening Day and you owe him the league minimum ($555,000 for 2019) in 2019. Sign him in the middle of the season and you only owe him the pro-rated portion for the rest of the season. So, say you sign him 86 days into the 186-day season. That means you owe him 100 days at the league minimum rate, or $298,387.10. It doesn't matter that there are two years remaining on his contract. You sign him for just the one year, and, if you want, you can re-sign him at the pro-rated minimum again in 2020 because the Blue Jays are still paying him that year. Long story short, whenever someone with a guaranteed contract is released, any team can sign him and pay him the league minimum rate for the remainder of that season and continue doing so year after year until his original contract with the team that released him expires.
John asks: Does hiring Beltran as a special advisor (same agent as Machado) say anything about Cashman's confidence in Boone? I would assume that it cant hurt in the meeting with Machado.
It can't hurt, but I think the whole "they have the same agent" thing really gets overplayed. Not just with Machado and Carlos Beltran. With any two players who share an agent. As for Aaron Boone, no, hiring Beltran says nothing about the team's confidence in Boone. Joel Sherman says the Yankees tried to add Beltran to the front office last year. This has been in the works a while. And besides, if the Yankees had concerns about Boone, why would they bring in another rookie manager as a potential replacement? Why is everyone assuming Beltran would be a better manager than Boone? ("He was a better player" is not a good answer.) Anyway, no, I don't think the Beltran signing had to do with anything specifically, like Boone or Machado. It was about adding a knowledgeable and respected person to the front office, which is something every team tries to do all the time. The Yankees are fortunate they were able to land Beltran and that he didn't go to the Astros or Mets or wherever.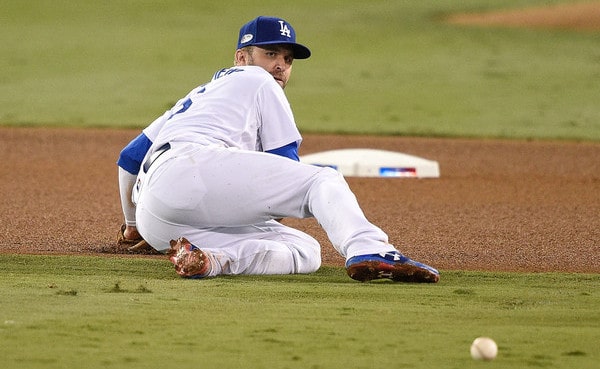 Ian asks: Is there a fit for the Yankees and Brian Dozier, if Gleyber moves over to short whilst Sir Didi is injured? I am hearing no noise at all about Dozier on the free agent market yet, so presumably there's no bidding war heating up? Or is the fact he's another right-handed bat just leading to yet more imbalance?
Dozier has really fallen off the last year or two. He had that monster 42 home run season in 2016 but has gone from a 132 wRC+ and +6.2 WAR in 2016 to a 125 wRC+ and +5.0 WAR in 2017 to a 90 wRC+ and +0.8 WAR in 2018. His defensive numbers slipped too. Dozier is 31 and I don't buy him as a true talent +1 WAR player now. There's likely some rebound potential here. His walk (11.1%) and strikeout (20.4%) rates are solid and held steady this past season, and he still pulled the ball (49.9%) in the air (39.5% grounders) a ton, which is what he does. Dozier isn't some finesse hitter who shortens up and strokes the ball the other way. He tries to yank everything to left field. (Check out his 2016-18 spray chart.) That said, his hard contact rate took a nosedive this year and he actually outperformed his expected wOBA (.304 wOBA vs. .288 xwOBA). Dozier's worth a longer look outside a mailbag setting. There's likely some bounceback potential but probably not so much that he can be a 120 wRC+ and +4 WAR player again. He strikes me as 2019's version of 2014 Brian Roberts.
Hector asks: Would you be ok with Hal selling the naming rights to Yankee Stadium to Amazon for $50M if it meant that he would put that money back into payroll? Assuming he would not go over tax threshold otherwise.
Safeco Field is now T-Mobile Park, you know. The Mariners sold the ballpark naming rights to T-Mobile for $87.5M over 25 years. Doesn't $3.5M per year for naming rights seem low? Seems low to me, but what do I know. Anyway, I've been assuming the name "Yankee Stadium" is too iconic for ownership to sell the naming rights. Then again, everyone has a price, and I reckon $50M a year would be hard to turn down. They could call it "Amazon Field at Yankee Stadium" or something like that. I'm not one to obsess about tradition. If they sell the naming rights to Yankee Stadium, who cares? It's just a building name. A name change wouldn't impact my life in any way. And if ownership puts that money into the roster, then it would be pretty cool. (Of course, the Yankees don't need to sell the ballpark naming rights to pump another $50M into the roster, but I digress.)
Jesse asks: An earlier question asked about having one 80-grade tool to assign one current Yankee. This made me wonder: What if you had one of each 80-grade tool to distribute among the current Yankee roster (hit / power / run / field / arm / fastball of your choice / breaking ball of your choice / changeup / control)? How would you distribute them?
Fun question! Not necessarily an easy one either. An 80 on the 20-80 scouting scale is top of the line. Giancarlo Stanton has 80 power. Aroldis Chapman still has an 80 fastball even after losing some velocity this past season. Billy Hamilton is an 80 runner. Let's start with the position players:
80 hit: Giancarlo Stanton. Stanton's a much better hitter than he gets credit for, but give him an 80 hit tool and he'd hit like .320 with 65 homers on the regular.
80 power: Aaron Hicks. He already has power (27 homers this year) but give him 80 power and we're talking 40+ homers annually. I thought about Tyler Wade but nah.
80 run: Gleyber Torres. Gleyber is a sneaky bad baserunner. Some more speed would help.
80 field: Miguel Andujar. Easy call. Andujar with a golden glove would be Adrian Beltre-ish.
80 arm: Austin Romine. Almost by default. Romine gets the nod over Brett Gardner and Jacoby Ellsbury because he seems more likely to stick around beyond 2019 than those two.
Weirdly, the 80 power decision was the toughest because the Yankees already have so much power. Stanton and Aaron Judge are legitimate 80 power guys. Would anyone be surprised if Sanchez, Torres, Hicks, and Andujar each hit 30 homers next year? I sure wouldn't. Ronald Torreyes would've been a fun answer here had he not been traded away. Anyway, let's get to the pitchers.
80 fastball: Masahiro Tanaka. Imagine him pumping 97+ heaters with those secondary pitches?
80 breaking ball: Chad Green. As easy a call as giving Andujar an 80 glove.
80 changeup: Luis Severino. Severino has a good changeup he doesn't use often enough. Give him an 80 changeup and he'd be untouchable, assuming he actually throws it.
80 control: Dellin Betances. Betances with consistent strike-throwing ability might be the second best reliever ever. For real.
The 80 pitching tools were pretty straightforward, I thought. Giving Severino the 80 changeup happened by default, more or less. You want to give that elite third pitch to a starter, not a reliever, but CC Sabathia and James Paxton already have pretty good changeups, Tanaka throws everything, and while J.A. Happ could use something to play off his fastball, Severino is 15 years younger. He'll be around much longer, so give him the 80 changeup.