There are a dozen questions in this week's mailbag. Only four more mailbags after this one until pitchers and catchers report to Spring Training. Anyway, RABmailbag (at) gmail (dot) com is the mailbag email address. Send all your questions there.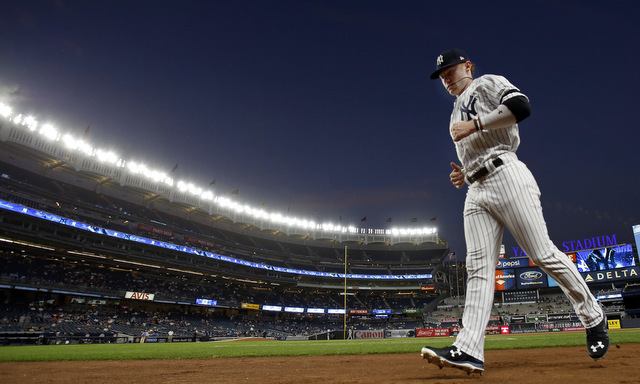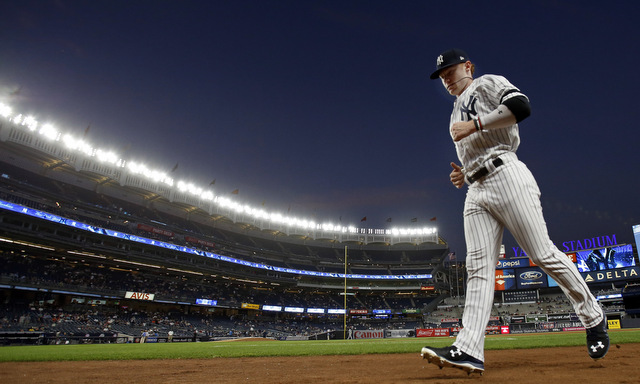 Steve asks: How about Frazier learning 1B in Spring Training? My guess is that his power would translate, he'd be significantly less likely to repeat concussions and the position is open.
It's possible. Two things about this though. One, I think the priority in Spring Training will be making sure Clint Frazier is healthy and on the path back to being a productive player following last year's concussion issues. He missed a lot of time last season and has not yet been cleared to work out on a field. (That should happen soon.) He's hitting in the cage and playing catch. That's about it. Asking him to learn a new position while coming back from such a long layoff might not be the best idea.
And two, there is an opening in the outfield for Frazier. I don't think the Yankees will let Brett Gardner stand in the way should Frazier show he's a better option. The Yankees reduced Gardner's role down the stretch last year once Andrew McCutchen arrived. I think they'd do it again if Frazier comes back well and show he's ready to help. My hunch is the Yankees hope Frazier is at least platooning with Gardner at midseason and ready to take over left field full-time in 2020. Learning first base is possible, sure. I see reasons why the Yankees might not do it though.
Kara asks: Are teams allowed to add non-salary incentives to free agent contracts (say: housing or transportation perks) or is that against the CBA rules? I wonder because it seems that such extra-salary benefits might have a particular allure in a city like New York where a there's so much exceptional real-estate that a really beautiful/desirable apartment or house might be a true lure.
Yep. Teams do it all the time. Well, not all the time, but often enough. Masahiro Tanaka's contract includes allowances for housing ($100,000 per year) and a full-time interpreter ($85,000 per year). He also received a moving allowance ($35,000) and four first class round trip tickets between Japan and New York. A.J. Burnett's contract with the Blue Jays included eight round trip limo rides from his home in Maryland to Toronto (because his wife hates flying). Carlos Beltran's contract with the Mets included a high-tech tennis ball launcher. Alex Rodriguez's contract with the Rangers included a $150,000 bonus for being named ALDS MVP, which doesn't exist. There are a lot of weird contact perks out there. Remember though, teams are cheap as hell, and they don't like giving these perks out.
Alberto asks: Between Bryce Harper & Giancarlo Stanton who had the better 2018 season? We know Stanton had 38 HR to Harper's 34 & both had 100 RBI, but beside that who had it better?
Both Harper and Stanton had very good 2018 seasons that qualified as down seasons relative to their career averages. Harper was a much better on-base player who, according to the defensive numbers, gave back a lot of value in the field. The quick head-to-head comparison:
| | PA | AVG/OBP/SLG | wRC+ | HR | BB% | K% | fWAR | bWAR |
| --- | --- | --- | --- | --- | --- | --- | --- | --- |
| Harper | 695 | .249/.393/.496 | 135 | 34 | 18.7% | 24.3% | +3.5 | +1.3 |
| Stanton | 705 | .266/.343/.509 | 127 | 38 | 9.9% | 29.9% | +4.2 | +4.0 |
Ben Lindbergh and Mike Petriello examined Harper's defense and found there were times Harper appeared to employ some self-preservation. He didn't dive and he didn't run into walls, resulting in more balls falling in for hits. Given his injury history and impending free agent payday, I can't blame him. Don't be surprised if Harper's defensive numbers bounce back this season.
In a vacuum, I'd take Harper's next ten years over Stanton's next ten years. Pretty easily too. The luxury tax is a thing now though, and Stanton carries a $22M luxury tax hit that is a relative bargain. Harper could end up with a $35M luxury tax hit. If money didn't matter, give me Harper. Money does matter though, and while I think Harper will be the better player, Stanton at something like 65% of the luxury tax hit will be the better value. (The Yankees should sign Harper and keep Giancarlo. Give me both.)
Matt asks: Stupid question(s): why does the ~$15M for benefits count towards the Luxury Tax? Other than because it hasn't been collectively bargained, why can't they still make that a mandatory payment but not count towards the tax?
Because it's another way for owners to limit player spending. That's all. Last year each team paid $14,044,600 toward benefits and it counts against the luxury tax payroll. That $197M luxury tax threshold last season was actually a $182,955,400 luxury tax threshold for player contracts. We don't know the 2019 benefits figure yet (probably around $15M), but yeah, the $206M luxury tax threshold will actually be something like a $191M threshold for player contracts. This is one of those things the MLBPA should push to get changed in the next Collective Bargaining Agreement. Each team pays an equal amount into benefits and it is mandatory. Get that out of the luxury tax payroll calculation.
Eric asks: Is signing Hunter Strickland a possibility for the Yankees? The Yankees need another reliever and he seems like a bounce-back candidate.
Could be, sure. Strickland is kind of a hothead — he broke his pitching hand punching a wall last season and missed two months, plus there's the absurd two-year grudge against Bryce Harper — and I don't know if the Yankees will go for that, but yeah, he could be a lower cost bullpen target. Last season he had a 3.97 ERA (4.42 FIP) with 18.4% strikeouts and 10.5% walks in 45.1 innings around the hand injury. It was easily his worst season as a big leaguer. Strickland turned 30 in September and he has a career 2.91 ERA (3.40 FIP) with 22.6% strikeouts and 8.5% walks. His fastball velocity (95.0 mph) and spin rate (2,392 rpm) were quite good last year and you know the Yankees will love that. The Yankees are big on makeup and accountability. A dude who missed two months because he punched a wall might not be their cup of tea.
Julian asks: With the first base situation still a question mark, should the Yankees consider trading for Encarnacion?
I'm inclined to say no. For starters, Edwin Encarnacion is more of a DH than a first baseman. He's started only 55 games at first base the last two years. Secondly, he is starting to show signs of decline at age 36. Encarnacion hit .246/.336/.474 (115 wRC+) with 32 home runs last year, which is obviously very good, but is a far cry from his heyday with the Blue Jays. He posted his worst strikeout (22.8%), walk (10.9%), ISO (.228), and wRC+ (115) marks in eight years last season. Chances are he's only going to perform worse from here on out, especially if you're asking him to play the field on an everyday basis. And third, Encarnacion has $25M coming to him next season and his contract comes with a $20M luxury tax hit. Even if the Mariners eat some money, which I assume they're willing to do, that's a lot of scratch. Trading for old and declining Encarnacion is an old Yankees move.
Keane asks: Johnny Damon was 231 hits away from 3000, which is about a season and half for him. He fell off the ballot in the first year, do you think the BBWAA underrated him?
I don't think so. Damon was obviously a great player but he is a clear cut Hall of Very Good player to me. Career .284/.352/.433 (105 wRC+) hitter with good counting stats (2,769 hits, 235 homers, 408 steals) and +44.2 WAR. That's really good but it's not Hall of Fame good. Only two All-Star Game selections (for real) and never finished higher than 13th in the MVP voting. Was Damon ever even the best player on his own team? I don't think so. As good as he was, Damon never struck me as a Hall of Famer or even as one of the very best players in the league, which is kind of a prerequisite for Cooperstown. There's nothing wrong with being a compiler. Damon had a great career, won a couple World Series titles, made a ton of money. Not a bad career at all.
Ray asks: Ray asks: While the Yanks should sign Harper and Machado I don't expect they will. But given Dombrowski's comments about Kimbrel, what are the chances his price drops to the point the Yankees pounce? 4 years/$68M with opt outs? That would be some relief corp.
Red Sox GM Dave Dombrowski recently told Bob Nightengale he doesn't expect to spend much on a closer. "Craig did a great job for us, he's a Hall of Fame reliever, but we have not anticipated having a large expenditure for a closer," he said. Cot's has the Red Sox with a $240M payroll for luxury tax purposes, so they're $6M under the $246M third luxury tax tier that triggers the harshest penalties. They have some big contract decisions coming soon. Chris Sale, Xander Bogaerts, and J.D. Martinez (opt-out) will be free agents next winter, then Mookie Betts a year later. We'll see what happens.
I'm not sure Kimbrel will get $17M a year like Aroldis Chapman, Wade Davis, and Kenley Jansen. That's what he would've received in the old wild west days of two winters ago. Now? I'm not sure he gets more than $15M annually. I think his asking price would have to drop into Zach Britton territory for the Yankees to consider signing him. Something like three years and $13M to per season. I can't see them carrying two relievers at $15M+ per season and even three at $10M+ per season seems unrealistic. I think the Yankees would sooner sign Adam Ottavino for two years and $22M or so than Kimbrel at his price, even if it drops. Hard for me to see a scenario in which the club spends for Kimbrel.
Brent asks: I know that Sonny Gray is probably the best sixth starter in baseball and there's a case to be made for keeping him but if the Yankees will still move him and SDP are interested they should go for it. I know mtps but Gray for Josh Naylor just seems pretty great. Naylor should go to AAA and possibly help this year at 1b if not next. He's a lefty and his swing reminds me of Papi a bit. Do you think gray would be enough to get him? Not sure he could cut it in the of and is kind of blocked by hosmer, no dh. What do you think?
Naylor can hit. He put up a .297/.383/.447 (128 wRC+) batting line with 17 homers and nearly as may walks (11.1%) as strikeouts (12.0%) in 128 Double-A games last year, and he spent half the season as a 20-year-old. Naylor is a terrible defender and he's slow as hell — dude's listed at 5-foot-11 and 250 lbs. — but he can hit. I see him as a better version of Dan Vogelbach, another big lefty DH prospect, and those dudes seem to get overrated quick. I'd like the Yankees to exhaust all other trade opportunities with Sonny Gray before settling for someone like Naylor. There's nothing here besides the bat, so if he doesn't hit, he's worthless. Try for a more well-rounded prospect or some arms. If Naylor is the best the Yankees can do, take it. I'd like to think there's something better out there.
Chris asks (short version): After reading the Domingo German fourth option post, could Gray have been sent down to Scranton? And would that have been a better solution than having him rot in the pen, or would that have diminished his value even more than sending him to the pen and saying we needed to trade him has degraded his value? Finally are you saying that Paxton still has an option?
Yes, the Yankees could've sent Sonny Gray to Triple-A last season. Remember though, they were short on starters until the trade deadline, and sending him down was never all that realistic. German was already in the rotation and Luis Cessa was making regular spot starts to give everyone extra rest. By time the trade deadline rolled around and the Yankees imported Lance Lynn and J.A. Happ, Gray reached five full years of service time and could've refused a demotion to Triple-A, which he would've done because everyone in his situation would do that. Sonny's first relief appearance came on August 7th. It was too late to send him down by then. As for James Paxton, yes, he has an option. Two, in fact, and he doesn't have five full years of service time, so the Yankees can send him down this season. They don't want to do that though. It means something terrible will have happened.
Chris asks: Hey, so I saw your thoughts on a deadline to free agency, and agree 100%. What do you think of reducing the number of years of team control to try and encourage more signings of free agents to replace them? Failing that, do you have any thoughts on potential solutions?
Letting players qualify for free agency after four or five years rather than six could work. I keep coming back to this though: Manny Machado and Bryce Harper are two 26-year-old superstars and they're having trouble finding work. How much will reducing the number of years of team control really help? Teams will just continue to look for younger and cheaper players, and they'll just have to do so more aggressively. The single best thing the MLBPA could do going forward is increase salaries for players with 0-3 years of service time. Raise the league minimum to $1M, lower the service time requirement for arbitration, whatever. Baseball's economics are completely backwards. Players are most productive early in their careers and that's when they're paid the least.
Keith asks: What's the plan if Tulo gets hurt or just can't cut it in Spring Training or April?
Beats me. If Troy Tulowitzki simply has a bad Spring Training, I don't think it'll matter much. The Yankees will stick with him at shortstop going into the regular season. Remember Raul Ibanez? He was awful in Spring Training and everyone was wondering what the Yankees would do with him. They stuck with him and were rewarded. I imagine they'll do the same with Tulowitzki. He's had a long layoff and I imagine it'll take him some time in Spring Training to get back up to speed. It's only fair to give him a couple dozen at-bats before seriously evaluating him.
Now, if Tulowitzki gets hurt in camp, then the Yankees could be in trouble. Tyler Wade and Hanser Alberto will be around as replacements, and I have to think there will still be some free agents sitting on the open market. And there is always a rush of minor trades at the end of March as teams finalize their rosters and figure out what to do with their out-of-options players. None of those are good options, mind you, but those are the options. Either go with Wade or Alberto, or scour the scrap heap.