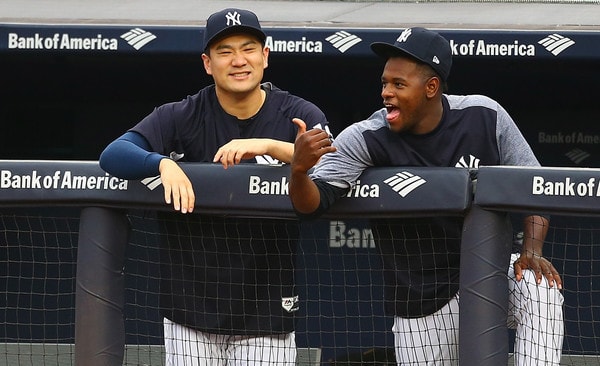 "The Yankees need more pitching," virtually everyone in your Yankee life has told you this offseason (and probably every other one before it). That's true, but only because all 30 teams in baseball need more pitching: high-end pitching talent is hard to come by and there's no such thing as too much good pitching. But the way the Yankee pitching is discussed by many fans and analysts has led the staff to become significantly underrated. Let's be clear: the Yankees are hard to hit. They're one of the hardest teams in the league to hit against, in fact, and they figure to maintain that production next year.
Most of the Yankee moves this offseason have centered around augmenting the bullpen and improving the rotation. The team's short-sighted neglect of Manny Machado and Bryce Harper has left a lot of fans—myself included—frustrated, but it has also obscured the fact that in an offseason where contenders like the Dodgers, Indians and Astros have done little-to-nothing to improve and the defending champion Red Sox haven't done anything at all, the Yankees have actually improved. That is especially true when it comes to pitching. Let's break this one down.
1. Rotation
It seems to be conventional wisdom among many Yankee fans that the team's starting pitching is inadequate for a team trying to win a World Series. There is no such thing as too much pitching, but the reality is that the Yankees have deployed one of baseball's most effective rotations since the beginning of 2017: the Yankees ranked 4th in the American League by bWAR and 2nd by fWAR in both 2017 and 2018, and the team's strikeout, walk and home run rates are all in the top 5 in the league over the two years.
But even despite that success, it was clear that improving the rotation was a top offseason priority. The Yankees started Sonny Gray, Domingo German, Jonathan Holder, Lance Lynn or Luis Cessa 52 times in 2018—almost a third of all games. (That the Yankees still won 100 games says a lot about the ferocity of the Yankee offense and, again bucking conventional wisdom, both Joe Girardi and Aaron Boone's bullpen management.) The addition of James Paxton, coupled with the return of CC Sabathia and a full season of J.A. Happ, was designed to avoid a repeat of that revolving door in 2018. It's clear that, on paper at least, the Yankees significantly improved.
Paxton, a power lefty who is dominant when healthy, gives the Yankees another legitimate top-of-the-rotation arm to pair alongside Luis Severino and Masahiro Tanaka. Severino, despite his shaky second half, owns a 3.18 ERA (140 ERA+) over 384.2 innings since the start of 2017, striking out almost 30 percent of batters faced. He is one of a few pitchers in baseball who can be considered a legitimate ace. Tanaka is a bit underrated due to recent inconsistency: he has a 3.59 ERA (118 ERA+) in 824 innings since 2014. While Paxton is an injury risk (which pitcher isn't?) the goal is to acquire high-end talent, and that's exactly what the Yankees have at the top of their staff.
On the back end of the rotation, Happ and Sabathia will be tasked to fill the innings that were filled by Gray and co. last year. Happ, despite his age, remains very effective (he logged a 3.65 ERA (3.98 FIP) in 177.2 innings in 2018) and is a more than a reliable 4th option. Sabathia, who returns to New York for his 10th season, is one of the best 5th starters in the league: he threw 153 innings of 3.65 ERA (120 ERA+) ball last year, again made possible by the fact he hardly gives up hard contact.
This all adds up to a rotation that is markedly improved from last year's, barring significant injury. It's hard to shake the feeling that they should have added another top-end arm in Patrick Corbin (choosing Happ over Corbin, I suspect, is going to irritate me for while, and I like Happ) and improved even further, but even still: the Yankees should have one of baseball's best rotations in 2019.
2. Bullpen
There is nothing under the radar about the Yankee bullpen, which features several high-powered, swing-and-miss arms and is almost certainly the game's best. The Yankee bullpen was one of only four in baseball last year to boast a K/9 rate over 10 and the only one in the league with a rate over 11, a major contributor to the fact that it was the league's top bullpen by a full win, per Fangraphs.
David Robertson, one of the most important bullpen pieces in the 2018 season, is off to Philadelphia, and while the Yankees will miss him, his loss was quickly mitigated by the return of Zach Britton and the addition of Adam Ottavino. They join Aroldis Chapman, Dellin Betances and Chad Green in the back-end of the bullpen, giving the Yankees (in theory) five top bullpen arms. In the Age of the Bullpen™, I'd say that qualifies as Pretty Good.
Bullpens are notoriously fickle and almost impossible to predict, but I'm confident saying that this group should be as unhittable as it was last year. Chapman, Betances, Ottavino and Britton all have an established track record of success across multiple seasons: they're each elite relievers and have been for a long time. Green, even though he wasn't as dominant in 2018 as 2017, was more than a reliable option for Aaron Boone last year.
These five arms allow the Yankees to shorten games considerably. This is before considering Jonathan Holder, who had a 3.18 ERA (2.98 FIP) with 8+ K/9 and only 2 BB/9 (good enough for a 1 win season as a reliever) last year. The depth of the bullpen itself is a strength: while performance can fluctuate wildly, the fact that there are so many top-shelf arms offers a layer of protection that most teams simply don't have. (Any one of these arms, with possibly Holder excluded, would be the best arm in Boston's Kimbrel-less bullpen, for instance.) That depth may even free up Aaron Boone to use Green for multiple innings per outing (which he prefers) and takes a significant weight off of the shoulders of younger options like Stephen Tarpley, who may well get an extended look in 2019 after an impressive showing in September.
We saw the power of a dominant bullpen in October. The relief corps held Oakland down in the Wild Card Game, allowing the Yankee offense to create separation and strong performances in Games One and Four of the ALDS meant that the Yankees were able to remain within striking distance. The one poor outing, Game Three, was mostly brought about by the fact that Boone went to Lance Lynn for the most important at-bats of the year (sorry for bringing it up, but I won't ever get over this one).
A dominant bullpen is becoming less and less of a luxury and more of a necessity for a team trying to win the World Series, and the Yankees have built the game's best.
3. Outlook
There are no guarantees in baseball, and there are still question marks regarding the rotation. It feels an injury away from looking much less fearsome, but it's worth remembering that the same is true for virtually every team in the league. That most of the rotation discussion is centered around the 6th starter option should tell you all you need to know about the status of the rotation going into 2019, and I don't think there's a fan or analyst out there worried about the Yankee bullpen.
Anything can happen, and pitching is unpredictable. But a full survey of the entire pitching staff demonstrates that it is among baseball's most talented and has been among the most effective in the league over the past two years. It only got more talented this winter, and that means the Yankees should once again be one of the hardest teams to square up in 2019.