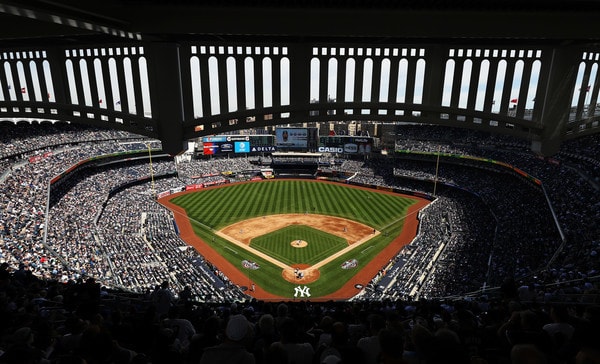 I don't remember exactly when I first discovered River Avenue Blues. I'm pretty sure it was during my junior year of college, either in fall 2007 or early 2008. And I'm pretty sure I came to it via sidebar link from the Pete Abraham incarnation of the LoHud Yankees Blog. Once I started reading it, then commenting, then moving to Twitter "with" many of the people in the comments section back then, then still continuing to read, up until the moment I was asked to, I never thought I'd be writing for it, let alone doing so for over four years. But even before April 12, 2015, I knew that RAB was a special place for Yankee fans and for me personally.
Being a Yankee fan of a millennial age meant that my formative baseball years were spent online, seeking connections to other fans, and that's what I found here. In an approachable, casual way, Mike, Joe, and Ben wrote about wide-ranging topics that were lacking in most Yankee outlets, from prospects to analysis. Like with my first reading of the site, I don't remember the first time I waded into the comments section. But once I did so, I was hooked. Here was a place for–most of the time–reasonable, rational discussion about all things Yankees. Every day or night, no matter the team's state or mine, I could count on the people here for consistency of connection. When I watched a game–even if I was home alone or the only one around watching it–I had hundreds of fellow fans "with" me as the game went on.
More than any other place, RAB's comments also inspired me to do my own writing, which led me all over the baseball internet. From my own blogspot site to Bronx Baseball Daily, to The Yankee Analysts/IIATMS, and finally to here, I was able to share my thoughts with you and so many others, thanks to this website. Writing on the internet, about my favorite team, for over ten years has been a source of joy and pride, however small. In life terms, that's a long time on its own; in baseball terms, that's even longer.
The day of my first post at RAB–5/12/15–the Yankees beat the Red Sox 14-4. Of the Yankees who appeared in that game, only Brett Gardner, Masahiro Tanaka, Didi Gregorius, and (technically) Jacoby Ellsbury are still on the team. To include anyone on the 2015 roster adds CC Sabathia, Greg Bird, Gary Sanchez, Luis Severino, Dellin Betances, and Austin Romine. Just like the team has changed, I have changed over time. Almost nothing from my 2015 self is the same for my 2019 self.
This is all to say that my life would not be the same without RAB exactly when and how and why I found it. Reading this website made me join its comments section. Joining that comment section made me write on my own and join Twitter. Writing on my own and joining Twitter allowed me to meet my wife, which eventually led to the birth of our son. In a very meaningful way, River Avenue Blues is responsible for the life I lead now, for the family I have now. It is not a stretch to say that this is the most important website of my life. Thank you to Mike, Joe, Ben, Jay, and the myriad other writers who've penned words for this site and the countless others who've read faithfully for so long. You have made my life as a baseball fan, a writer, and a person all the richer for it.