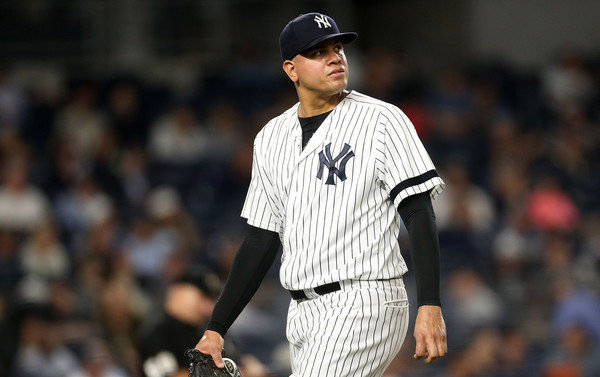 In what has been an ongoing theme all season, the Yankees have a problem in their bullpen. They've never had everyone clicking at once. Not even for a game or two, it seems. There's always been that one guy who is out of sorts. It was Tyler Clippard for a while, then Adam Warren, then Dellin Betances, then Aroldis Chapman. On and on. All season long there's been someone struggling.
The problem right now is, again, Betances, who faced four batters last night and recorded one out, on a gift bunt. He hit a batter and walked the other two. Overall, Betances now has a 17.3% walk rate this season — that's 43 walks to 249 batters faced in 56.2 innings — and he's also hit ten batters. Ten! He hit eight batters total from 2014-16. Only nine pitchers have hit more batters than Betances this season and they're all starters.
"(Sunday) he located extremely well and I thought it was a game that got him back on track. Today it kinda reared its ugly head again. We'll keep trying to figure it out," said Joe Girardi following last night's game and Dellin's latest rough outing. "I haven't really made any decisions (about roles). We just came off a pretty emotional game and a big win. We've got to get him straightened out because he's really important to us moving forward."
Here's the thing to understand about Betances: it's not command. Command is painting the corners and dotting the knees. He's never had good command, even when he's been great. Betances has had basic strike-throwing problems pretty much all season. We're talking simple "throw the ball over the plate" stuff. Dellin's stuff is good enough that he can get outs and swings and misses in the strike zone. Just getting the ball over the plate is the problem right now.
Girardi can be loyal to a fault at times, though he has demoted relievers when their performance warranted such a demotion this season. Clippard eventually stopped seeing high-leverage work. Chapman lost the closer's job for a while. And now it's time to move Betances out of a late-inning role until he straightens things out. I mean, last night was Game 150 of the season. The time for patience is over. It's time to take away some responsibility and try to get him right in lower leverage spots.
The Yankees are fortunate right now to have a) a fairly sizeable lead in the wildcard race, and b) a pretty deep bullpen. Chapman seems to be back on track, meaning David Robertson can set up and Chad Green can still do his multi-inning fireman thing. Tommy Kahnle has been better of late too, so there's your fourth option. Imagine being able to demote your four-time All-Star setup man and still have those guys to lean on? Pretty cool.
Can the Yankees get Betances on track? I mean, maybe. It could click tomorrow. It's difficult to predict things with Dellin, who has a long history of losing the strike zone and finding it again. Until he finds it though — and he might not find it, that's the problem — Girardi and the Yankees should not, you know, use him in one-run games against the team chasing you in the standings like last night. Let someone else handle those big spots for the time being.
There are 12 games and 13 days remaining the regular season. That's all. There's not much time for Dellin to hopefully figure things out, but the Yankees have to hope he does, because they're a better team when he's dominating. With any luck, they'll clinch a postseason spot soon, giving them the luxury of using Betances in any situation without concern for the standings. A few meaningless game to close out the regular season would be nice.
Until that happens though, Betances' control problems are too great to ignore, and he shouldn't see high-leverage work at all. Chapman was demoted from his familiar closer's role a few weeks ago because it was the best thing for the team, and now it's time to demote Betances from his familiar eighth inning role because it's the best thing for the team. The best thing for the team and the best thing for Dellin too.