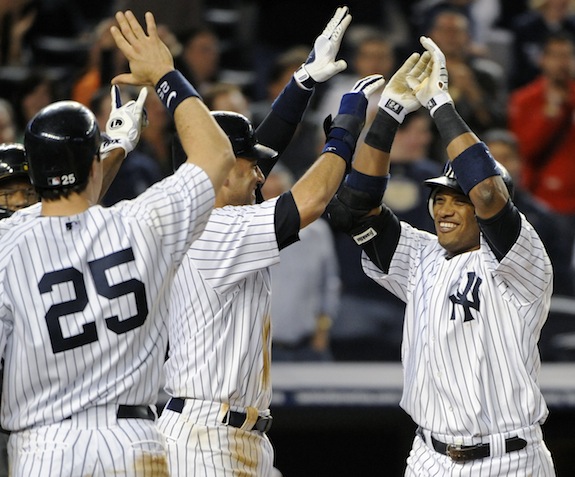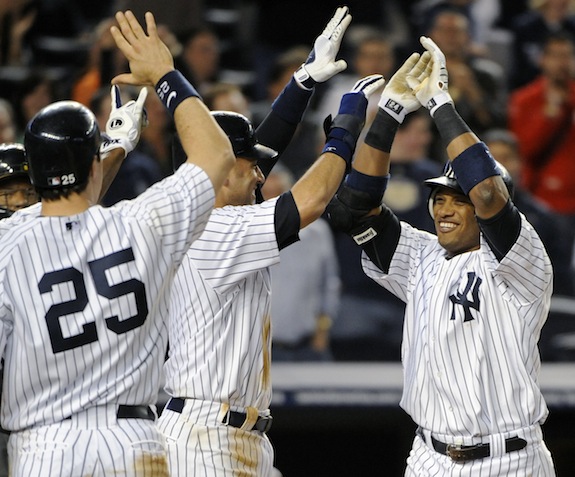 Three Yankee fielders — but arguably not the most deserving one on the team — took home AL Rawlings Gold Glove Awards this afternoon. Derek Jeter took home his fifth award while Mark Teixeira captured his fourth overall and second straight Gold Glove. Robinson Cano, an MVP candidate in his own right, grabbed his first at second base. Brett Gardner, with his 12 assists and an AL-leading 22.3 UZR in left field, was not honored.
In addition to the three Yankee winners, Ichiro Suzuki took home his record-tying 10th straight Gold Glove while Joe Mauer nabbed his third straight award and Mark Buehrle and Evan Longoria both won for the second straight year. Rays left fielder Carl Crawford, now a free agent, won his first award and Seattle's Franklin Gutierrez took home the honors as well.
"It is particularly gratifying to be recognized for defense, as it is something I take a lot of pride in and am constantly working to improve," Jeter said in a statement this afternoon.
The Gold Glove, of course, usually lead to a lot of hand-wringing because the awards aren't a true measure of defensive prowess. Unlike the Cy Young, MVP and Rookie of the Year awards chosen by the BBWAA, baseball's players and coaches vote on the Gold Glove winners, and the award is as much a popularity contest based upon name recognition and offensive production as it is on defensive ability. As Tim Marchman wrote last year, we should give the Gold Gloves the same deference movie buffs give the Academy Awards.
If we were going to nitpick the awards, though, we can. Based on UZR — a flawed metric — the following fielders should have won: Gardner, Crawford and Suzuki in the OF; Daric Barton at first base (Mark Teixeira had a negative UZR in 2010); Mark Ellis or Orlando Hudson at second; and Kevin Kouzmanoff at third. Pitchers and catchers should be assessed on non-UZR metrics. Gutierrez is an excusable choice but Brett Gardner wuz robbed.
And because it's much in the news these days, this award shouldn't impact the Yanks' contract negotiations with Derek Jeter. His winning simply highlights how the Gold Glove process is broken. Few, if any, Yankee fans would put forward a compelling argument that Jeter deserves the award, but baseball seems content to allow the process to move forward without any attempt at achieving an objective standard. It simply means we won't put much stock in the award.
Anyway, congrats to the three Yankee winners. Deserved winners or not, this team's defense has come a long way since the mid-2000s.
Photo Credit: AP Photo/Bill Kostroun