Only nine questions in the mailbag this week because, frankly, the postseason is wearing me out over at CBS. The League Division Series round is always the busiest. There are many games! Anyway, send your questions to RABmailbag (at) gmail (dot) com and I'll get to as many as I can.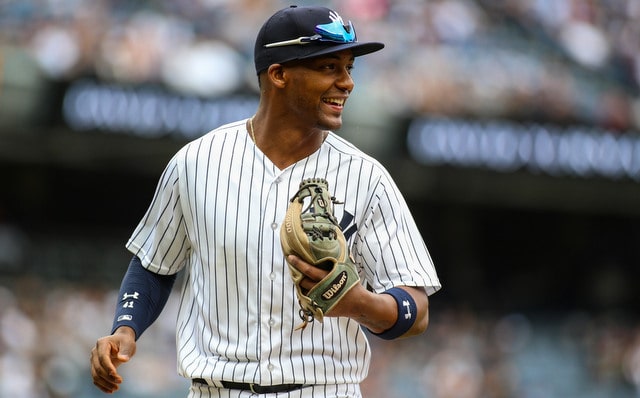 Ben Doyle asks: I love Miguel Andujar, but what about using a third base opener in the Wild Card game? Start your favorite defensive third basemen, bat him 8th, and pinch-hit Andujar their very first at bat. Two or three innings of better defense, at the cost of slightly delaying Andujar's plate appearances.
It's an interesting idea. I've seen fans (of all teams) float similar ideas. Prior to the Wild Card Game, I saw some A's fans suggest they should start Matt Joyce at catcher instead of Jonathan Lucroy, so in case Lucroy's lineup spot came up in the first inning, they'd have a better hitter at the plate. Lucroy then goes in for defense in the bottom of the first regardless of whether Joyce hits. Also, in the NL, there's talk that road teams should "start" the previous day's starting pitcher, so if that lineup spot comes up in the top of the first you can pinch-hit without losing your actual starting pitcher. Whoever you're planning to start that day then comes out of the bullpen for the bottom of the first.
Anyway, using a third base opener for Andujar in one specific game is an interesting idea. You couldn't do it all the time. The problem here is roster space. The Yankees carried eight relievers and three bench players pretty much all season. Do you burn one of those three bench players for maybe two innings of defense at the start of the game? This seems like one of those things that would work much better in September or in a Wild Card Game with a deep bench. Start Neil Walker at third, then pinch-hit Miguel Andujar and get him his three at-bats, then put Adeiny Hechavarria in for defense late. Fun idea. I'm not sure how practical it is.
Greg asks: I noticed old friend Russell Martin is being paid 20 million next year the last year of his contract, while his AAV 16.4 million. If he were to be traded and cash was attached to the deal (similar to the McCann deal), could the AAV actually go into the negatives? Or does it just stop at 0.
It stops at zero. There was some confusion about this a few years ago. I don't remember if it was the Vernon Wells trade or the Alfonso Soriano trade, but the math for one of those deals worked out in such a way that it appeared the Yankees would receive a credit against the luxury tax. It doesn't work like that though. It just counted as zero against the luxury tax. Martin is pretty terrible nowadays. Soon-to-be 36-year-old catchers usually aren't the most productive bunch. The Blue Jays would have to pay down a lot of his contract to get me interested. Pretty much all of it, in fact. And even then I'm not sure.
Paul asks: With strikeouts and home runs up (so fewer balls in play), and improved positioning, is defense less important than ever?
In theory, yes. There are fewer balls in play right now than ever before. This season 65.2% of all plate appearances resulted in a ball in play. Ten years ago it was 70.3%. The further back you go, the more balls in play. Fewer balls in play means fewer opportunities for the defense, so, in that sense, defense isn't as important as it once was. That said, there are still a lot of balls in play. Also players are hitting the ball harder than ever before. They're bigger and stronger and it shows. So there may be fewer balls in play, but the ball that are put in play are somewhat harder to defend. Defense will never not be important. It may be easier to hide a bad defender than ever before though.
Nicholas asks: What do you think Luis Cessa's role will be next year. I believe he is out of options after this season.
Cessa will be out of options next season, meaning the Yankees can't send him to Triple-A without putting him on waivers. Who knows, he might clear. I like Cessa more than most and, at this point, the Yankees should just stick him in short relief. One inning at a time and let him air it out. Starting and long relieving isn't really working. Nothing that happens with Cessa this offseason would surprise me. Wouldn't be surprised if he gets traded, or if he gets designated for assignment, or he stays with the Yankees and gets a look in Spring Training. Domingo German, Tommy Kahnle, and A.J. Cole will all be out of options next season and are kinda in the same boat. Something will have to give this winter.
Eric asks: Does Daniel Murphy make sense for the Yankees as a free agent option? You sign him to play first base and if the either Torres or Andujar have a sophomore slump, you would potentially move Murphy back to one of those positions.
He might. Murphy is worth a longer discussion outside a mailbag setting and after the postseason. At this point he's a bat-only guy. He's been a bad defensive player for years and now he's barely mobile after microfracture knee surgery. Murphy can hit righties (130 wRC+) but not so much lefties (51 wRC+), he can't run, and he can't really play defense. He'll turn 34 in April and we're getting dangerously close to platoon DH status here. That said, Murphy can still hit righties and he never strikes out (11.4%), so there's some utility here. Squint your eyes and you can see some versatility. If you're willing to live with bad defense, yes, Murphy could be a fit next season.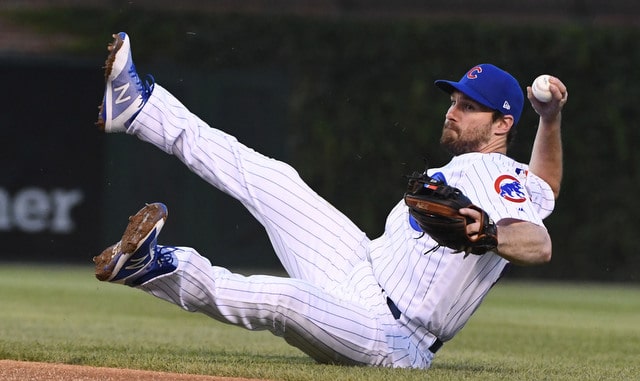 Geoff asks: Do you think MLB might revisit the playoff structure after this season? Both the Yanks and the A's finished well ahead of the Indians, yet they both have to play the WC while Cleveland gets an auto bid to the DS because their division is awful. The Indians got to repeatedly beat up on the worst teams in the AL, while the yanks and As had to deal with 2 other teams in their same division of Cleveland quality or better (Rays and Red Sox; Mariners and Astros).
Nah. MLB loves the current playoff format and, personally, I love the Wild Card Game. I hate when the Yankees have to play in it, but, overall, the Wild Card Game is a blast. Is it fair? No, not really. It's not just the Yankees and Athletics this year either. The 98-win Pirates had to play the 97-win Cubs in the 2015 NL Wild Card Game. I am pro-Wild Card Game and, ideally, MLB would reseed everyone after the regular season. Five teams in each league make the postseason and the fourth and fifth best teams get the wild card spots regardless of division. That'd be great. That gives every team a reason to keep playing hard to rack up wins. The Indians were able to coast all September because their division was so bad. The winner-take-all Wild Card Game is a ratings bonanza and it's not going away.
Justin asks: If the Padres make Wil Myers available should NYY be interested for him at 1B? What's a comparable trade package?
The Padres are going to trade Myers soon, I think. He belongs at first base and they just locked up Eric Hosmer to that monster contract, so the position is blocked. Also, San Diego signed Myers to an extension a few years ago and look at his annual salaries:
2019: $5.5M
2020: $22.5M
2021: $22.5M
2022: $22.5M
2013: $20M club option ($1M buyout)
Yeah, I'd bet on Myers being moved before Opening Day 2020. Myers was the 2013 AL Rookie of the Year and I feel like we still don't know who he is as a player. He hit .253/.318/.446 (107 wRC+) this year. He hit .243/.328/.464 (107 wRC+) last year. He's a career .253/.328/.439 (109 wRC+) hitter in over 2,600 big league plate appearances. Is that it? Myers turns 28 in December. When's the step forward coming? Or is this as good as it gets? I'm inclined to stay away here.
David asks: If the Yankees were to utilize openers next season, who on the current roster would be best? My guess would be that Betances would be best suited, have him pitch an inning exactly every other day (or two innings every three days). That way he would never lose his rhythm and have a set schedule.
Dellin Betances did jump out to me. It'll depend what the rest of the bullpen looks like, of course, but sending Betances out there to face the other team's best hitters in the first inning every other day or once every three days or whatever seems pretty appealing. That said, if Dellin is the team's best reliever again like he was this season, it would be awfully tough for the Yankees to keep him away from high-leverage situations in the late innings.
Joe asks: Do you think Clint Frazier is a candidate for Arizona Fall League?
He has too much service time. My unofficial math has him at one year and 12 days of big league service time and the Arizona Fall League limit is one year. There are injury exemptions from time to time, usually for pitchers rehabbing from Tommy John surgery. If Clint could get an exemption, great! I'm not sure he's healthy though. Frazier was shut down with his latest setback on September 5th. The Arizona Fall League season begins Tuesday. I'm not sure he can go from suffering a setback and being shut down to ready for game action in a month.