Five questions this week, and four are farm system-related in one way or another. You can use the Submit A Tip box in the sidebar whenever you want to send in a question.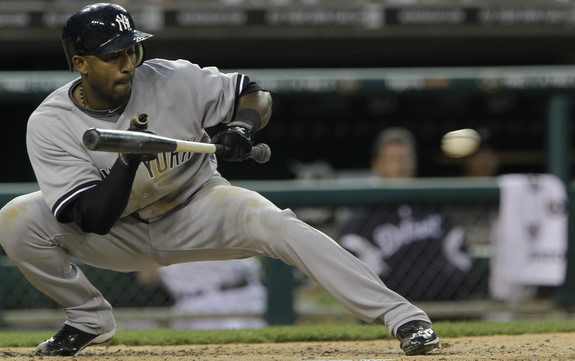 Matt asks: Would you agree that an off-season strategy could be to include E. Nunez in a package for something the Yankees want, while giving his role for 2012 to Corban Joseph?
I would not agree with that, mainly because Joseph can't play shortstop. I assume he played it in high school, but he's been a second baseman almost exclusively as a pro. I'm willing to bet that CoJo could fake short in an emergency, but Derek Jeter's getting up there in age, and the Yankees need someone capable of playing there for an extended period of time without embarrassing themselves. Nunez can do that, Ramiro Pena can maybe do that, but I'm not sure Joseph can. I think if anything, he could step into Eric Chavez's shoes as the lefty bat/corner infielder, but I can understand wanting a veteran in that role.
The CoJo situation will be interesting to watch, because I'm not really sure where he fits in. He's obviously not going to unseat Robinson Cano at second, so maybe it's best to turn into some kind of utility guy that can play first, second, third, and maybe left. Of course, they could always use him as trade bait. I would have no trouble trading Nunez in the right package, but I wouldn't count on Joseph replacing him, at least not in 2012.
Jeff asks: Hey Mike, I read that Zachary Arneson signed for a 20k bonus. Any idea why it was so low compared to other picks before and after his round? Cheers.
Arneson, this year's ninth rounder, was a college senior out of Lewis-Clark State, and college seniors don't have much leverage at all. Their options are either sign or go back to school as a fifth year senior and come out next year with even less leverage. Very rarely do they improve their stock. Seniors definitely get the shaft in the draft game, but that's life. Some other notable college seniors the Yankees have drafted in recent years: Adam Warren ($195k), Tim Norton ($85k), Kyle Roller ($45k), Sam Elam ($40k), T.J. Beam ($20k), and Chris Malec ($1k). Yep, Malec got a grand, that's it.
Update: One thing I forgot to mention … the signing deadline does not apply to college seniors. They are free to sign at any point before the next year's draft.
Sean asks: With St. Louis about to (presumably) tie up a lot of money in Pujols, do you think there is a chance to snag a piece of their rotation in the off-season? Assuming they do not exercise their options for Wainwright or Carpenter, can you see the Yankees pursuing either of them or Edwin Jackson? And if so, what kind of contract would Wainwright be looking for?
Despite the Tommy John surgery, I can't see why the Cardinals would decline Adam Wainwright's options after the season. The team has to pick up both at the same time, and they'll pay him $9M next season and $12M the season after. Even if he comes back and is two-thirds of what he was before (so 4+ WAR instead of 6+ WAR), that's a bargain. They'd be foolish not to pick them up, but if they didn't for whatever reason, I'd want the Yankees to be all over him. Wainwright's a legit ace when healthy, with a fastball-curveball combo that will play anywhere, NL Central or AL East. There's no real precedent for an ace-caliber pitcher hitting the open market after missing the year due to injury, so I have no idea what kind of contract would be appropriate. Maybe one-year, $10M plus incentives and a huge option for 2012 ($18M?) to let him rebuild his value than cash in shortly thereafter? I have no idea, just spitballin'.
Chris Carpenter is a much different story. We've written about him a number of times here, and his option is for $15M next year. That's pricey for a 36-year-old who's still very good (3.10 FIP), but maybe not truly elite anymore. He'd be an ideal stopgap number two type for the Yankees, allowing them to avoid the C.J. Wilsons of the world before going nuts on the 2012 free agent class (Matt Cain, John Danks, Zack Greinke, Cole Hamels, all of them and more will be free agents after next season). Edwin Jackson … meh. I loved him as a rental for this year, but signing him to a multi-year deal as a free agent? I'd rather pass on that.

JCK asks: Pat Venditte has been great since mid-June in Trenton. Everyone says his stuff doesn't play to major league hitters, but he's adjusted to every level so far. Do you think the Yankees protect him this winter?
Venditte's eligible for the Rule 5 Draft this winter, and no, I don't think the Yankees will protect him. David Phelps, D.J. Mitchell, and George Kontos are all going to have to be added to the 40-man roster after the season, and there's only so much room for pitchers on that thing. Venditte's done a great job in the minors, but he doesn't really have an out pitch from either side and it shows in his strikeout rate this year (8.74 K/9 this year vs. 11+ in previous years). He's a great org arm, but there wouldn't be much attention paid to Venditte if he only threw with one arm.  I'm pretty sure some team will grab him in the Rule 5 just to give him a look in Spring Training, the novelty is too tempting, but I can't imagine him sticking in the big leagues for all of 2012. I have to think he'd be offered back at some point.
Alex asks: How involved have the Yankees been in IFA this year? What have been their major signings? It seems as though they've been more quiet on this front than in years past.
The Yankees have only signed one player so far (that we know of), Dominican third baseman Miguel Andujar for $750k. The top guys (Victor Sanchez, Elier Hernandez, and Ronald Guzman) have all signed somewhere, but there is still plenty of talent out there for taking, namely Roberto Osuna, who the Yankees have their eyes on. The entire international market seems to have slowed down recently because MLB has really stepped up their age and identity verification process, but remember that the signing period never ends. There's no deadline, but a new crop of players is added every July 2nd. In fact, the Yankees' two biggest signings last year – Rafael DePaula and Juan Carlos Paniagua – didn't agree to terms until December and March, respectively. You can question their drafting strategies, but there's no way to question the work the Yankees do in Latin America. They consistently produce quality players and prospects year after year, and I see no reason to believe this year will be any different.