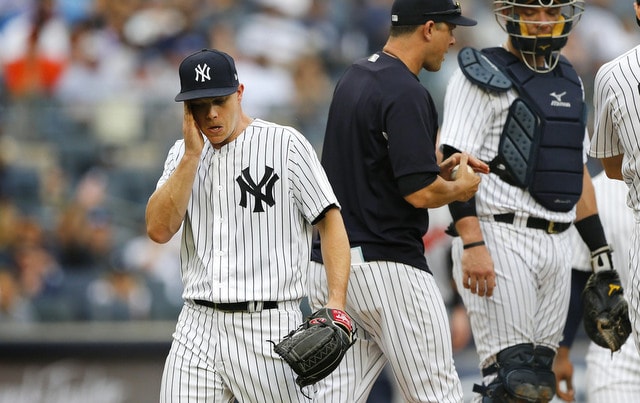 The Sonny Gray era in New York came and went much faster than anyone could have expected. He was one of the 2017's trade deadlines prizes: an already successful 27 year-old with two more seasons under team control. Aside from a rough 2016, Gray was excellent in Oakland and recorded a 3.42 ERA in 705 innings. Alas, Gray was not the same pitcher in pinstripes. He was decent down the stretch in 2017, but 2018 was an abject disaster. Enough so that the Yankees were ready to move on.
Hindsight makes for easy judgement, but the truth is that the Gray trade was a sound decision at the time. How he was handled after joining the club is where we can find fault. It's also a learning opportunity. In this case: if it ain't broke, don't fix it. Gray built his career relying heavily on his fastball and sinker, only going to a curveball or slider as needed. Once he joined the Yankees, that allocation changed.
Since 2015, Yankees' hurlers have thrown 46 percent non-fastballs. That's easily the most frequent in baseball, ahead of the second-place Dodgers (43.4 percent). This isn't a coincidence. Gray, at least in the Yankees' eyes, was the perfect pitcher to implement this philosophy. The thought was that he didn't use his curveball or slider enough. Low usage and high spin rates undoubtedly enticed the Yankees, who saw the under-utilization as an opportunity. Instead, it might have been his downfall.
Marrying the Yankees' philosophy to Gray's pitch usage didn't happen in earnest until 2018. Perhaps that's why Gray was actually decent in the second half of 2017 (3.72 ERA). Although Gray still leaned on hard pitches in 2018, the gap substantially shrunk. For all the debate about having Austin Romine as his personal catcher and whether or not he could handle the Big Apple, maybe more fault should be on the shoulders of the team.
Going forward, the Yankees are unlikely to abandon this pitching style. Hitters have more success against fastballs, so the evidence is in the team's favor. However, if there are any takeaway from the Gray Saga, it's that a one size fits all approach isn't for the best. Sure, a pitcher could have excellent underlying Statcast metrics on his curve or slider, but that doesn't mean those pitches need to be thrown more often. If a guy has had past success without throwing them at a high rate, why change? Making drastic adjustments for a struggling pitcher or one who doesn't have a good fastball is one thing. That wasn't the case for Gray.
On the bright side, the acquisitions of J.A. Happ and James Paxton are of some solace. Granted, neither have breaking balls with elite spin rates like Gray, so it's not like the Yankees were going to try anything new. Rather, it's the fact that the Yankees were willing to trade for them despite not aligning with the club's pitching blueprint. Happ and Paxton go to their heat around 75 percent of the time, yet that didn't scare the Yankees away. Perhaps this is an indication that the Yankees no longer feel the need to find guys that they can mold into their vision. Whatever the case may be, I don't think they'll try changing anyone's pitch usage again anytime soon, unless it's a last resort.