Aaron Boone sees Joe Girardi's non-challenge and raises him a bumbling showcase of managerial incompetence. Boone failed — spectacularly — at the manager's most basic responsibility: Put the team in the best position to succeed. That's all. And he didn't do it. The final score was 16-1 in ALDS Game Three on Monday night. It is the most lopsided postseason loss in Yankees history. An abject humiliation for the Yankees, Boone, and the people that hired him. The Yankees are facing a win or go home Game Four on Tuesday night. They're lucky MLB doesn't count this as two losses.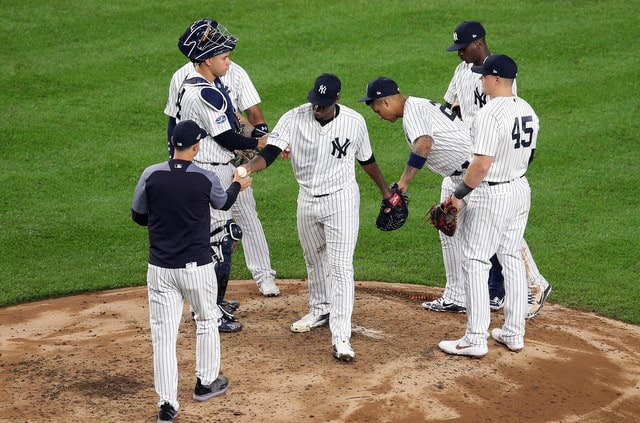 Beating The Red Sox Is Hard Enough When You Don't Have To Overcome Your Own Manager
I don't even know where to start. Might as well start at the beginning then. Luis Severino was terrible. Even in the scoreless first inning, the Red Sox squared him up pretty well, and seven of his 14 balls in play were clocked at 100 mph or better. Seven balls in play at 100 mph or better ties his season high set on May 19th against … the Royals? The Royals. It was obvious early that Severino did not have it.
Absolutely nothing about Boone's bullpen management made sense Monday night. Watching the game live, I thought Severino should've been out in the third inning, specifically after Mookie Betts and Andrew Benintendi opened the frame with back-to-back singles. Benintendi's was bloop, sure, but by then we'd all seen enough to know Severino was not right. The game was still 1-0 at the time! Act quickly and the game could remain within reach!
Instead, Severino remained in to complete the third inning. J.D. Martinez followed the back-to-back singles with a hard-hit sacrifice fly, Xander Bogaerts shot a single to right, and Rafael Devers got a run home with a fielder's choice. Steve Pearce ended the inning with a line out. The Red Sox put six balls in play that inning and four checked in at 100 mph or better. It wasn't until the Bogaerts single that pitching coach Larry Rothschild visited the mound. The Red Sox led 3-0.
When the third inning ended, Lance Lynn and Stephen Tarpley were warming up. The bottom of the order, which featured two lefties (Brock Holt and Jackie Bradley Jr.), was due up in the fourth. Seemed like the perfect time to get Tarpley in there. That's why he's on the roster, right? He's not going to face a lefty in the late innings. A fourth inning appearance against the bottom of the lineup made perfect sense. Why's he one the roster if he's not pitching there?
Inexplicably, Severino was sent back out for the fourth inning. He really should've been out in the third. There was no good reason to send him out for the fourth. Severino had nothing and the Yankees were down only 3-0 at the time. A three-run deficit at Yankee Stadium with six innings play? The game was far from over. Move on from Severino and ask the bullpen to keep it close. Seemed obvious. Obvious to anyone but Boone, that is.
This is what kills me: Severino was left in to load the bases with no outs. That is impossibly stupid. Boone was trying to steal some outs against the bottom of the lineup. That's something you do in June or July, not the postseason. It looked to me like Boone got caught flat-footed. Severino allowed two first pitch singles and a four-pitch walk. It happened very fast and the bullpen didn't have enough time to get warmed back up. That's not a good excuse, mind you. That's just what I think happened.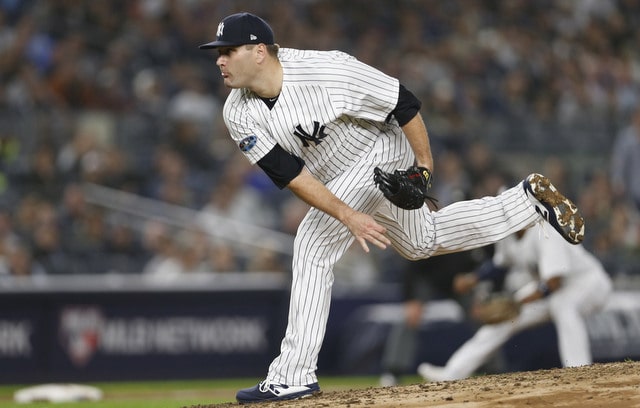 At this point, we've already got two Boone blunders. Severino should've been out in the third inning, I thought. At the very least, he shouldn't have gone out for the fourth inning. Then he was left in to load the bases with no outs! For the top of the lineup! With the Yankees only down three! In a postseason game! Good gravy. What is that crap? Remember how quickly Boone pulled J.A. Happ in Game One? Where the hell was that hook in Game Three?
Because leaving Severino in to load the bases wasn't bad enough, Boone made the impressively bad decision to bring Lance Lynn — Lance Lynn! — into that bases loaded jam. Against the top of the lineup, no less. Consider some of the arms out in the bullpen:
Aroldis Chapman: 43.9% strikeouts
Dellin Betances: 42.3% strikeouts
David Robertson: 32.2% strikeouts
Chad Green: 31.5% strikeouts
No manager is going to bring his closer into the fourth inning no matter the situation, so Chapman was a non-option there. Betances? Why not? He entered the fifth in the Wild Card Game. The top of the order was due up and Dellin's been the "the other team's best hitters specialist" so far this postseason. Green? He entered ALDS Game One in the third inning! Aside from Chapman, those dudes should've been in play in that fourth inning.
Instead, Boone went to Lynn, essentially a fastball only guy with a league average 23.0% strikeout rate. Pretty much the last guy in the bullpen I want brought into a bases loaded, no outs situation. Going to an actual reliever to escape that bases loaded jam (or at least limit damage) before bringing in the inferior long man is New Age Analytical Manager 101 stuff. Boone failed to put the team in the best position to succeed, period.
Here is Boone's explanation for sticking with Severino and going to Lynn in that fourth inning:
"Just hoping he could get something started to get through the bottom of the lineup there, and then we would have — we're going to have Lynn ready for (the righty bats) no matter what. And then once the first two guys got on there, thinking (No. 9 hitter Jackie Bradley Jr.) is in a bunting situation, thinking we're going to take him out and go to the pen there. It just snowballed on him … The matchup we want was Lynn through the top against the righties. So once those two guys got on and it became a bunting situation, we were just going to ride Sevy through that spot."
So basically the Yankees were hoping Bradley would bunt the runners over so they could bring Lynn in to face the righty — the righty being Mookie Betts, of course — with runners on second and third and one out. Hmmm. The Yankees are big into analytics and it works great for them. I question anything that spits out "Lynn is a better matchup against Betts than those other dudes in the bullpen."
Anyway, Lynn couldn't stop the bleeding, of course. He walked the first batter he faced on four pitches to force in a run, then gave up a bases-clearing double to Andrew Benintendi. The rout was on. And somehow it got worse. Lynn retired only one of the four batters he faced, so Boone brought Green into the game. To recap:
Lynn entered with the bases loaded and no outs with the Yankees down 3-0.
Green entered with runners on the corners and no outs with the Yankees down 7-0.
Trash managing. Boone seemed completely oblivious to his players' strengths and the personnel available to him. And! And to make matters worse, because Lynn bowed out early, Green (29 pitches) and Jonathan Holder (38 pitches) soaked up multiple innings each and probably won't be available for Game Four. This game was managed so poorly that the bullpen is going into Game Four shorthanded. A spectacularly terrible game for Boone. Among the worst managed games I've ever seen.
Nothing Against Eovaldi
I suppose the good news is the Yankees got their terrible pitching night and their terrible hitting night out of the way in Game Three. They had five singles and no walks in seven innings against Nathan Eovaldi, and the run didn't score until the Yankees were down 10-0. Eovaldi threw 45 pitches in the first three innings and none of his 52 pitches in innings four through seven were stressful.
Those five singles plus a garbage time walk were the only baserunners the Yankees had in Game Three. Giancarlo Stanton had two singles plus another rope that was right at an outfielder. As crappy as the Yankees have been against Eovaldi this year, Stanton was on everything in Game Three. Aaron Judge, Luke Voit, and Gleyber Torres had the other singles. Adeiny Hechavarria had the walk. Yuck.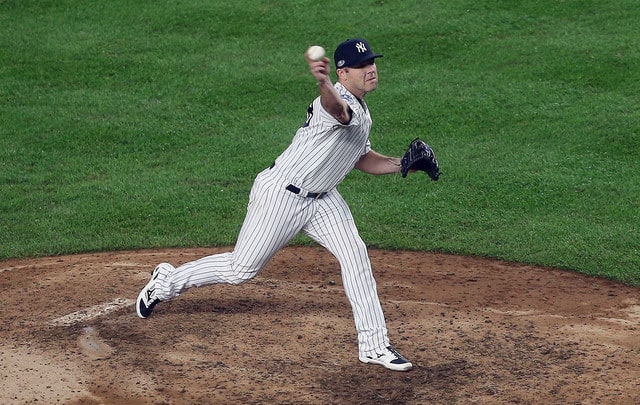 Leftovers
Congrats to Austin Romine. He is the second position player in baseball history to pitch in the postseason. Cliff Pennington is the other. Somehow I was at both games. Romine gave up a two-run home run to Brock Holt, which completed the cycle. First postseason cycle in baseball history. Pretty embarrassing! Romine is the first Yankees position player to pitch to Brendan Ryan threw two innings (!) against the Astros in August 2015.
Tarpley got knocked around pretty good in his inning of work. He got knocked around so hard Romine had to pitch. Three runs allowed on four hits and a walk, plus two wild pitches. One sailed behind the left-handed batter. As mentioned earlier, this was the most lopsided postseason loss in franchise history. The list:
2018 ALDS Game Three vs. Red Sox: 16-1
2001 World Series Game Six vs. Diamondbacks: 15-2
1999 ALCS Game Three vs. Red Sox: 13-1
2001 ALCS Game Three vs. Mariners: 14-3
1996 World Series Game One vs. Braves: 12-1
And finally, the only person to have a worse night than Boone was first base umpire Angel Hernandez. He had three calls overturned in the first four innings! Plus a fourth reviewed! An another play in the late innings that probably would've been reviewed had the score not been so lopsided.
Box Score, WPA Graph & Standings
ESPN has the box score and MLB has the updated standings. Here's our Bullpen Workload page and here's the win probability graph:

Source: FanGraphs
Up Next
An elimination game. The Yankees are down 2-1 in the best-of-five ALDS and that means Tuesday night's CC Sabathia vs. Rick Porcello game is a literal must win. That's an 8:07pm ET.