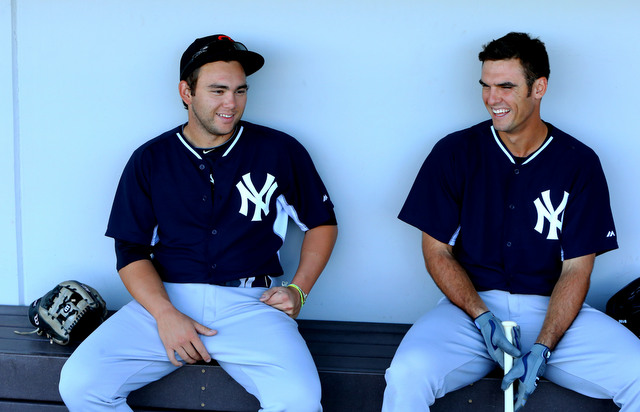 The old saying is you need five years to truly evaluate a draft class, though I don't really buy that. I think three years is enough time to give you a pretty good idea of what you have. By then the prospects have separated themselves from the suspects, and anyone who emerges afterward tends to fall into "late-bloomer" territory. Five years is the standard though, which means it's time to look back at the Yankees' 2011 draft class.
The Yankees both lost and gained a draft pick as a result of free agent compensation during the 2010-11 offseason, back when the old Type-A/B system was still in place. They surrendered their first round pick (31st overall) to the Rays for signing Rafael Soriano, and they picked up a supplemental first rounder (51st overall) as a result of losing Javy Vazquez. Vazquez, a Type-B free agent, agreed beforehand to decline arbitration, so the Yankees got a pick when he signed with the Marlins after the 2010 season.
Right now the 2011 draft class looks like the worst in Damon Oppenheimer's ten drafts as scouting director. The Yankees drafted 50 players and signed 23, and of those 23, only three have reached the big leagues. There isn't a single 2011 signee on the team's active roster at the moment, though there are two on the Major League DL. (Two unsigned players are currently in the show, for what it's worth.) Here are our five-year look-backs at the 2007, 2008, 2009, and 2010 drafts. Let's dive into 2011.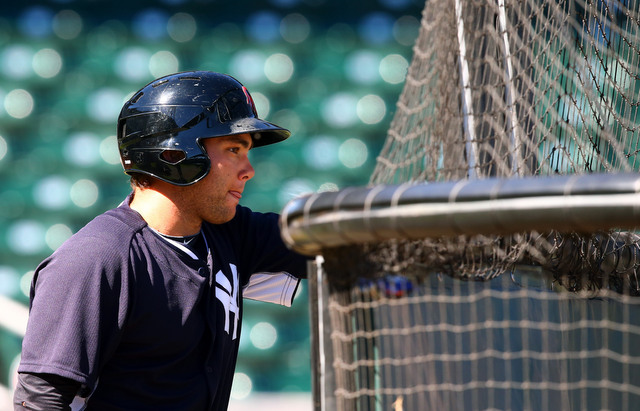 The Top Pick
The compensation pick for Vazquez was New York's top pick in the 2011 draft, and they used it on Florida high school third baseman Dante Bichette Jr. Joe Girardi and Dante Sr. are close friends from their time as players with the Rockies, so instantly it became a thing that the Yankees took Dante Jr. as a favor to Girardi. That, of course, is totally ridiculous. Teams do that that stuff in the 30th round. Not with their top pick.
Prior to the draft Baseball America ranked Bichette as the 108th best prospect in the draft class. He did not make Keith Law's top 100 prospects list. One year after reaching big time to select Cito Culver, it appeared the Yankees had done it again. Then Bichette went out and hit .342/.446/.505 (172 wRC+) with three homers and a 12.5% walk rate in 52 rookie ball games after signing for a slightly above slot $750,000 bonus, shutting everyone up for a while. He was named MVP of the Rookie Gulf Coast League in 2011.
The success did not last, however. Bichette jumped to Low Class-A in 2012 and hit .248/.322/.331 (84 wRC+) with three homers in 122 games. Questions about the big hitch in his swing and his long-term position persisted. Dante Jr. returned to Low-A in 2013 and actually performed worse: .214/.292/.331 (82 wRC+) in 114 games. Since his monster GCL showing, Bichette has hit .237/.311/.338 (88 wRC+) with 30 homers, a 9.0% walk rate, and a 22.0% strikeout rate in a little more than 2,200 minor league plate appearances.
Bichette, now 23, is currently a fill-in corner infielder with Double-A Trenton, where he's hitting .194/.321/.295 (83 wRC+) in 46 games. He'll be pushed to first base and DH full-time once Miguel Andujar is promoted in the coming weeks. The Yankees did not have a first round pick in 2011, though spending pools were not yet a thing that year, so they were free to spend big on a top talent who fell to that 51st pick. (Daniel Norris was the big name at the time.) Instead, they bought into Bichette's long-term offensive potential, which he's failed to fulfill.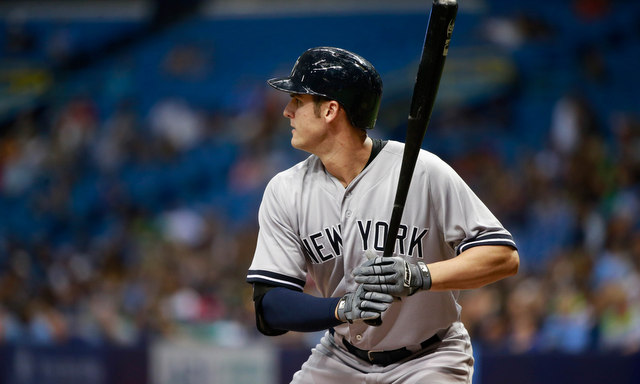 The Top Prospect
As it turns out, the Yankees did get a big corner infield bat in that 2011 draft class. It wasn't Bichette though. It was their fifth round pick, Colorado high school catcher Greg Bird. The Yankees gave Bird a $1.1M bonus, the largest bonus they handed out that year. They believed in the bat that much. Nagging back trouble forced Bird to move from catcher to first base pretty much instantly — he caught only three games in the minors — but that was fine. He was a bat first prospect either way.
Over the last few seasons Bird has mashed his way up the minor league ladder, and he reached the big leagues in the second half of last season. He was supposed to be a part-time first baseman and DH, but Mark Teixeira's injury thrust him into a full-time role, and Bird responded by hitting .261/.343/.529 (137 wRC+) with eleven homers in 46 games. Holy crap, the Yankees had themselves a young homegrown offensive cornerstone. It had been too long. Way too long.
So, naturally, Bird hurt his shoulder over the winter and needed surgery, ending his 2016 season before it even had a chance to begin. The Yankees aren't allowed to have nice things, apparently. Bird is by far the best player and prospect the Yankees drafted in 2011, and he is clearly their first baseman of the future. The shoulder surgery has cast some doubt on that future now, but hopefully he comes back strong next year and picks up where he left off.
Unsigned Second Rounder
The Yankees did not sign their second round pick in 2011, Texas lefty Sam Stafford. The team reportedly agreed to sign Stafford to an above slot $400,000 bonus shortly after the draft, but they found something scary in his shoulder during his pre-signing physical, so they reduced their offer to $200,000. That was roughly half his slot value. Stafford rejected the offer and returned to school.
The next spring, Stafford blew out his shoulder and did not pitch at all for the Longhorns as a senior. The Rangers rolled the dice and gave him a small bonus as a 13th round pick in 2012, and Stafford threw 94.1 ineffective innings in their system from 2013-14 before getting hurt again. He hasn't pitched since. Sucks. The Yankees did get a compensation pick (89th overall) in the 2012 draft for failing to sign Stafford. They used that pick on Texas high schooler Austin Aune.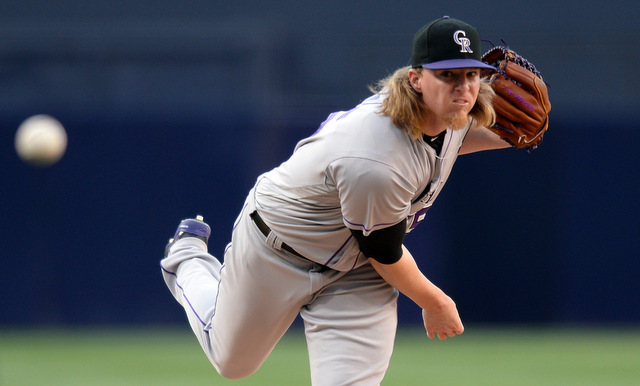 The One Who Got Away
No team signs all of their draft picks. That's just the way it is. Some kids decide to go to college and others decide to return to college for their senior season for whatever reason. And, inevitably, a few of those unsigned players develop well and improve their stock, so they re-enter the draft down the road as much better prospects. That's exactly what happened with righty Jon Gray, who the Yankees picked in the tenth round in 2011.
At the time, Gray was a chubby junior college kid who would occasionally touch the mid-90s and flash a good slider. The Yankees liked him enough to offer him $500,000 or so, but Gray passed and followed through on his transfer to Oklahoma. While with the Sooners, Gray improved his conditioning and mechanics, and suddenly he started throwing in the upper-90s regularly. He topped 100 mph several times as a junior in 2013. His slider and changeup became big time weapons soon.
The Yankees never did get a chance to draft Gray again. The Rockies made him the third overall pick in the 2013 draft and paid him a $4.8M bonus. He reached the big leagues in the second half of last season. Gray is falling victim to Coors Field at the moment (5.42 ERA in 98 innings), but his strikeout (25.1%) and walk (7.7%) rates as well as his FIP (3.52) are very promising. It's impossible to know how Gray would have developed had he signed with the Yankees in 2011. His entire career path would have changed. That doesn't make losing out on him any easier to swallow.
Prep Misses
The Yankees went very heavy on high school players throughout the 2011 draft. In fact, Stafford was the only college player they selected in the first seven rounds. Righty Jordan Cote (third round), third baseman Matt Duran (fourth), and first baseman Bubba Jones (seventh) all failed to make it out of Low Class-A and have since been released. Cote's stuff never did tick up as he filled out his 6-foot-5 frame while Duran and Jones simply didn't hit.
After Bird, the next best player to come out of the top seven rounds of the 2011 draft is outfielder Jake Cave, who the Yankees selected out of a Virginia high school in the sixth round. They gave him a big $825,000 bonus too. Cave broke his knee cap in a home plate collision in his first pro game and did not return to the field until 2013. He's since blossomed into a solid outfield prospect who got a look with the Reds as a Rule 5 Draft pick this spring. Cave did not stick with Cincinnati and he is currently back with Triple-A Scranton.
Beyond the top seven rounds, the Yankees also rolled the dice on several high school arms later in the draft. Righty Hayden Sharp (18th round) never made it out of rookie ball before being released. Lefty Dan Camarena (20th) has been solid over the years and is currently a Double-A depth arm. Lefty Chaz Hebert (27th) finally broke out last season before needing Tommy John surgery this year. Righty Joey Maher (38th) is still kicking around in the system as a depth arm.
The Yankees went big on projectable prep players in the 2011 draft, and now, five years later, they have one stud in Bird and one solid prospect in Cave to show for it. Hebert looked like he might be a guy too before blowing out his elbow this spring. The Yankees have emphasized college players in recent drafts because they've had a hard time developing raw prep players, partly because of this draft class.
Trade Bait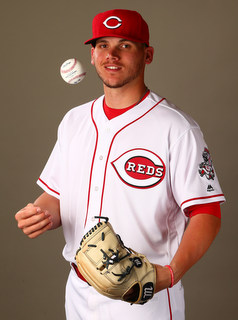 The second best prospect the Yankees drafted in 2011 has already been traded away. They gave North Carolina high school righty Rookie Davis a $550,000 bonus as their 14th round pick, and he developed into one of their top pitching prospects from 2012-15. Last season Davis had 3.86 ERA (2.47 FIP) with a 23.5% strikeout rate and a 4.7% walk rate in 130.2 innings split between High-A Tampa and Double-A Trenton.
This past offseason the Yankees included Davis as the headliner in their trade package for Aroldis Chapman. The 23-year-old currently has a 1.66 ERA (4.49 FIP) in 38 Double-A innings with Cincinnati this year, though he's weirdly been unable to miss bats (12.3 K%). Then again, his strikeout rate dropped from 25.9% in High-A to 16.7% in Double-A following his promotion last season, so maybe it shouldn't be much of a surprise.
The Yankees did use another one of their 2011 draftees in a trade, though it was a minor deal. Memphis righty Ben Paullus (19th rounder) had a 4.34 ERA in 149.1 relief innings from 2011-13 before being traded to the Padres for Dean Anna in November 2013. Paullus has thrown only 37.2 innings since the trade due to injury. He missed the entire 2015 season with … something. I can't find what.
The Other Notable Unsigned Players
The Yankees failed to sign three 2011 draft picks only to re-draft them a few years later. Florida junior college righty Nick Goody (22nd round) turned New York down for a season at LSU. The Yankees drafted him in the sixth round the next year and were able to sign him that time. Goody is now in the MLB bullpen. The team drafted righty Jordan Foley (26th) out of a Texas high school in 2011. They drafted him again out of Central Michigan in 2014, that time in the fifth round. Texas high school shortstop Kevin Cornelius (42nd) was New York's 31st rounder out of a junior college in 2013.
Here are the other notable unsigned players from the 2011 draft: righty Garrett Nuss (32nd), who went to junior college and signed with the Angels as a seventh rounder in 2013; lefty Taylor Guilbeau (39th), who turned the Yankees down in 2011 and was a tenth round pick by the Nationals last year; righty Adam Ravenelle (44th), who spent three years at Vanderbilt before signing with the Tigers as a 2014 fourth round pick; lefty Wes Benjamin (48th), who was a fifth round pick by the Rangers in 2014. Ravenelle is the best prospect of the bunch right now. MLB.com ranks him as Detroit's No. 23 prospect.
At the time of the draft, the biggest name the Yankees failed to sign was Rice outfielder Jeremy Rathjen (41st). He was projected to go in the top five rounds coming into the spring, but a torn ACL caused him to slip all the way down to the 41st round. Rathjen opted to return to school for his senior year and it seemed like a big miss for the Yankees. The Dodgers took Rathjen in the 11th round in 2012 and he struggled with injuries and swing-and-miss issues before being released in January.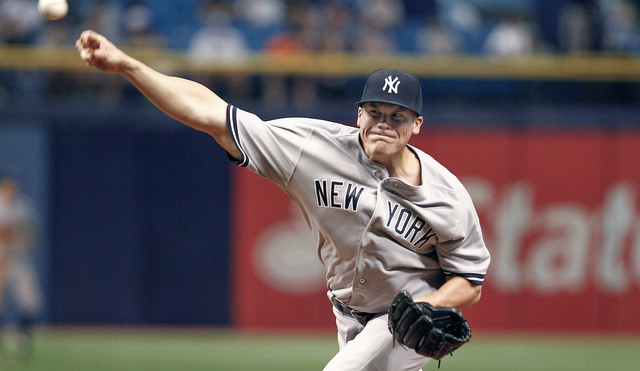 The Best of the Rest
Not counting Goody, who is technically a 2012 draftee, the Yankees have had two 2011 draft picks reach MLB in addition to Bird: righty Branden Pinder (16th) and lefty Matt Tracy (24th). Pinder has been up-and-down with the Yankees a bunch of times the since the start of last season and is currently on the Major League DL rehabbing from Tommy John surgery. Tracy was called up for one day last season. He was released last week.
The only other notable 2011 draft pick still kicking around in the farm system is right-hander Mark Montgomery (11th). He quickly developed into one of the Yankees top relief prospects before a shoulder injury robbed him of stuff and prospect status. I count eight 2011 draft signees who are still in the organization: Bichette, Bird, Cave, Montgomery, Pinder, Camarena, Hebert, and Maher. Davis and Paullus proved useful as trade chips.
* * *
The 2011 draft class is going to come down to Bird, plain and simple. Pinder and Davis have been useful in different ways and maybe Cave turns into something nice at some point. Bird's the only player from the draft class with the potential to be a true impact player though, and true be told his ceiling may be limited by struggles against lefties and shaky defense. Bichette hasn't worked out and Stafford, while a fine pick as a hard-throwing lefty, blew up unexpectedly. Bird is New York's only real chance to get something more than a spare part player out of the 2011 draft.