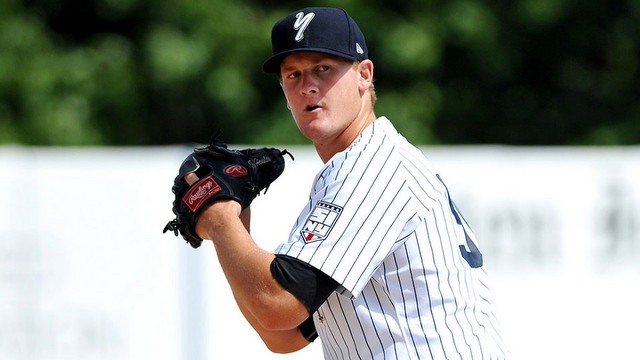 Baseball is a young man's game these days. Teams are better at scouting and player development than ever before, so we're now seeing players get to the big leagues and have an impact in a hurry. The old saying is you need five years before you can properly evaluate a draft class. I don't think that's the case anymore. Nowadays teams have a pretty good idea of what they have three years after the draft.
The 2017 amateur draft begins next Monday, and since five years is the historical standard, it's time to look back at the Yankees' 2012 draft haul. That was the first draft with bonus pools, meaning teams could not spend freely anymore. The Yankees went 97-65 in 2011 and held the 30th overall pick in the 2012 draft, giving them a $4,192,200 bonus pool. They did have an extra pick that year too. The Yankees received the 89th overall selection as compensation for failing to sign second rounder LHP Sam Stafford in 2011.
Barring a surprise development at some point, the 2012 draft is completed devoid of impact for the Yankees. They made 41 picks, signed 28 of them, and only five have reached MLB, all as spare part players. Only two of the other 23 picks even have a chance at a big league call-up, and neither projects to be an impact player. Not a great draft for the Yankees. Let's review their 2012 draft haul.
The Top Pick
No one quite knew what to expect in the 2012 draft because of the new bonus pools. Would teams spread the bonus money around? Spend big on one player and save elsewhere? Turns out it was a little of both. Talent came off the board much more linearly. The top prospects went at the top of the draft, which is how it should be.
The Yankees used their first round pick, that 30th overall selection, on Oklahoma HS RHP Ty Hensley. Prior to the draft Hensley was ranked as the 23rd best prospect available by Baseball America. MLB.com ranked him 26th and Keith Law (subs. req'd) ranked him 36th. When New York's pick rolled around, Hensley was the second best prospect remaining on Baseball America's board behind Lance McCullers Jr. McCullers slipped because he floated huge bonus demands.
"We're excited to get a guy with such a high ceiling," said scouting director Damon Oppenheimer after the draft. "He has the ideal body for a high school pitcher, as well as power stuff, and has the ability to be a high-end starter. He's demonstrated quality makeup and has shown himself to be a hard worker, which makes him a quality pick for us."
The physical issues with Hensley started almost immediately. The two sides quickly agreed to a full slot $1.6M bonus, though the Yankees found what was called an "abnormality" in Hensley's shoulder during his physical — there were rumors he was missing 40% of his labrum, though that was never confirmed — so the two sides went back to the negotiating table. It wasn't until the day of the signing deadline that they agreed to a reduced $1.2M bonus.
The Yankees and Hensley agreed to the reduced bonus so late that the team couldn't use the $400,000 in savings elsewhere. There wasn't enough time to negotiate with other players. That $400,000 in bonus pool space was unspent. Despite the shoulder abnormality, Hensley made his pro debut later that season, throwing 12 innings with a 3.00 ERA (4.43 FIP) in rookie ball. He struck out 14 and walked seven in 12 innings.
The next time the Yankees would see Hensley on the mound in an official game was 2014. He opened 2013 back in Extended Spring Training, and that May hip issues sent him to the operating table. Hensley had surgery on both hips to correct impingements, and during his rehab he needed another surgery to treat a hernia. It wasn't until June 2014 that Hensley got back into official games. He threw 30.2 rookie ball innings with a 2.93 ERA (3.38 FIP) and a 40/11 K/BB.
That was the last time Hensley would pitch for the Yankees. During the 2014-15 holiday season, Hensley was brutally attacked by a former college football player, and once he recovered from his injuries, he blew out his elbow in Spring Training. Hensley missed the 2015 season with Tommy John surgery. Then, while rehabbing in May 2016, he blew out the new ligament and needed another Tommy John surgery. In parts of five seasons, Hensley threw 42.1 innings.
This past offseason Hensley was Rule 5 Draft eligible for the first time and of course the Yankees didn't add him to the 40-man roster. How could they? I know he's a former first round pick, but the farm system is loaded and Hensley hadn't pitched since 2014. The Yankees didn't just leave him unprotected for the Major League phase of the Rule 5 Draft. They left him unprotected for the minor league phase too. They used their reserve list spots on other players.
The Rays selected Hensley with the third pick of the Triple-A phase of the Rule 5 Draft this past December, and the minor league phase works differently than the Major League phase. Tampa doesn't have to keep him on their roster all season or anything like that. Hensley is theirs to keep now, with no roster shenanigans. He is still rehabbing from the back-to-back elbow constructions and has not pitched this year. He's probably out until 2018.
It would be very easy to trash the Yankees for a bad first round pick, especially given their first round track record since Derek Jeter, but geez, how could they see all this coming? Hensley's talent isn't the problem. It's been the injuries. A shoulder abnormality. Two hip surgeries. A hernia surgery. Facial fractures after getting jumped in the offseason. Two Tommy John surgeries. Rough. There's no way to predict that. Needless to say, the Yankees received zero value from their 2012 first rounder. Sucks.
The Bonus Baby
Ever since the bonus pools were put in place, the Yankees have been using their picks in rounds 6-10 on cheap college seniors to save bonus money. Lots of teams do that now. College seniors have no leverage because their options are turn pro or get a real job, so the Yankees agree to deals with them ahead of time. They then redirect the bonus pool savings to other players.
In 2012 the Yankees used their college senior savings on Texas HS SS Austin Aune, the compensation pick for not signing Stafford in 2011. He signed for $1M even though he was slotted for $548,400. Aune was a two-sport star in high school who was a good quarterback recruit with scholarship offers in his pocket. The Yankees had to buy him away from school, hence the seven-figure bonus.
Aune's athleticism has never been in question. He just hasn't turned that athleticism into baseball skills the same way Dustin Fowler, another multi-sport high school kid, has been able to. Aune spent three years in rookie ball, one year in Low-A, and is now in his second year in High-A. The 23-year-old is a career .234/.291/.368 (91 wRC+) hitter with 36.7% strikeouts and 7.2% walks in over 1,300 minor league plate appearances. I suppose you can never really rule out a talented kid figuring things out, but yeah, Aune's stalled out.
The Depth Players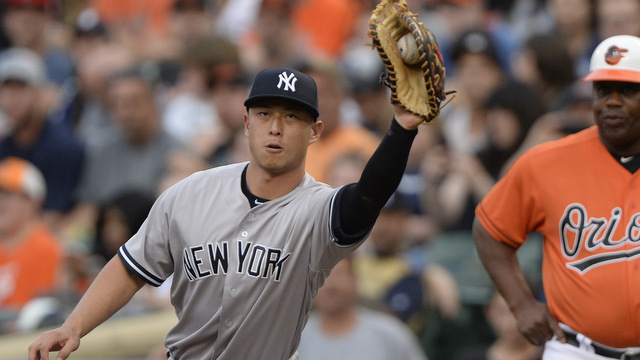 Like I mentioned earlier, five players from the 2012 draft class have reached the big leagues, and four did so with the Yankees. Only one of the four remains in the organization. That's Arizona 2B/OF Rob Refsnyder (5th round), who hit his way up the minor league ladder and reached the big leagues in 2015. He hit .302/.348/.512 (131 wRC+) with two homers in 47 plate appearances late that year and actually started the AL Wild Card Game against the Astros.
Refsnyder was an outfielder in college and the Yankees moved him to second base in pro ball because, well, that's where he would be most valuable. He's worked hard at it, but he's always been a defensive liability, and his bat doesn't offer enough power to make up for it. Refsnyder has been up and down a few times this season and he's currently on the big league bench. The Yankees have used him primarily at first base, but also some second base and right field. It's tough to see how Refsnyder helps the Yankees as anything other than a utility player going forward.
Two other 2012 draftees who debuted with the Yankees were relievers: LSU RHP Nick Goody (6th round) and San Diego LHP James Pazos (13th). Both debuted in 2015 and served as up-and-down arms with New York from 2015-16. Goody threw 34.2 innings with a 4.67 ERA (5.11 FIP) for the Yankees. Pazos had a 5.40 ERA (6.26 FIP) in 8.1 innings. Both were traded away in minor deals this offseason.
The final big leaguer from this draft class (so far) never did appear in an MLB game. Alabama OF Taylor Dugas (8th round) was called up for two days in July 2015 as a short-term injury replacement. Carlos Beltran was dealing with an oblique issue and the only healthy position player on the 40-man and not in MLB at the time was Gary Sanchez. The Yankees called up Dugas, he sat on the bench for a game against the Angels, flew back to New York on the off-day, then was dropped from the roster. He never returned to MLB. At least Dugas got affordable health care for life. He was released last April.
The Trade Chips
The Yankees have used a few 2012 draftees as trade chips over the years. The first to go was Faulkner RHP Corey Black (4th round), who went to the Cubs for Alfonso Soriano at the 2013 trade deadline. Black was one of New York's better pitching prospects at the time, and Soriano made it known he wouldn't waive his no-trade for any team but the Yankees, so Chicago had no leverage. Brian Cashman was waiting them out before ownership reportedly stepped in and agreed to trade Black.
Black, 25, has transitioned from starter to full-time reliever since the trade, and it wasn't until last season that he reached Triple-A. He had a 4.25 ERA (3.66 ERA) with 25.9% strikeouts and 15.1% walks in 53 innings between Double-A and Triple-A in 2016, then went unpicked in the Rule 5 Draft after the season. Black's elbow gave out in Spring Training this year and he underwent Tommy John surgery, so he's currently rehabbing.
The next 2012 draftee to be traded was Miami C Peter O'Brien (2nd round). He put up unbelievable power numbers in the farm system — 65 homers in 273 games! — but his lack of plate discipline and lack of a position prevented him from being a top prospect. The Yankees traded O'Brien to the Diamondbacks for Martin Prado at the 2014 deadline. He made his big league debut as a September call-up in 2015, did this …
… and has bounced around since. O'Brien has never not annihilated minor league pitching — he's a career .261/.312/.515 (123 wRC+) hitter with 120 homers in just over 2,000 minor league plate appearances — but he's been unable to stick in the big leagues. Already this year he's gone from the D'Backs to the Royals to the Rangers to the Reds in minor trades and waiver claims.
Goody and Pazos are the other two 2012 draftees the Yankees have traded. Goody was designated for assignment to clear a 40-man roster spot when Aroldis Chapman was signed, then dealt to the Indians for pitching prospect Yoiber Marquina. He's been unbelievable for Cleveland. A 0.34 ERA (2.39 FIP) in 21 innings unbelievable. I always liked Goody. His slider was promising. Anyway, Pazos went to the Mariners for pitching prospect Zack Littell in a 40-man roster space clearing move over the winter. He has a 2.49 ERA (2.93 FIP) in 25.1 innings with Seattle this year.
The Two Remaining Prospects
There are still 2012 draftees in the farm system with a chance — a chance — to reach MLB at some point. Utah HS RHP Brady Lail (18th round) was an extremely raw high schooler the Yankees developed into a bonafide prospect, though he's hit a wall in Triple-A the last few years. Still, the Yankees brought Lail to big league camp as a non-roster player the last two years, so they like him. A stint as an up-and-down shuttle arm isn't out of the question down the line.
The other 2012 draft pick with a chance to help the Yankees was selected one round after Lail: Central Michigan LHP Dietrich Enns (19th round). Enns has, oddly enough, really taken off since having Tommy John surgery in 2014. He has a 1.41 ERA (3.04 FIP) in 204.2 minor league innings since getting his new elbow ligament. The Yankees added Enns to the 40-man roster this past offseason to protect him from the Rule 5 Draft. He opened this season back in Triple-A and is currently on the disabled list with a shoulder issue. Once Enns heals up, he'll be a call-up candidate.
The Notable Unsigned Players
As is always the case, the Yankees did not sign all their draft picks in 2012. One of those unsigned picks later become a first rounder. They used their 28th round pick on Florida HS OF D.J. Stewart, who didn't sign and went on to hit .344/.481/.570 with 27 home runs in 177 games at Florida State. The Orioles selected him with the 25th overall pick in the 2015 draft. Stewart is currently hitting .251/.339/.446 (120 wRC+) at Double-A, which isn't great for a bat-only player whose best position is designated hitter.
Four other unsigned 2012 draftees were selected in the top ten rounds in future years. Here's the list:
Texas A&M SS Mikey Reynolds (20th round): Fifth round pick by the Braves in 2013. He was in an independent league by 2015 before getting back into affiliate ball in 2016.
Maryland LHP Jimmy Reed (21st round): Went to the Cardinals in the sixth round in 2013. He missed all of last season with an injury and is just now getting back into game action.
Georgia C Kyle Farmer (35th round): The Dodgers grabbed him in the eighth round in 2013. Farmer is currently an organizational depth catcher at Double-A and Triple-A.
Florida HS 3B David Thompson (38th round): Signed with the Mets as their fourth rounder in 2015. MLB.com currently ranks him as their 23rd best prospect.
I suppose it's worth noting the Yankees did not sign Alabama JuCo RHP Bret Marks as their 22nd round pick in 2012, then re-drafted him out of Tennessee in the 15th round in 2015. He soaked up some rookie ball innings after the draft that year and was released shortly there after.
Stewart is clearly the one who got away even though he's a just on okay prospect. Thompson is probably someone the Yankees wish they were able to sign in 2012 as well. Otherwise there are no significant unsigned players from this draft class, a la Jon Gray in 2011.
Still In The System
Seven 2012 draftees are still in the farm system. Four of them are Aune, Refsnyder, Lail, and Enns. The other three are Mississippi 1B Matt Snyder (10th round), Montana HS LHP Caleb Frare (12th round), and Florida HS RHP Jose Mesa Jr. (24th round). Yes, the Yankees really drafted a high school kid from Montana. None of those three players are big league prospects. They're organizational depth players. I suppose Frare could get a cup of coffee at some point because he's left-handed and breathing, but it seems unlikely. Snyder and Frare are both Double-A right now. (Snyder is on the disabled list.) Joe Table II is with High-A Tampa.
The Best of the Rest
Wisconsin HS OF Nathan Mikolas (3rd round) had a promising hit tool but not much else. He never grew into any power and was released back in March after topping out at Low-A … Fresno State RHP Taylor Garrison (7th round) spent a few years in the system as a solid swingman. He was released followed the 2015 season with a career 2.85 ERA in 202 innings … Auburn RHP Derek Varnadore (9th round), Rice RHP Andrew Benak (14th round), and Samford RHP Charles Basford (37th round) all spent a few years in the lower levels as depth arms … Florida HS C Chris Breen (12th round) and Canada HS RHP Dayton Dawe (15th round) were raw prep players with some tools who never quite figured it out.
* * *
Unless something very surprising happens, like Enns carrying his minor league performance over to the big leagues, the most impactful prospect the Yankees drafted in 2012 is Black, and that's only because he was traded for Soriano, who gave the Yankees an excellent half-season in 2013. O'Brien turning into Prado, who turned into Nathan Eovaldi, is an honorable mention. Guys like Refsnyder and Goody and Pazos are useful depth players, but when all you get out of a draft class is depth players, it was a tough draft. No doubt this one didn't work out well for the Yankees.