The 2014 season is over and now we'll look back at the year that was. Our old What Went Right/Wrong format has gotten stale, so it's time for a new review format. We'll review individual players, performances, tendencies, all sorts of stuff in the coming days and weeks.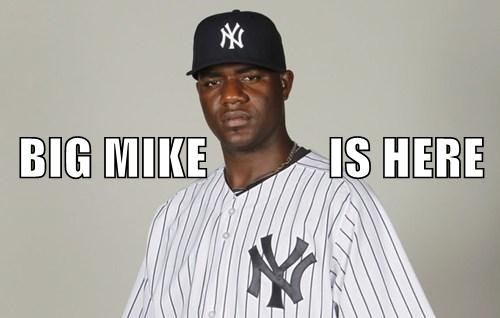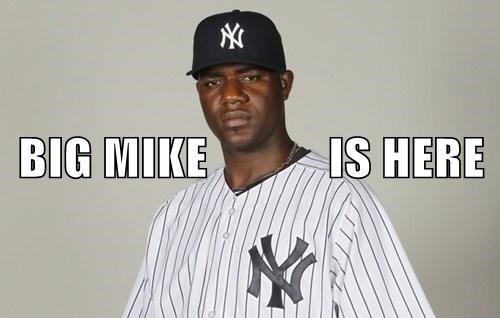 You'll have to forgive me for being skeptical about Michael Pineda coming into the 2014 season, but I know I wasn't alone. He spent his first two years with the Yankees either injured or in the minors — he was both injured and in the minors at one point late last year — and with each passing day the trade looked more and more like a total disaster for both teams. Both the Yankees and Mariners moved top chips for what looked like zero return. Then the 2014 season happened.
Part One: Spring Training
Pineda, who turned 25 in January, came to Spring Training this year fully healthy for maybe the first time as a Yankee. Who knows what was up with his shoulder back in 2012? He came to camp in shape (unlike 2012) and with a chance to win a rotation spot. The Yankees weren't going to hand Pineda anything after he missed the entire 2012-13 seasons and I didn't blame them one bit. Back in February, he was a total unknown who had to earn his roster spot.
In camp, Pineda had to compete against the likes of David Phelps, Adam Warren, and Vidal Nuno for the final spot in the rotation, and he flat out smoked 'em. He allowed three runs (two earned) in 15 innings while striking out 16 and walking one, but, most importantly, he looked healthy and strong. The ball was coming out of his hand well, his slider was filthy, and even his changeup looked promising. There was no competition by the end of Spring Training. Pineda won the job with ease and everyone was looking forward to seeing what he'd do in the regular season.
Part Two: Finally
Eight-hundred-and-two-days after the trade that brought him to New York, Michael Pineda threw his first meaningful pitch for the Yankees. He made his first start in pinstripes on April 5th, in the team's fifth game of the season. Here's how it went:
Pineda held the Blue Jays to one run on five hits and no walks in six innings in his first start for the Yankees, and PitchFX says his fastball averaged 94.17 mph and topped out at 95.94 mph on the night. Considering the nature of his injury and the long layoff, I don't think we could have asked to see anything more out of Pineda that game. He was great. Also, keep the "no walks" thing in mind. It's going to become a theme.
Five days later, in his first career start at Yankee Stadium, Pineda held the defending World Series champion Red Sox to one run in six innings, striking out seven and walking two. Six days after that, he threw six shutout innings against the Cubs as part of a doubleheader sweep. Pineda had a 1.00 ERA and 2.69 FIP though his first three starts and looked very much like the future frontline starter the Yankees were hoping he'd become at the time of the trade.
Part Three: You Guys, You Can't Spell Pineda Without P-I-N-E
During his nationally televised start against the Red Sox, the various networks caught Pineda with what looked like pine tar on the palm of his right hand. It was there in the early innings but not later in the game, after the internet caught wind of it and screen grabs were all over the place. Here's what he had on his hand: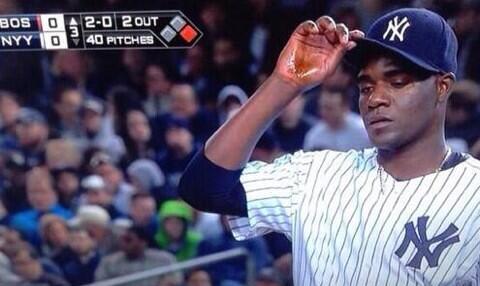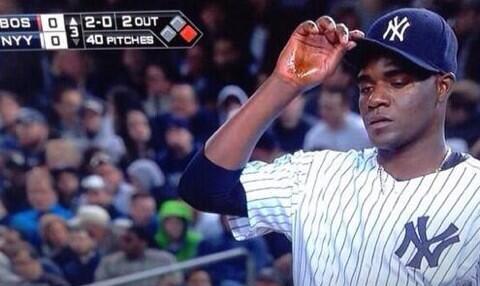 The Red Sox didn't say anything because, frankly, many pitchers use some kind of foreign substance to improve their grip, so calling out an opposing player puts your pitchers at risk of being called out at some point in the future. It's sort of an unspoken code. I won't say anything if you won't.
Two weeks later, in his fourth start of the season, Pineda gave Red Sox manager John Farrell no choice. He had a giant glob of pine tar on his neck in the second inning after getting hit around a bit in the first, prompting Farrell to come out of the dugout and bring it to the attention of the umpires. He had no choice. It would have been irresponsible for Farrell to not say something at that point.
The umpires looked at Pineda, found the pine tar, and immediately ejected him from the game. He admitted afterwards that he did use pine tar — "I know I made a mistake today," he said following the game — and was later suspended ten games, the standard punishment for this sort of thing. Fair or not (fair!), suddenly Pineda's dominance in his first three starts was brought into question.
Part Four: Hurt
Pineda spent his ten-game suspension at the team's complex in Tampa. While throwing a simulated game to stay sharp, he felt a little something in his back and had to go for an MRI. Tests showed a lower lat strain, though when the Yankees announced he had been placed on the 15-day disabled list, they officially called it a shoulder injury. Regardless of what anyone called it, it was close enough to his surgically repaired shoulder to worry.
The injury was originally expected to keep Pineda out for 3-4 weeks, but that turned into 6-8 weeks after a setback in late-May. Then, in mid-June, Pineda suffered yet another setback to put the rest of his season in question. It was starting to look like those first three starts in April were just a tease. Every time Pineda ramped up his throwing program, he back/shoulder injury flared up and he had to be shut down.
Part Five: The Return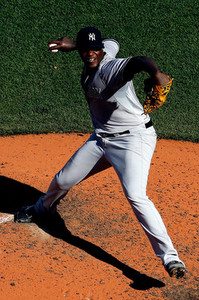 Eventually, Pineda was able to stay healthy long enough to increase his throwing program and begin pitching in simulated games. He made his first official minor league rehab start with Triple-A Scranton on August 3rd, throwing 58 pitches in 3.1 innings. Five days later he threw 72 pitches in 4.1 innings. Reports indicated that Pineda's arm strength was fine and his back/shoulder was healthy, so it was just a matter of getting his pitch count up before he could return to MLB.
The Yankees didn't wait that long. Phelps went down with an elbow injury and the team didn't want to give Esmil Rogers another spot start, so Pineda was activated off the disabled list after his second rehab start with the RailRiders. In his first game back, on August 13th at Camden Yards, Pineda held the Orioles to one run on two hits in five innings. He threw only 67 pitches and clearly started to labor in the fifth inning. The Yankees were careful with Pineda earlier in the season — he threw 83, 94, and 89 pitches in his first three starts in April — and they were going to do the same following the injury.
There were no more setbacks once Pineda returned. No more pine tar (that we know of!) and eventually no more pitch limits. No more nothing. Just pitching. Pineda took the ball every fifth day once he was activated and he was dominant nearly every time out. He allowed six runs (five earned) in his next four starts and 25.1 innings, striking out 15 and walking just one. After the Rays tagged him for four runs in 7.1 innings on September 11th — easily his worst non-pine tar start of the season — Pineda allowed just three runs (two earned) in his final three starts and 19 innings.
In his final start of the season in Game 162, Pineda struck out ten Red Sox and allowed just one run in 6.1 innings. He closed the year with a 1.89 ERA and 2.71 FIP in 13 starts and 76.1 innings. Eight of those 13 starts were walk-less. Eight! Pineda walked just seven batters (!) in those 76.1 innings, a 2.4% walk rate that was the second lowest among the 206 pitchers who threw at least 70 innings in 2014. (Phil Hughes was the lowest at 1.9%).
Pineda's strikeout total (59, or 20.3% of batters faced) was surprisingly low given the quality of his stuff, though it didn't hurt his performance at all. He's a weak contact guy who gets a lot of easy pop-ups, so while his .233 BABIP was low this year, he's exactly the type of pitcher you'd expect to post a lower than usual BABIP. All those pop-ups and fly balls off the end of the bat are high-percentage outs, especially when Brett Gardner and Jacoby Ellsbury are covering two-thirds (more, really) of the outfield.
Pineda did hold his fastball velocity through to the end of the season, averaging 93.21 mph in and topping out at 96.27 mph in Game 162. His overall season velocity was 93.39 mph, on average. It is worth noting, however, that Pineda did tend to tire later in games once his pitch got up to 70-75 pitches or so. Here's his velocity chart by inning, courtesy of Brooks Baseball: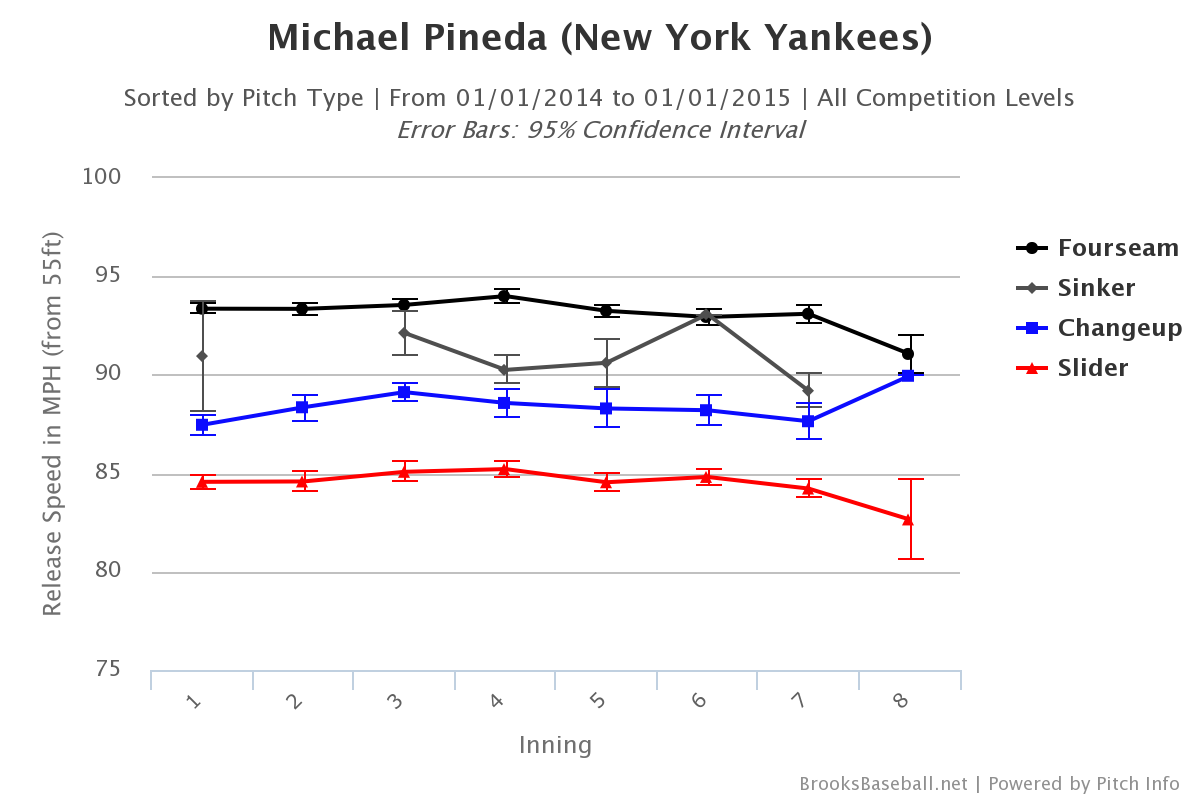 There's a definitely downward trend there, after about the fourth inning. Most pitchers lose velocity as their pitch count climbs within a game, this isn't unusual, but because Pineda's season was interrupted by the injury, we don't know if this is permanent or something he'll grow out of once he truly has a chance to get into midseason and is further away from shoulder surgery. We're just going to have to wait and see next year. Nothing we can do.
Pineda did add a cut fastball to his arsenal this year and it was very effective. It wasn't a show-me cutter. Pineda would cut the ball outside to righties and to both sides of the plate against lefties, but stick with his true four-seam whenever he elevated for a swinging strike or wanted to bust a righty inside. His changeup also showed a lot of progress as well. The pitch averaged 88.49 mph this season, so it was a hard changeup, and at its best, it moved like this: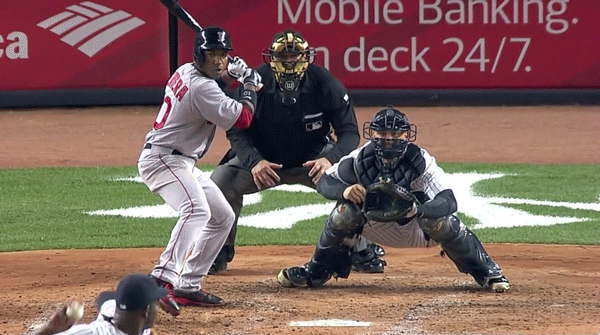 The pitch didn't move that like all the time of course, but it did it often enough to make you think it's only a matter of repetition and time before he gets a good feel for it and can throw it like that consistently. Besides, his fastball-slider and now cutter combination is good enough to get by as it is. Adding the changeup would be an extra cherry on top.
When the season started, Pineda was an injury risk and we had no idea what to expect when he was actually on the mound. He is still an injury risk, he didn't exactly assuage any concerns about his durability this year, but at least now we know Pineda has the ability to dominate. That's a pretty big question he answered in his 13 starts. Pineda still has frontline stuff and frontline command following shoulder surgery, the two things that made him so special as a prospect and great as a rookie in 2011. It's easy to forget how good this guy was expected to be before the shoulder injury.
The trade has not gone as planned for either the Yankees or Mariners at this point, but the Yankees finally received some return this season. Everyone hoped Pineda would be a top of the rotation starter by time his third year in pinstripes rolled around, but instead his career in the Bronx is just getting started. That's life. The injury this year was a major bummer, but, when he was on the mound, everything Pineda showed was tremendously encouraging. He aced the performance test with fly colors. Hopefully next year he can ace the health and durability test.