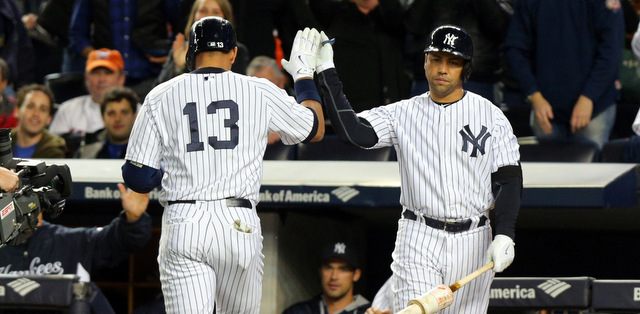 With another Yankee season underway, let's take a look at some statistical milestones that a few of our boys in pinstripes can reach this summer.
Alex Rodriguez
A-Rod, of course, is on the verge of becoming the fourth player in major-league history with 700 homers. His pursuit of the home run record is well-documented, as he is 28 homers shy of passing Babe Ruth for third place all-time.
He is at 342 homers with the Yankees, just 16 shy of tying Yogi Berra for fifth-most in franchise history. He has a good chance to move into the top-10 of a couple more lists in the Yankee record books, too. With 14 runs scored, he'll pass Don Mattingly for 10th place there, and with 35 more RBI, he'll also jump ahead of Mattingly and into 10th place on that leaderboard.

Carlos Beltran
Beltran is approaching a few nice round numbers this season. With eight more home runs, he'll be the fourth switch hitter to reach the 400-homer milestone. Beltran can join an even more exclusive club, too, when he hits No. 400. He'd be just the fifth player in MLB history with at least 400 homers and 300 stolen bases in a career, joining A-Rod, Andre Dawson, Barry Bonds and Willie Mays.
If he stays healthy, he should also reach two more benchmarks: 2,500 hits and 1,500 RBI. He is at 2,454 hits and 1,443 RBI entering Tuesday's season opener. The only switch hitters in baseball with 2,500 hits and 1,500 RBI are Eddie Murray and Chipper Jones.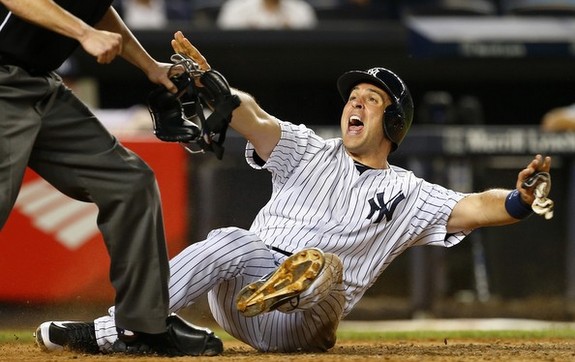 Mark Teixeira
Teixeira is also nearing membership in the 400-homer club, and is just six away as he begins his 14th major-league season. The only other switch hitter to hit 400 homers that early into his career was Mickey Mantle. Eight other first baseman totaled 400 homers in their first 14 career seasons: Carlos Delgado, Frank Thomas, Jim Thome, Lou Gehrig, Jimmie Foxx, Jeff Bagwell, Albert Pujols and Mark McGwire.
Starlin Castro
The 26-year-old enters 2016 needing nine hits to reach the 1,000-hit mark. His gap-to-gap power and ability to hit for average is underrated and rare for a player at his age and position. He would be just the seventh middle infielder to compile 1,000 hits, 175 doubles, 30 triples and 60 homers through his age-26 season. The others: Roberto Alomar, Robin Yount, Bobby Doerr, Arky Vaughan, Travis Jackson and Rogers Hornsby.
CC Sabathia
If Sabathia can hold onto his rotation spot, he can enjoy a few round-number milestones. First, he is just 11 1/3 innings pitched shy of 3,000 for his career. Only 10 other left-handers have gotten to that mark in their age-35 season or younger, as CC is about to do. And of that group of 10, only Steve Carlton and Mickey Lolich also had at least 2,500 strikeouts on their resume like Sabathia.
He's also moving up the Yankee pitching lists. With two more starts, he'll be the 17th guy to start 200 games for the Yankees, and he needs three wins to become the 17th pitcher with 100 wins for the franchise.