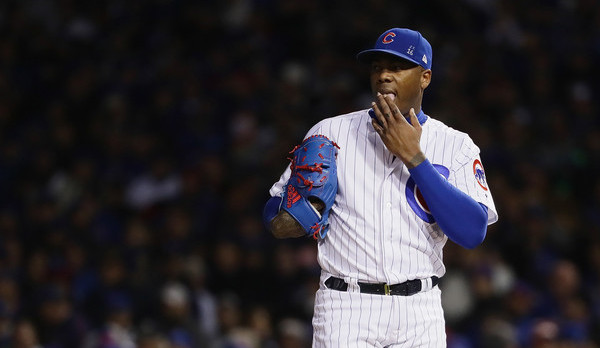 The 2016 Winter Meetings wrap-up today from the Gaylord National Resort & Convention Center in National Harbor, Maryland. Late last night the Yankees swooped in and agreed to re-sign Aroldis Chapman to a five-year contract worth $86M, which is easily the largest reliever contract in history. Now the team can move on to other business, like adding rotation and middle relief help.
"I've got a lot of different things going on," said Brian Cashman to Bryan Hoch. "Listen, they've got a time frame in free agency. They're going through their process. In the meantime, I'm doing a whole bunch of other stuff at the same time. I've had several conversations with various agents today and a lot of club activity at the same time."
On Wednesday we learned the Yankees have cast a wide net for bullpen help and have checked in on White Sox closer David Robertson and free agent Sergio Romo. Also, they want Ruben Tejada and Nick Rumbelow on minor league deals. We'll once again keep track of the day's Yankees-related rumors right here, so make sure you check back often. I can't promise a ton of updates. The final day of the Winter Meetings is traditionally the slowest. All time stamps are Eastern Time.
Reminder: Your trade proposal sucks.